13 Unique Thanksgiving Sides to Delight Your Table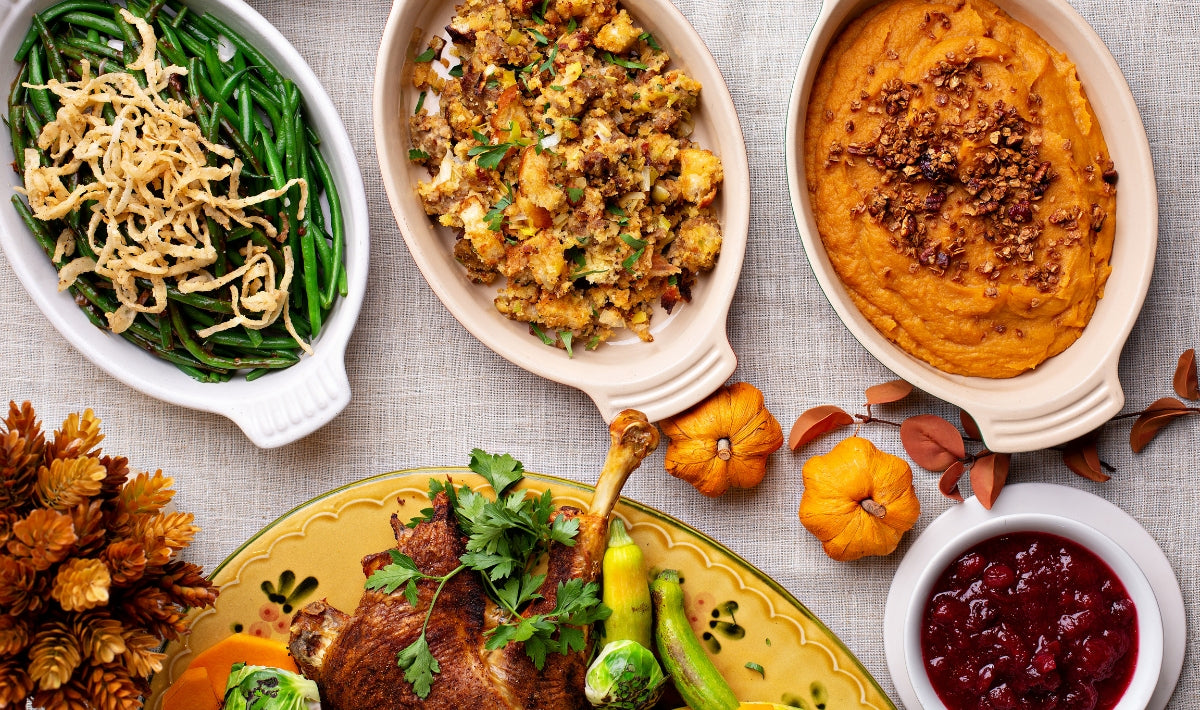 The holiday season brings the return of the traditions we hold most dear. Familiar faces, music, holiday activities, and delicious food and drinks usher in the final "Relax & Enjoy" portion of another go-go-go year.
Nothing compares to a warm cup of eggnog nostalgia or a savory plate of Mom's tastiest comfort food recipes.
But after the same Thanksgiving menu year after year, you might be craving something different…
A creative spin on an item or two (like our finger-licking mac and cheese update - recipe below!). Or a complete overhaul of your Thanksgiving sides, featuring brand new flavors, textures, spices, and ingredients that will stand out (in a very positive way!) in everyone's memory.
If that sounds like you, start building your elevated holiday feast with one or several of these unique Thanksgiving side dishes:
Other than the turkey, what's more of a staple on the Thanksgiving table than mac and cheese? Our evolution of this classic American comfort food adds oven fried pasture-raised chicken (a healthier option than frying it on your stovetop) to the creamy goodness of a gooey mac and cheese.
The health-conscious guests at your table will be extra grateful when they see this one. And the chef (would that be you?) will be thrilled that this dish only requires a few minutes of active prep. The end result is a keto-friendly Thanksgiving side dish that packs enormous flavor, protein, and fiber thanks to the cauliflower rice.
To really shake up your holiday table, consider replacing the traditional mac and cheese with this rich orzo side dish. The garlic cream sauce hits the spot for long-time orzo lovers and those who are still relatively new to these unusually small pasta.
Unique Thanksgiving Side Dish: Nourishing Liver Pâté
Organ meat delivers a potent combination of depth of flavor and nutrient density. Place a bowl of it on your pre-feast appetizers tray or charcuterie board. Or add it to the table for the main meal as a spread for freshly baked rolls or roasted vegetables.
This gluten-free Thanksgiving side is a brilliant flavor profile compliment to the creamy dishes like orzo or mac and cheese. The radicchio leaves bring the perfect amount of bitterness, which is then mellowed by the savory potato and sausage stuffing inside. And of course, feel free to get creative with additional or different fillings - the possibilities are endless!
If you're feeding a large crowd, a velvety soup is a great way to ease people's hunger while you put the finishing touches on the grand holiday table. Consider handy soup mugs so folks can mingle and chat while they sip on the creamy and warming flavors of pasture-raised sausage and potatoes. 
The bright flavor combinations here are a guaranteed winner. Guest Chef Patrick Lane created this multi-layered pasta salad recipe using our Grass Roots pasture-raised jowl bacon and an assortment of fresh herbs that will bring a delicate balance to the richer and heavier Thanksgiving sides on your menu.
One of our favorite members of the fall harvest, acorn squash has a mild, sweet flavor with nutty undertones. Pairing it with smoky, sugar-free bacon and a maple glaze that caramelizes as it cooks, results in a velvety creamy, smoky sweet, and entirely satisfying Thanksgiving side dish. Plus! The kitchen cleanup crew will be relieved to hear this entire dish cooks in one pan.
This aromatic stuffing is a real treat. The umami-rich flavor of savory Cremini mushrooms meets creamy chestnuts, our pastured bacon, and rustic rosemary for a Thanksgiving side dish like no other.
Any winter squash (acorn, butternut, kabocha) will shine in this easy and elegant Thanksgiving side dish – but we bet you'll want to keep this one in your rotation all throughout the year! The squash, combined with tender gnocchi, fried sage and lemon juice coalesces to produce a dish that's equal parts creamy, crunchy, and bright. Sounds fitting for the holidays, right?
If at least one of your guests is known to turn their nose up at Brussel sprouts, introduce them to our update on this classic Thanksgiving side. Smoky, sugar-free bacon ends and caramelized chunks of pear (any variety you enjoy will do) will almost certainly make them a convert.
Another champion recipe for a holiday brunch that requires minimal effort but delivers maximum WOW factor. Our pasture-raised chorizo has the subtlest amount of spice that shines alongside the sweet potatoes and bell peppers. 
We love food so much that we rarely have a single favorite recipe in any category – this stuffing might be the rare exception. Cornbread stuffing is already beloved in the South, but wait until your guests try this sausage-forward version with tart cherries and earthy pecans. Flavor, comfort, sighs of satisfaction all around the table.
---