Keto-Friendly Italian Sausage Stuffed Poblano Peppers with Cauliflower Rice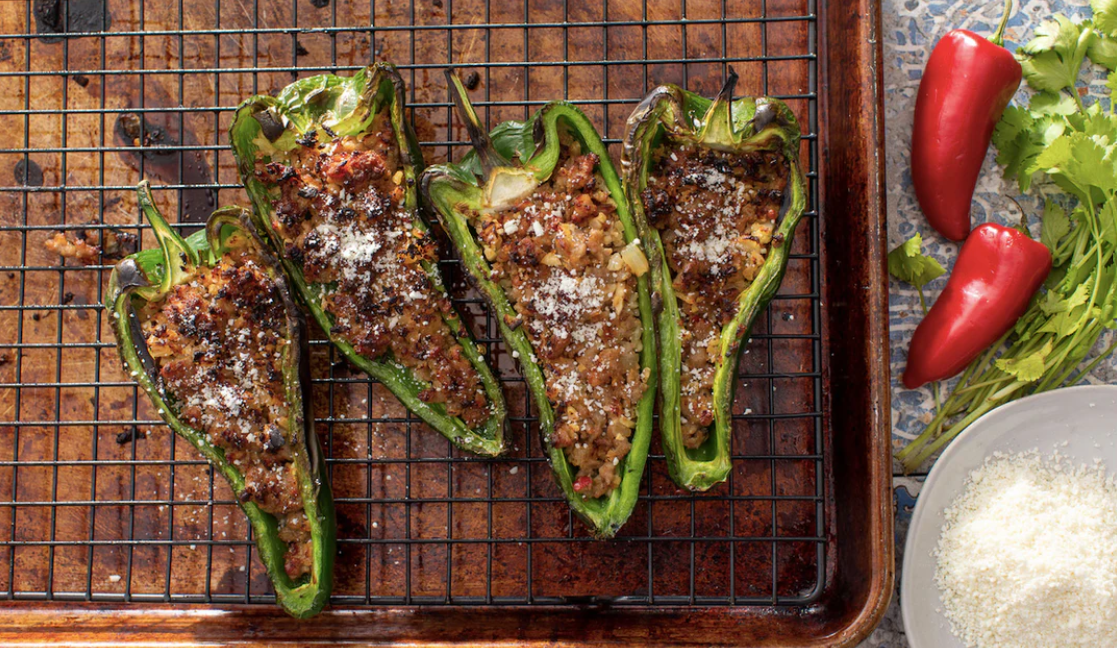 Created by our Guest Chef, Phillip Schaaf, these Italian sausage-stuffed peppers are quick, easy, and keto-friendly. With mere minutes of active prep time and about thirty minutes in the oven, you can have this delicious dish on the dinner table in less than an hour.
Using riced cauliflower instead of white or brown rice cuts the carbohydrates down. Grass Roots' pasture-raised ground Italian sausage is flavorful enough on its own, and adding a bit of onion and queso fresco or cotija at the end sends the flavor over the top  (you can also use our beef and pork ground blend). Poblano peppers do have a bit of heat, so if you prefer a less spicy version, easily sub in bell peppers instead. The technique will essentially be the same.
Ingredients
Poblano peppers, halved lengthwise, with stem, core and membrane removed
3
Cauliflower, riced
1 head
Cotija cheese or queso fresco
Crema or avocado (optional)
Utensils
Food processor or a box grater
Skillet
Mixing bowl
Paper towels
Instructions
Prep the peppers and place them in a lightly greased baking dish. Bake in the oven for about 12 minutes, just until they start to wilt.
While the peppers are par-baking, process the cauliflower into rice grain-sized pieces. This can be done very quickly using a grating attachment on a food processor, or a box grater. It can also be done by hand with a knife and a little bit of patience. Set the cauliflower aside.
Preheat a skillet on medium-high heat and crumble the sausage meat into the pan. Cook until well browned and the fat is almost completely rendered. Remove the sausage meat from the pan and place in a mixing bowl lined with paper towels. Add the onion to the pan and cook until translucent. Add the garlic to the pan and cook for another minute, then add the riced cauliflower and cook until just tender and fragrant.
Remove the paper towel from the mixing bowl and then add the onion and cauliflower mix to the sausage meat and stir to thoroughly combine. By now you have pulled the poblanos from the oven. Let everything cool down just a bit before you stuff the peppers.
When stuffing the peppers, make sure to pack the stuffing in pretty well all the way to the top. Once all of the pepper halves are ready to go, top them with a bit of the queso fresco or cotija and place back in the oven for another 15 minutes
Remove from the oven after the peppers appear to be cooked through and fork-tender. Serve immediately with the chopped cilantro and the crema.
---