Gnocchi with Winter Squash and Bacon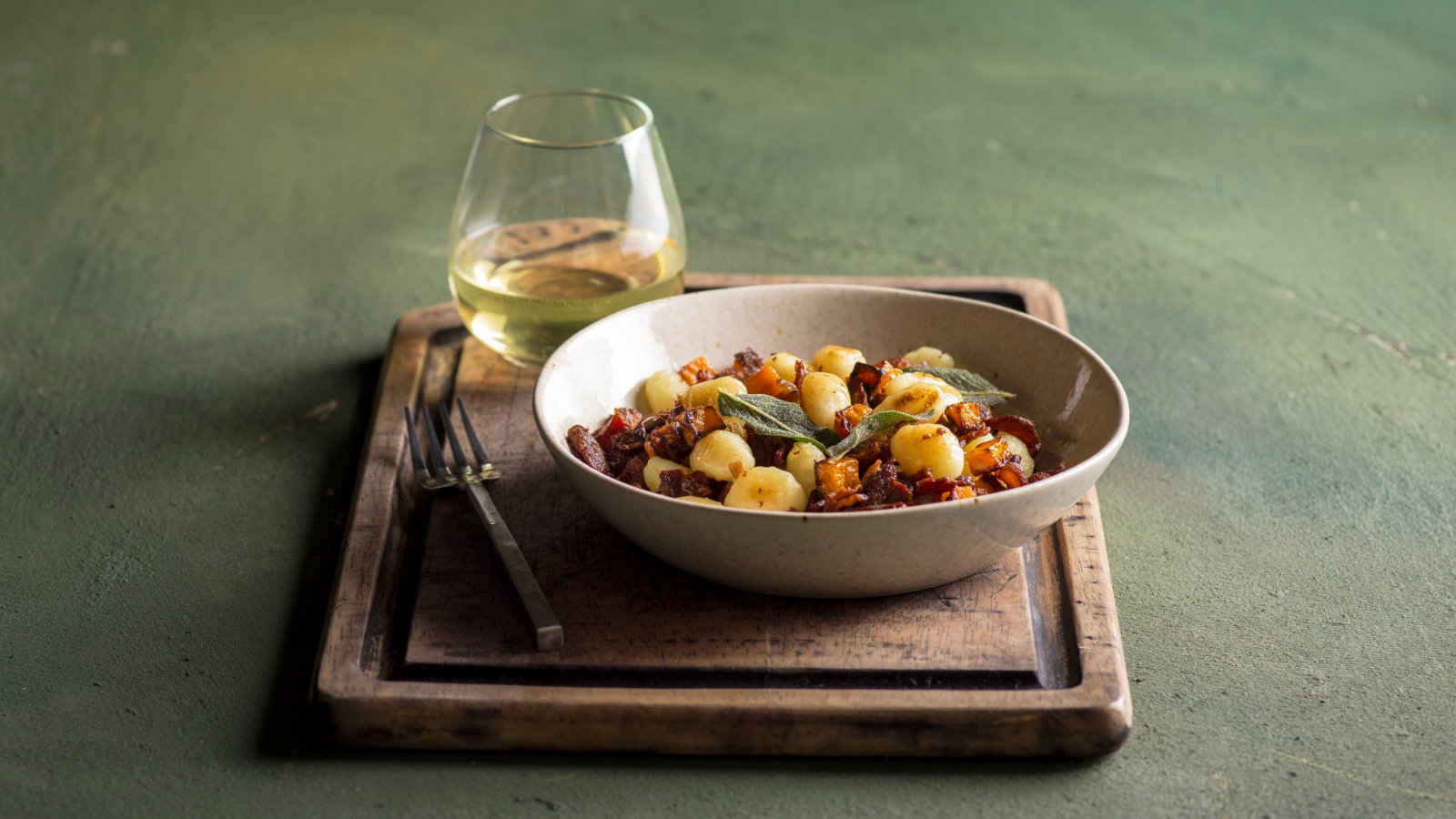 By Chef Phillip Schaaf
Bacon ends and pieces are the uneven trimmings left over from squaring up the bacon slab before it is sliced.
This recipe is an easy and elegant way to utilize these trimmings for a quick weeknight meal, yet it's impressive enough for a date night or weekend gathering with close friends. 
A few tips for this recipe
Trim the bacon down into similar sized pieces so that it will all cook evenly.
Do the same for the squash.
Low and slow is the best way to start.
We want the bacon to fully render the fat for a crispy texture. Using sugar free bacon works really well for this dish as the squash will add enough sweetness to balance the flavors.
Fried sage and a splash of lemon juice will add crunch, aroma and brightness to the dish.
A dry chardonnay or a crisp pilsner are a great companion.
Ingredients
Winter squash (butternut, acorn, kabocha) peeled, seeded, cut into ½ inch cubes
1
Sage leaves, trimmed of most of the stem
1/2 cup
Instructions
Set a large skillet on low to medium heat.
Add the trimmed bacon ends and pieces to the skillet and slowly render until the bacon is evenly browned and crispy. Work in batches if needed. Crowding the pan may cause uneven rendering and burned bacon. Remove from pan and place on a paper towel-lined plate.
Pour off all but about 2 tablespoons of the bacon fat and add the squash to the pan, keeping the heat on medium-low. Squash can take a bit of time to cook, so we want to cook it without burning it. Cook the squash for a few minutes on each side and gently turn the pieces until they are all caramelized on all sides and fork tender.
Add the shallot to the pan and cook until caramelized. Add the garlic and cook for about a minute before removing the squash, shallot and garlic from the skillet into a bowl. Set aside.
Bring a pot of water to a rolling boil and lower in your gnocchi. Once the gnocchi begins to float, remove it from the water with a slotted spoon or strainer, reserving about a ½ cup of the gnocchi water.
As the gnocchi cooks, add the butter to the skillet and, before the butter browns, fry the sage leaves and set them aside on the plate with the bacon.
Place the gnocchi directly into the browning butter and cook until the gnocchi begins to develop some color. Add the squash and shallot mixture back to the pan and then add the reserved gnocchi water until there is just the right amount of sauce. Juice the lemon into the skillet with the gnocchi and squash.
Portion out the gnocchi onto serving dishes and garnish with the crispy bacon and fried sage.
---