Creamy Dairy-free Sausage and Potato Soup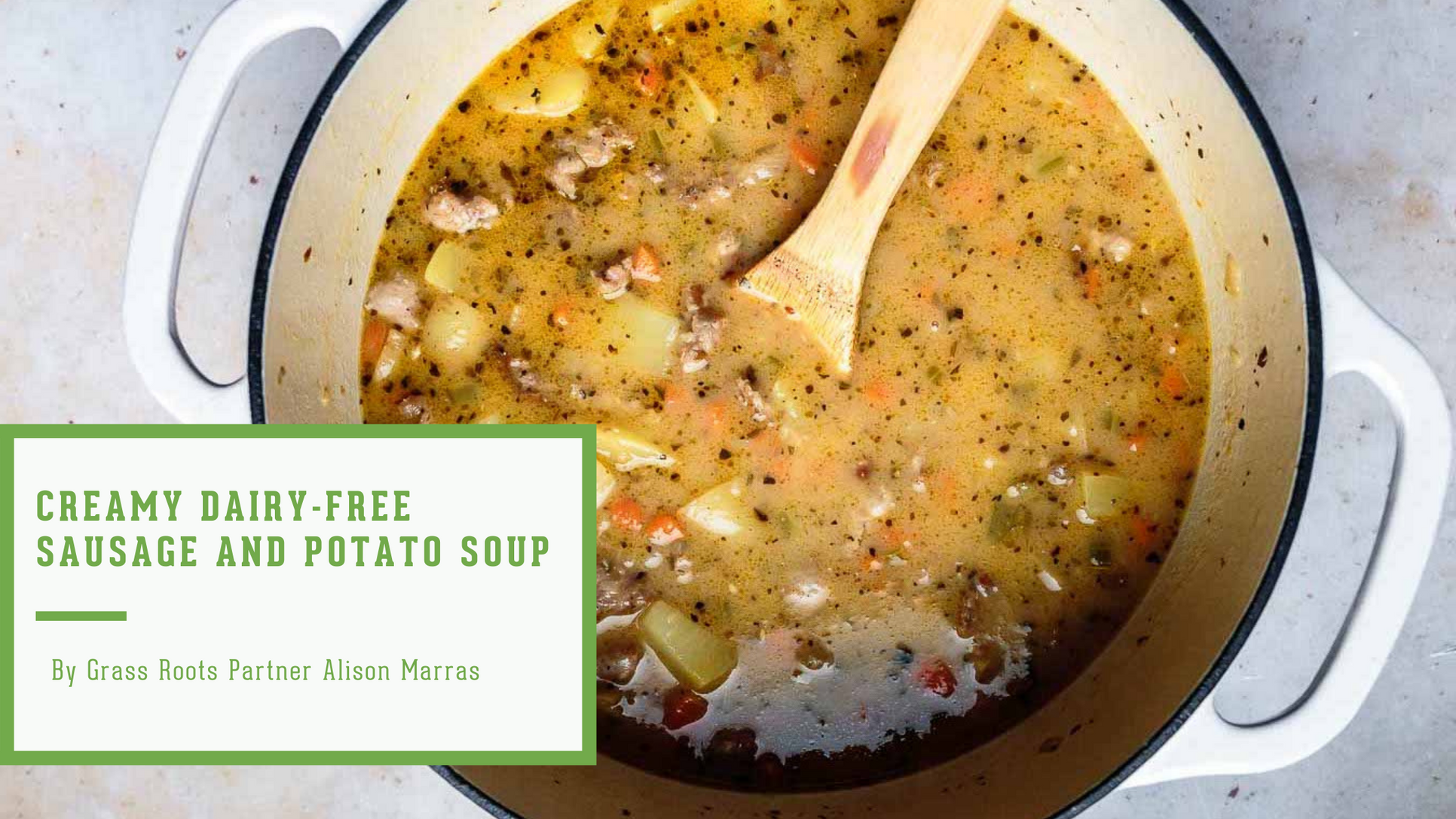 Recipe created by our partner Alison Marras
The magic behind this soup lies in its dairy-free creaminess. Instead of traditional cream or milk, this recipe employs innovative substitutes like cashew cream or coconut milk. These alternatives bring a luscious, silky texture to the soup, creating that signature creaminess without compromising on flavor or dietary preferences.
The result is a bowl of comfort that delights the taste buds, sans the typical heaviness associated with dairy-based soups.
makes:

4

total time:

40 mins

Tags:
Ingredients
Ghee (or duck fat or tallow for AIP), divided
2 Tbsp
Carrots, diced small (approx. 2 medium carrots)
3/4 cup
Celery, diced small (approx. 2 medium stalks)
3/4 cup
Yellow onion, diced small (approx. 1 small onion)
3/4 cup
Gold potatoes, chopped (use rutabaga or sweet potato for Paleo/AIP)
4
Bone broth or broth
4 cups
Black pepper (omit for AIP)
1/2 tsp
Freshly chopped parsley for garnish (optional)
White sweet potato, peeled and chopped
1
Filtered water, divided
3-4 cups
Unsweetened coconut yogurt (or may sub canned coconut cream)
1/4 cup
Instructions
Heat a stock pot or Dutch oven, over medium-high heat. Once hot, add in the sausage.
Stir and chop the meat until you have sausage crumbles. Transfer to a plate and leave 1 tablespoon of grease in the pot. If there is no grease, add 1 tablespoon olive oil to the pot.
In the same pot with grease or olive oil, melt 1 tablespoon of the ghee/fat. Add the diced carrots, celery, and onion and sauté 5-7 minutes or until tender. Add garlic and sauté 30 seconds more.
Stir in the chopped potatoes, dried basil, dried parsley, salt, and pepper to taste, and 1 more tablespoon of ghee/fat. Mix well, and add in the broth. Bring to a boil over medium-high heat, then reduce heat to medium, cover with lid and cook for 15-20 minutes or until the potatoes are fork-tender.
Meanwhile, boil the diced white sweet potato in 2 cups of water (or more to cover) until fork-tender, approximately 10-12 minutes.
Drain and add it to a blender with ⅔ cup of water to start, and ¼ cup of coconut yogurt. Blend until well-combined and smooth, it should yield 2 cups, if it's too clumpy and not blending, add more water as needed.
Pour the cream sauce into the soup and stir. Reduce heat to low and return the sausage into the soup, stirring and letting everything meld for 30 seconds or so.
Season to taste with salt and pepper and garnish as you'd like with fresh chopped parsley, serving right away!
---