Meats for Easter: Dinner Ideas and Recipes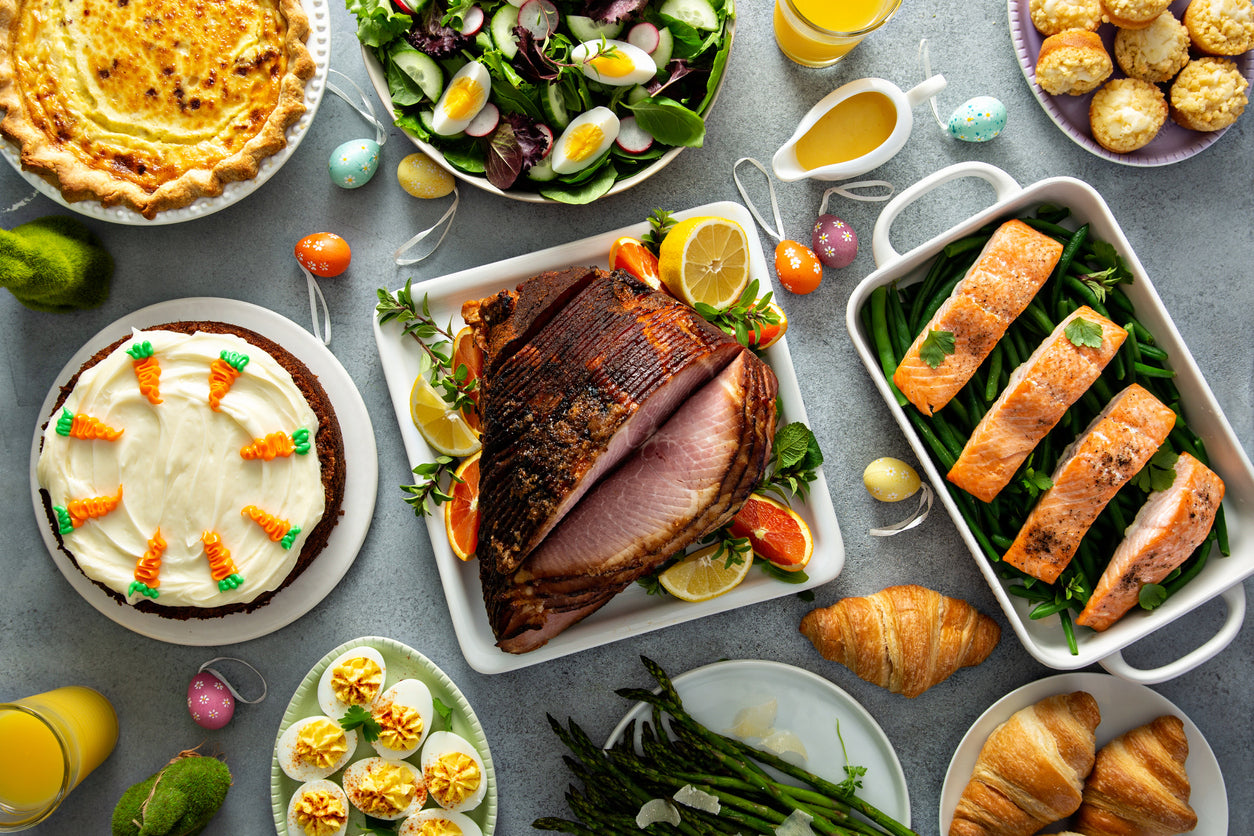 Easter brings us springtime delights like egg hunts, sweet treats, and of course the grand holiday dinner or brunch shared with family and friends.
Whether your menu planning is partial to classics from your own childhood or creative mains and side dishes that will have everyone asking for the recipe, one thing is certain:
Your Easter meat centerpiece has to be just right.
To serve the most nutrient-dense, environmentally responsible, and flavorful meat, pasture raised is the gold standard. Learn more about our pasture-raised farming practices.
To help you make the right choice for your family's table, we've gathered together some of our favorite Easter dinner ideas and tasty recipes. No matter what your guests tastebuds' prefer, there's a pasture-raised option for you. 
What is the traditional Easter meat?
Ham is the most traditional Easter meat. Although it's also popular at Christmas and many Thanksgiving tables include ham as an additional meat entree, Easter is when ham fully occupies the spotlight.
Most conventional hams are cured with sugar or honey, which significantly raises the sugar levels of the final product. If you're expecting Easter dinner guests with health conditions like diabetes that require them to limit their sugar intake, it might be wise to choose a sugar-free ham that offers the flavor and texture we all love without the worry of blood sugar spikes. 
Other things to look for when choosing your ham:
Pasture raised (the term 'forested' means the same thing)

Animals graze only on non-GMO fresh pasture

No added nitrates or nitrites

Opting for a pre-cooked and boneless ham can be very convenient. You only need to heat and carve it up.
Want our top suggestions for cooking a succulent Easter ham? Our easy-to-follow How To Ham Tips cover topics like:
Delicious ham recipes for your Easter dinner or brunch

Guaranteed to impress, this recipe balances a regeneratively-farmed and sugar-free ham with a simple glaze that brings the right balance of tarty sweetness.
Easter holiday brunches are becoming increasingly popular. Update your traditions or add to them with the comfort and convenience of a timeless ham and cheese quiche. 
Once you've selected a quality ham, it really comes down to the glaze. Here's another quick and easy option that lets your ham's natural flavors shine through. 
Grass-fed lamb meat for Easter dinner
Lamb is also widely served for Easter, largely for religious reasons and the common springtime harvest of lambs. Grass Roots offers 7 pasture-raised lamb cuts, including lamb shanks, Frenched rack of lamb, and the always-popular leg of lamb roast. 
Grass-fed lamb provides all nine essential amino acids, is high in iron, and when pasture raised, it's generally very lean with only ~160 calories per serving.
Often perceived as an elegant meat known for its rich flavor and juiciness, some of the most popular cooking methods for lamb are roasting, grilling, and braising.
When deciding where to purchase your lamb from, the most important things to prioritize are:
Grass-fed 

Access to a diversity of weeds and grasses

Never fed grains 

Never treated with antibiotics or synthetic hormones.
Explore our detailed guide on leg of lamb roast, including the classic French or Mediterranean method. Plus! Our gut-friendly Keto Lamb Bone Broth recipe is included.
Grass-fed and grass-finished beef for Easter
If you've got a rebellious nature that makes you want to buck tradition, or simply aren't a fan of ham or lamb, you might prefer an Easter table that features a beef centerpiece.
Our strongest recommendation is to select beef that's both grass-fed AND grass-finished. 
Grass-fed alone can be used to describe cattle who were only fed grass a few times but otherwise ate a grain-based diet, which contradicts their natural instincts and has been proven to produce less flavorful meat with less nutritional value. 
The descriptor 'grass-finished' tells you that the beef you're purchasing was sourced from cattle that were fed grass their entire lives.
Our Grass Roots beef is:
100% born, raised, and harvested in the USA

Grass fed and grass finished

Never fed grains 

Never treated with antibiotics or synthetic hormones

Ready in only 15 minutes, this recipe includes easy instructions for pairing this tender filet with cured and seared asparagus and refreshing lemon butter.
After some simple prep, your slow cooker will take care of the rest. Honey, garlic, rosemary, and quality balsamic vinegar are just some of the nourishing flavors that marry for a delicious result.
Another slow cooker favorite, this Greek-style chuck roast features a dynamic spice combination and a balanced lemon flavor that's a staple in Mediterranean cooking.
Turkey is another excellent alternative meat for Easter dinner 
Want to break with tradition and surprise your Easter guests with an unexpected cut? A golden pasture-raised turkey might be the perfect choice. We'd happily sit at that table!
The healthiest turkeys live outside in the fresh air where they can freely scratch and peck on fresh non-GMO pasture daily. Eating their natural diet of bugs and grubs is crucial to their development. Farmers that maintain these conditions for their animals are typically proud of this fact (we certainly are) so you can expect to see these details featured prominently on their website and/or packaging. 
All Grass Roots turkeys are frozen at the peak freshness immediately after harvesting. This maintains their premium quality, while providing the comfort of knowing that your family doesn't have to worry about foodborne illnesses.
Check out our Turkey Guide for all the tips you need, including:
How to thaw in the refrigerator

How to thaw in a cold bath

How to thaw in a cooler

How to do a wet brine

How to do a dry brine

How to roast - with a herb paste recipe
Although we love experimenting with different cooking methods and ingredients, this classic turkey roast recipe remains our go-to choice for that undeniable comfort-food flavor.
With only 6 ingredients, this recipe features a simple herb butter that showcases the natural depth of flavor of our pasture-raised turkeys. 
A stunning platter or tower of pasture-raised drumsticks is sure to impress, and works well for a cozy group of two-to-four or scaled up for more people. They'll never forget this unique glaze!
Regenerative agriculture supports good Easter eating
When it comes to choosing your meats for Easter, there's a long list of options. Our #1 recommendation is opting for pasture-raised meat. 
Pasture-raised animals are allowed to move easily to fresh pasture every day, which creates the living conditions that most closely resemble how those animals would naturally behave in the wild. This not only creates a more ethical human-animal relationship, but also produces meat with improved flavor and nutrient density.
From there, we'd look for an operation that practices regenerative agriculture. Regenerative farming practices:
Reduce the negative impacts of agriculture on the land

Support the thriving of a diversity of plants

Foster healthy waterways 

Prioritize the conservation of natural resources

Omit or greatly reduce the use of synthetic fertilizers and pesticide chemicals

Implement grazing schedules to restore soil quality

Use no-till methods that reduce soil erosion and sequester carbon.
Dive into the Grass Roots Recipe Library for even more Easter meat ideas!
---