Tarragon and Black Pepper Smoked Turkey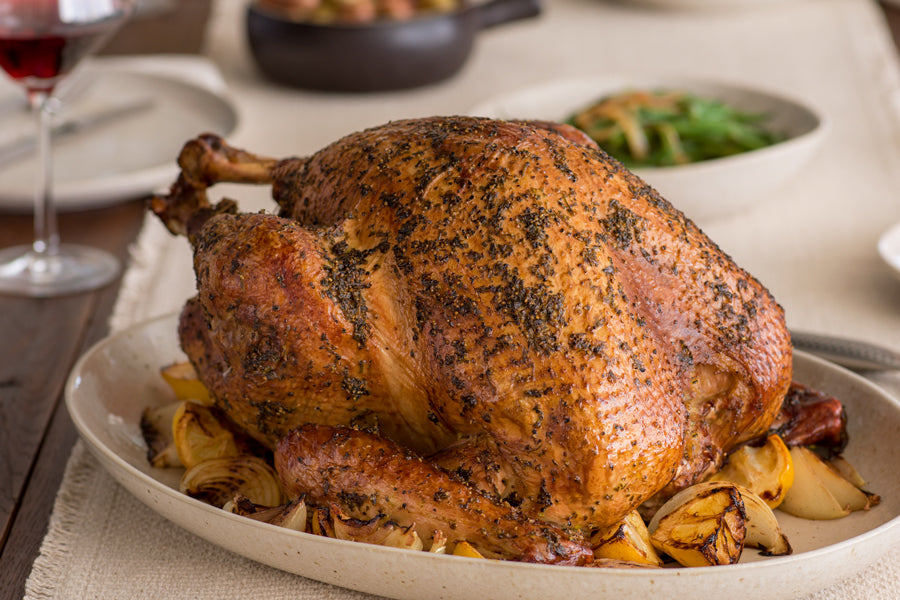 A simple herb butter goes a long way in adding subtle flavor to our pasture-raised turkeys without masking their natural depth of flavor. Save some of that delicious butter for rolls or potatoes.
Along with your Pasture Raised Whole Turkey:
Ingredients
Kosher salt per pound of turkey for the dry brine
1/2 Tbsp
Fresh tarragon, chopped
2 oz
Whole black peppercorn
2 Tbsp
Butter, softened at room temperature
1 lb
Utensils
Roasting rack and roasting pan
Small bowl
Smoker (optional)
Meat thermometer
Instructions
Rub the salt all over the outside of the turkey as well as inside the cavity and refrigerate overnight.
The next day, remove the turkey from the refrigerator to rest at room temperature. In a small bowl, add the tarragon, pepper, lemon juice, and butter, and stir to combine. Coat the turkey with the butter both on the skin and underneath, using your fingers to gently separate the skin from the meat and spread the butter evenly.
Let the buttered turkey sit at room temperature while preparing the smoker for the bird—bring it to about 265°F. Hickory, oak, cherry, or peach wood will all infuse a sweet, smoky flavor to the meat. If you are not using a smoker, preheat the oven to 325°F.
Place the turkey in a roasting rack and put the rack in a roasting pan. Cook in the smoker or oven until the internal temperature of the thigh and breast reads 165°F on a meat thermometer—about 3.5 to 4 hours. Let the turkey rest for about twenty minutes before carving. Enjoy with family and friends.
---