The Cleveland Kitchen & Grass Roots Pairing Guide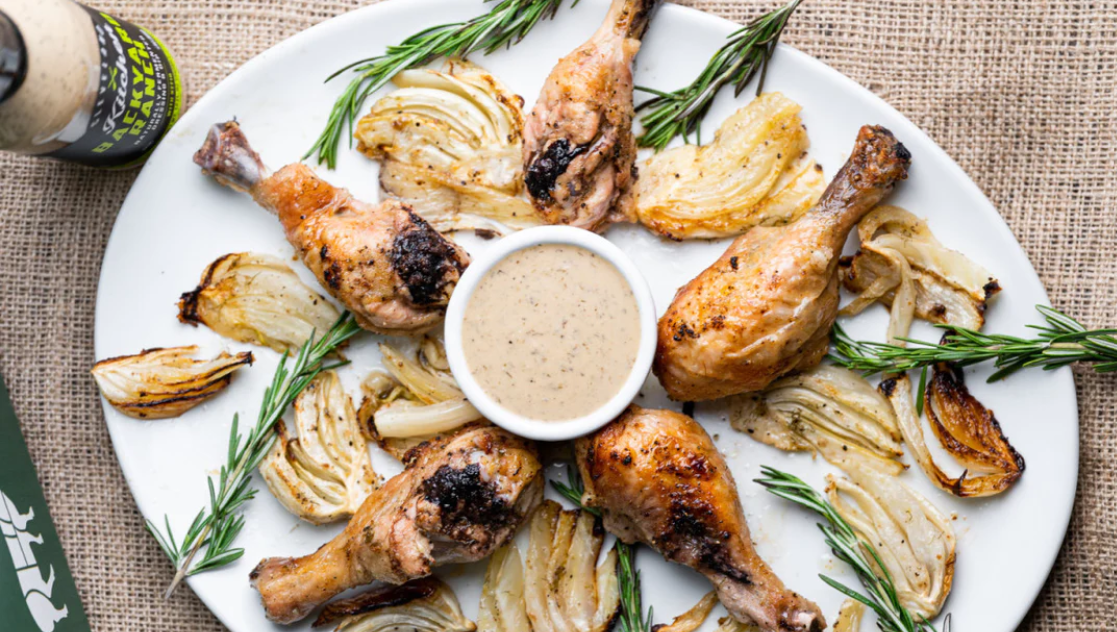 We partnered with Cleveland Kitchen for a seasonal pairings featuring a combination of Grass Roots' pasture-raised poultry, pork, and beef. These recipes pair perfectly alongside Cleveland Kitchen's locally crafted gut-healthy dressings and krauts and is ideal for quick weeknight dishes reimagined with a bold and unique flavor.
Whether you're looking for a casserole, burgers, or a meatball sub sandwich that will blow you away, these comfort classics with a new, flavorful twist will keep your kitchen warm all season long.
What is 

Cleveland Kitchen?
Made with love in Cleveland, the Cleveland Kitchen team carries the city's spirit of quality, hard work, and authenticity in all of the work they do. They also share the same mission of sustainability and integrity as the Grass Roots team. Cleveland Kitchen sources all of its ingredients locally from Midwest farmers, in turn supporting the local community. Similarly, Grass Roots loves farmers! And as a farmer-owned cooperative, we're committed to paying everyone in our value chain a living wage, creating more opportunities in local communities nationwide.
Our friends at Cleveland Kitchen truly believe that fermented foods are the key to a healthier diet, and they want to make it effortless for anyone to savor them on any occasion. Their hope is for folks to enjoy their fermented dressing regularly and reap the gut-health benefits from the millions of probiotics present in their one-of-a-kind dressing.
Health is top of mind for the team here at Grass Roots as well. Our animals live outdoors where they get lots of exercise, fresh air, sunshine, and clean food. As a result, our meats are higher in omega-3 fatty acids, vitamins, and minerals which are all essential vitamins for building immunity.
Get cooking with The Cleveland Kitchen Pairings Guide with the peace of mind of knowing your meals are supporting local communities and improving your personal health this season.
Grab your skillet, preheat the oven, and enjoy the bold flavors of these perfectly paired dishes!
---
Roasted Garlic Sauerkraut & Ham Casserole
What You'll Need 
The Recipe
Start by preheating your oven to 350 degrees Fahrenheit. In a frying pan or skillet, add olive oil and chopped onion. Cook until the onion is translucent. Add sauerkraut and paprika, mix until evenly combined. 

In a greased casserole dish, arrange half of the potatoes on the bottom and season with salt and pepper. Add your ham and sauerkraut mixture and pour the remaining potatoes on top.

Beat eggs and milk together in a small bowl and pour over potatoes. Sprinkle with cheese, salt, and pepper. Bake for 30 minutes or until the cheese starts to bubble and brown.
---
Chicken, Bacon & Ranch Rolls
What You'll Need 
The Recipe
Start by preheating your oven to 350 degrees Fahrenheit and cooking your jowl bacon in a shallow covered sheet pan until crispy. Remove bacon and bump up the temperature on your oven to 450 degrees Fahrenheit. On a new backing sheet, cook the chicken breasts until they reach an internal temperature of 165 degrees Fahrenheit.

Remove chicken from the oven and let rest for 5-10 minutes, thinly slice your chicken breast to the desired thickness with a sharp knife or kitchen scissors.

Once your bacon and chicken are cooked, start building out your wrap by laying out your tortillas and topping with lettuce, diced tomatoes, ranch dressing, bacon, thinly sliced chicken breast, and roll up the tortilla tightly.
---
Beet Red Cabbage Turkey Burgers 
What You'll Need 
The Recipe 
In a small bowl, combine turkey, breadcrumbs, egg, salt, and pepper to taste. Mix together thoroughly using your hands or spoon. You can also include the mustard and caraway seeds during this step if desired. Shape your meat into 4-5 inch (or just use our burger patties).

In a heated nonstick skillet, cook burgers for 4-5 minutes on each side or until your patties have reached an internal temperature of 160 degrees Fahrenheit. Top with beet red sauerkraut and shredded German Emmentaler cheese and during the last few minutes of cooking. Spread rolls with additional mustard if desired, add your turkey burger and beet red sauerkraut, and any additional desired toppings.
---
Hail Caesar Chicken Wings 
What You'll Need 
The Recipe 
Start by layering your chicken wings on a covered shallow baking pan. Evenly cover the wings with the Caesar marinade and cover with plastic wrap. Let the wings set in the fridge for at least 2 hours prior to cooking. 

Preheat your oven to 375 degrees Fahrenheit and set out at your wings at room temperature for 5-10 minutes. Take off the plastic wrap and cover wings with any additional marinade. Bake in the oven for 1 hour or until your wings have reached an internal temperature of 165 degrees Fahrenheit. 
---
Slow Cooker Pork Chops with Whiskey Dill Kraut
What You'll Need 
The Recipe 
Start by seasoning your pork chops with salt, pepper, and garlic powder. Heat olive oil in a large skillet over medium heat and cook pork chops until they are lightly browned. Remove the chops from heat and let rest at room temperature. 

Place pork chops and whiskey dill sauerkraut in a slow cooker, adding a ⅔ cup of water. Set on low for 6 hours or until your pork chops have reached an internal temperature of 145 degrees Fahrenheit. Serve pork chop, smothered with kraut and your favorite sides oven-roasted potatoes or green beans.
---
Ribeye Steak Salad with Miso Jalapeno Dressing 
What You'll Need 
The Recipe 
Preheat your oven to 250 degrees Fahrenheit and season both sides of the steaks with salt and pepper. Line a rimmed baking sheet with aluminum foil. Set a wire rack inside the baking sheet and lay the steaks across the wrack. Roast the steaks until the internal temperature reaches 145 degrees Fahrenheit.

Before removing the steaks from the oven, heat a tablespoon of oil in a skillet on high. Add the steaks and a tablespoon of butter into the skillet. Rotate the pan occasionally to allow the butter to swirl around the steaks, lifting them occasionally so that the melted fat surrounds the meat. When this first side of the steaks is browned—which should take about 45 seconds—flip the steaks and brown the other side. Then quickly sear each edge. Remove from heat and serve. With the reverse sear, no rest period is required.

Toss baby spring mix lettuce, cucumber, red onion, and cherry tomatoes. In a salad bowl add tossed salad mix, top with seared steak, pumpkin seed, crumbled feta cheese, and gnarly miso jalapeno dressing. 
---