Honey-Garlic Chicken Wings Board with Lemon Yogurt Dip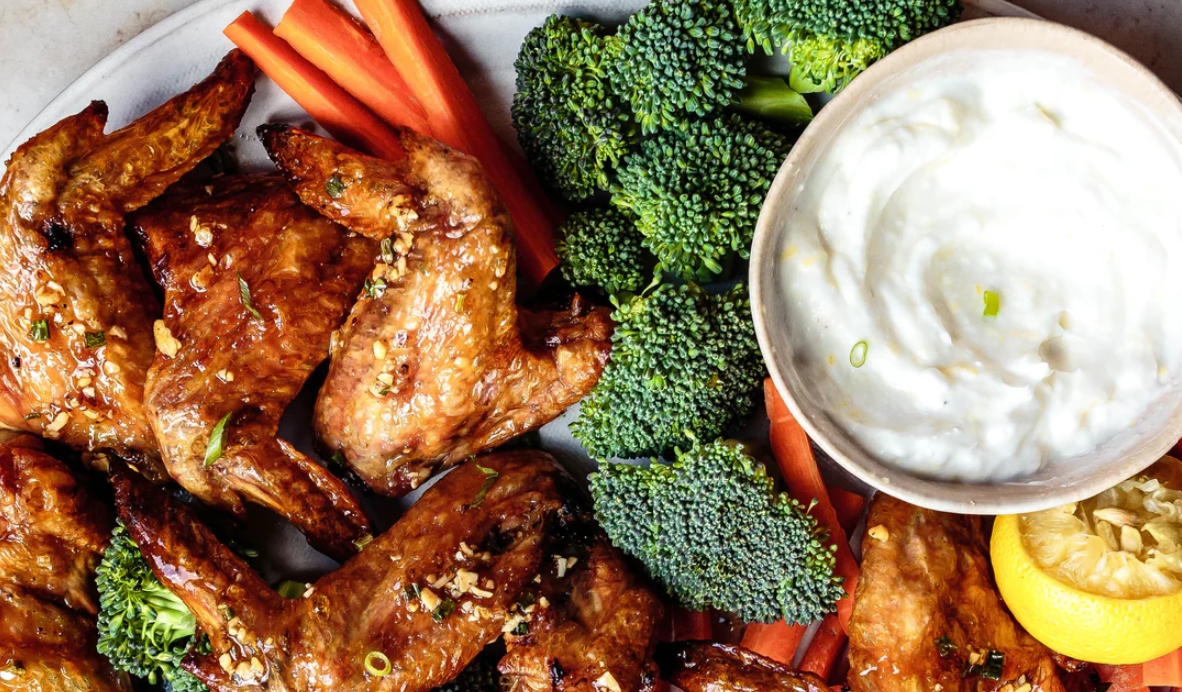 Recipe created by Alison Marras
The secret to crispy baked chicken wings is using a wire rack on your baking or "cookie" sheet for 360-degree airflow in your oven! Even better if you can use a convection setting on your oven. Add your sauce after cooking and uplevel your serving game with a beautiful platter of crudites and dipping sauce! This is a major crowd-pleasing appetizer or meal.
Optional to make it a chicken wing board:
Crudite vegetables such as chopped raw carrots, broccoli, or celery
makes:

4

total time:

60 min

Tags:
Ingredients
Olive oil (or olive oil spray)
1 tsp
Garlic flakes (or may use all garlic powder)
1/2 Tbsp
Scallions, chopped and divided
1 bunch
Extra-virgin olive oil
1/4 cup
Coconut yogurt (for dairy-free) or Greek yogurt
1/4 cup
Lemon, juice and zest
1 small
Utensils
Baking sheet
Aluminum foil
Large mixing bowl
Instructions
Preheat the oven to 425f degrees (use the convection setting if you have it for slightly speedier cooking), arrange a rack in the middle of the oven, and line a baking sheet with aluminum foil and a wire rack on top.
Rub the wire rack (or spray) with ½ the olive oil and add the chicken wings flat-side (or skin-side) down. Season with the rest of the olive oil and sea salt.
Bake in the oven for approx. 45-50 minutes, flipping the wings halfway through. As the skin cooks and crisps, it will release drippings which may cause some smoke in the house, so have your windows open and fan turned on (it's worth it, trust me). Trim off any burned wing ends if you have them.
Meanwhile, mix all ingredients including ½ of the chopped scallions for the honey-garlic sauce in a large mixing bowl and toss cooked chicken in the sauce until well coated right out of the oven and let sit. Next, mix up the yogurt dip in a serving bowl.
Serve chicken wings with the yogurt dip, and garnish with more chopped scallions.
Optionally serve on a crudite board with your favorite chopped raw vegetables.
---