Garlic Butter Steak Bites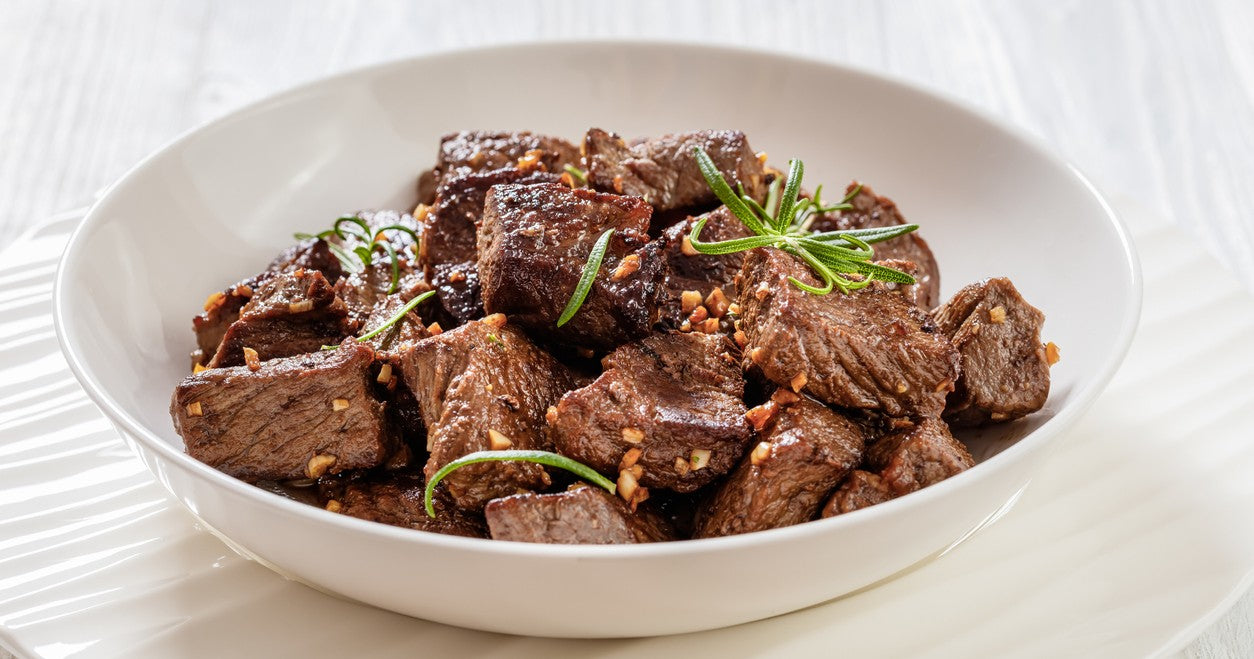 Small, tender pieces of steak that are seared to perfection and then tossed in a rich and flavorful garlic butter sauce. This dish is a delicious and easy way to enjoy grass-fed steak, and it makes a great appetizer or main course.
Ingredients
Kosher salt, divided
2 teaspoons
Black pepper, divided
1 teaspoon
Avocado oil
2 tablespoons
Garlic, minced
5 medium cloves
Butter, cubed
4 tablespoons
Worcestershire sauce
3 teaspoons
Utensils
Cast iron skillet
Sharp knife
Large bowl
Instructions
Heat a large cast-iron skillet over medium-high heat.
Cut steak into 1x1 inch pieces. Sprinkle with 1 1/2 teaspoons of salt and 1/2 teaspoon of pepper.
Add oil to skillet, and heat until shimmering.
Add half of the steak pieces to the skillet, keeping space between each piece. Cook, undisturbed, until browned and crispy on bottoms. Flip the steak pieces, and continue cooking until browned on the other side. Flip pieces again, and cook, turning occasionally, until most sides are browned and crispy and the steak is almost medium-rare.
Transfer the steak to a large bowl. Repeat the cooking process with the remaining steak pieces. Set aside. Do not wipe the skillet clean
Reduce heat under skillet to medium; add garlic, and cook, stirring constantly, until golden brown.
Add the white wine, and scrape up browned bits from the bottom of the skillet. Cook, stirring occasionally, until liquid is reduced to about 3 tablespoons. Remove from heat.
Add butter, and stir until melted and creamy. Add Worcestershire sauce and remaining 1/2 teaspoon each salt and pepper.
Pour mixture over steak pieces in a bowl, and toss to coat. And enjoy!
---