Chicken Chermoula Recipe & Cooking Instructions | Juicy, Flavorful Chicken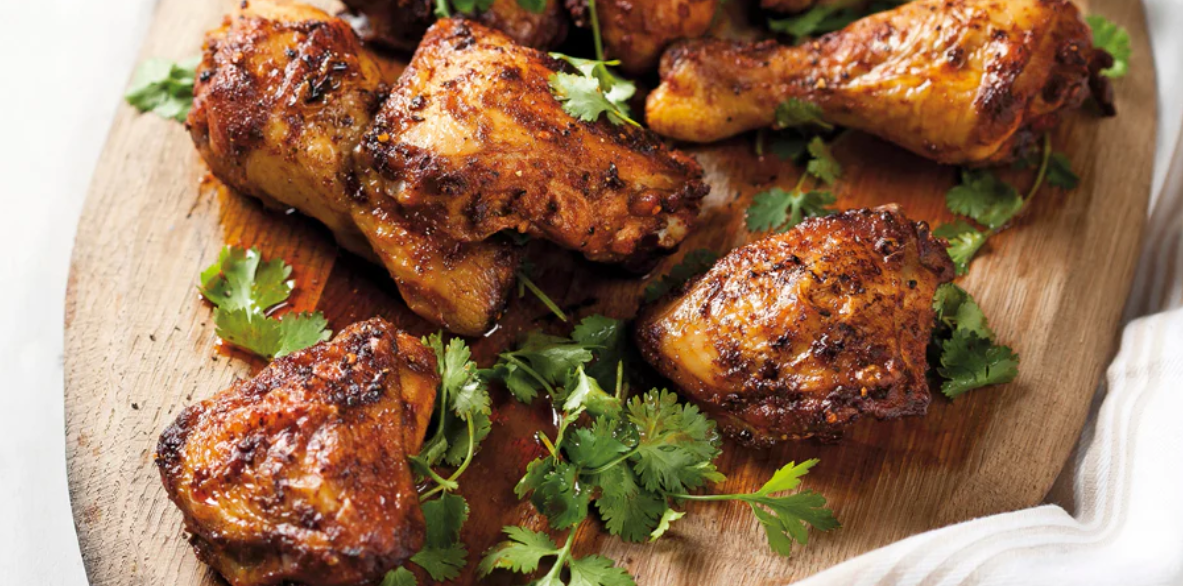 Chermoula (pronounced sher-moula) is a bright, herbaceous Moroccan sauce that imparts a myriad of flavors into a variety of meat dishes, from chicken to beef, pork and lamb. In this chicken recipe it is used as a marinade which allows all those herbs, spices, garlic and lemon juice to permeate the thighs and drumsticks.
The result is juicy, flavorful chicken. Serve with a rustic chickpea and tomato salad, and couscous.
View other chicken recipes here:
Buttery, herb roasted whole chicken recipe
Ingredients & instructions for chicken albondigas
makes:

6 Servings

total time:

2 hr

cooking difficulty:

Easy

Tags:
Ingredients
Onion, peeled and chopped
1 small
Garlic, peeled and chopped
4 cloves
Fresh cilantro, plus additional for garnish
1 cup
Fresh mint, leaves only
1/2 cup
Extra-virgin olive oil
1/4 cup
Freshly ground black pepper
1 tsp
Utensils
Food processor or blender
Spoon
Instructions
Combine all ingredients except for chicken in a food processor or blender. Pulse until smooth. Set some aside for spooning over the finished chicken.
Score the chicken pieces and then rub the prepared chermoula paste thoroughly over each piece. Let marinate for at least 1 hour in the refrigerator.
Preheat oven to 400ºF. Place the marinated chicken on a baking sheet and roast for 40-50 minutes or until cooked through.
Transfer to a serving platter and let rest for 5 minutes before serving. Garnish with cilantro and your reserved chermoula.
---