Buttery, Herb-Roasted Whole Chicken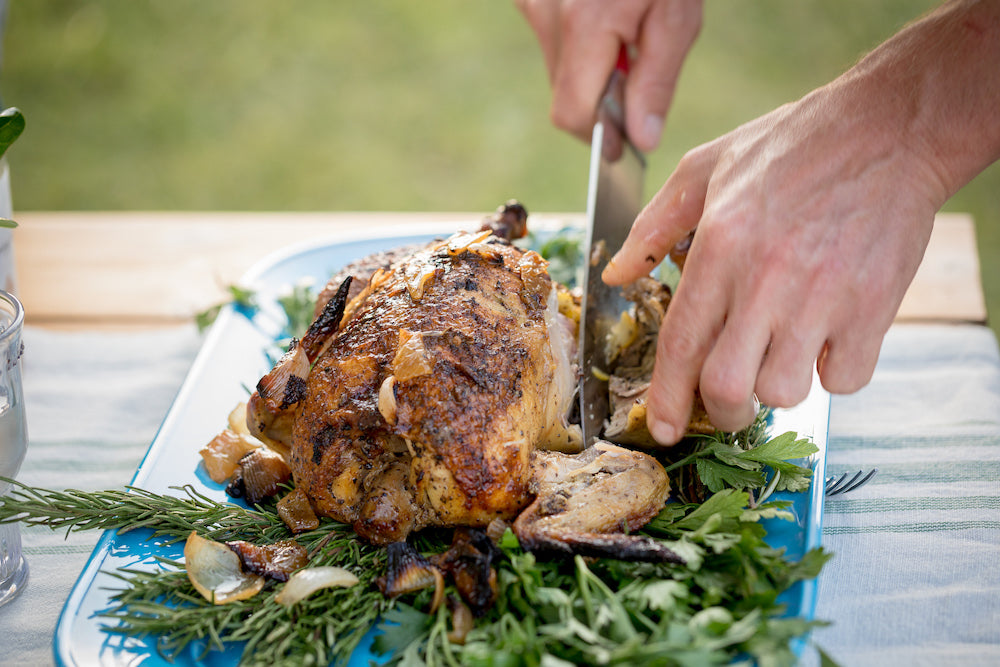 We're stoked about the latest recipe from Lycia and Taylor at Blackboard Grocery & Eatery. Not only is it jaw-droopingly delicious—believe us, we've tried it—it's also a useful way to manage your weeknight meal planning. Just remember the brining requires some thinking ahead. This recipe has a simple buttered herb flavor, is soooo juicy, and allows you to really taste our pasture-raised whole chicken.
makes:

4-6 servings

total time:

13.5 hours

cooking difficulty:

Easy

Tags:
Ingredients
Fresh thyme (if using dried, use 1/2 the amount)
1 bunch
Garlic head, cut in half crosswise.
1
Melted butter
2 Tablespoons
Yellow onion, quartered
1
Utensils
Roasting Pan
Pot or bucket large enough to submerge whole chicken
Instructions
Mix water, sugar and salt into a large pot or bucket, leave room for it to rise once the bird goes in.
Remove giblets if you haven't already. Submerge chicken in brine and leave 12 hrs to overnight.
When you're ready to get cooking: Preheat oven to 425°F. Remove chicken from brine, rinse chicken inside and out and pat dry. Season liberally inside and out with salt & pepper.
Place in large roasting pan and liberally brush with melted butter. The next thing is really worth taking a second to do. Get up under the skin and slide a few pads of butter down on in there. Two words: Buttery Chicken.
Stuff cavity with both halves of lemon, thyme and garlic. Tie legs together with kitchen string and fold wing tips under breast. Scatter onion quarters around chicken.
Roast chicken for 1-1½ hours, basting every 15 minutes until juices run clear and internal temperature measures 165°F. Just put an episode of your favorite British Crime Drama on and set your phone timer. It will be done before you know it.
---