3 Tasty Ways to Work Watermelon Into Your Menu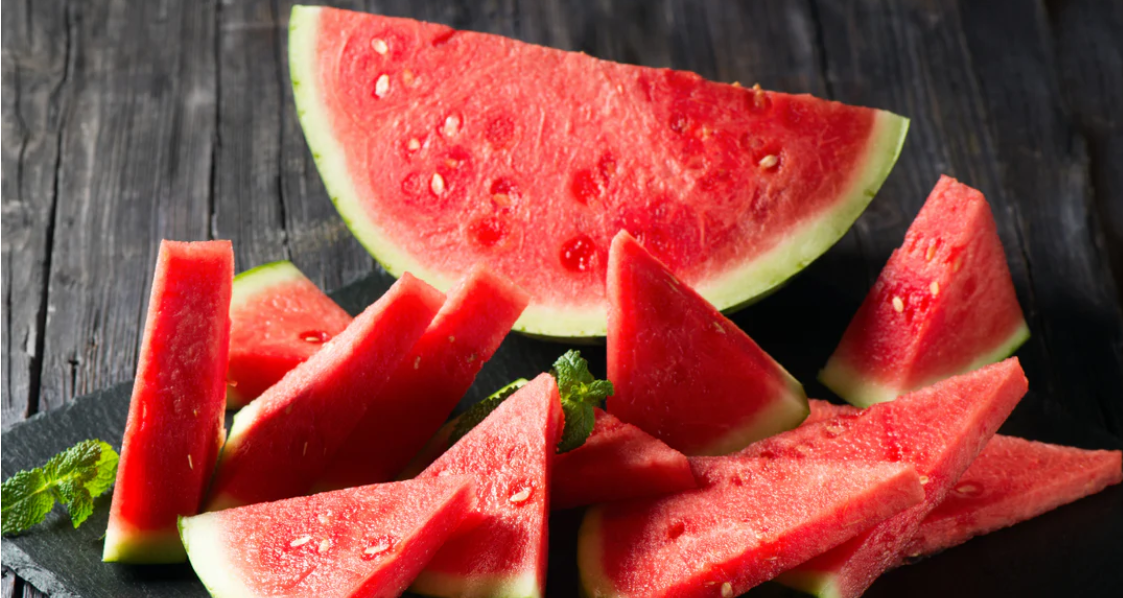 Watermelon is having its day in the sun.
It's no longer just a sweet treat we slice up and enjoy on the porch on a hot summer day (although that's still one of the best ways to cool off aside from running through the sprinkler).
Watermelon has sprouted into a versatile ingredient that brings vibrant color, light texture, and that classic nostalgic juicy watermelon flavor to a variety of recipes - both sweet and savory. 
Arkansas loves watermelon
Wander the farmers' markets and you'll discover watermelons in all shapes and sizes these days - various shades of pink, orange, yellow, and even white flesh; king size, classic, and single-serving size. In one of our farm states of Arkansas, the Cave City variety (named after the town) is heralded with an official sign as "home of the world's sweetest watermelon."  They even hold a watermelon festival every July to celebrate it. 
photo credit: arkansasonline.com
Why are they talking about watermelon on a meat site?
Good question.
Well, it just so happens that watermelon pairs really well with meat, in particular beef and chicken. The sweetness and acidity of the watermelon balance out the richness of the protein.
Following are 3 of our favorite recipes we like to serve when we're grilling up Grass Roots' pasture-raised chicken, beef, and pork.
1. A quick and easy Watermelon, Feta, and Radish Salad
2. A refreshing Watermelon Flip Cocktail which also makes a great Mocktail)
3. Drumroll please, Pickled Watermelon Rinds.  Pickling watermelon rinds is a great no-waste recipe that marries sweet, sour, and herbaceous. Super delicious with barbecue or anything on the grill.
Watermelon, Feta & Radish Salad
This is a very flexible recipe so we've given you a number of options on the ingredients but feel free to experiment. Whatever is fresh and local is best. Serve as a first course or pair it with a nice ribeye, flank, or skirt steak or grilled chicken legs, thighs, or boneless turkey breast. 
INGREDIENTS: 
4 cups watermelon, cut into 1" cubes (seeds removed if any)

2 tbsp balsamic vinegar (sherry or champagne vinegar can be substituted)

1 tbsp extra virgin olive oil

8 oz (1½ cups) crumbled feta (or goat) cheese

1 small red onion (or scallions), thinly sliced

2-3 radishes, thinly sliced

pine nuts, lightly toasted (or pistachios, walnuts or pecans if you prefer)

2 tbsp fresh basil, mint or tarragon (or a combo), chopped

juice of ½ lime
INSTRUCTIONS:
1. In a small bowl gently combine the watermelon, radish slices, vinegar, lime juice, and onion.
2. Add most of the feta (or goat) cheese and herbs, reserving some of each for garnishing the finished dish, and gently toss.
3. Spoon onto a serving platter and sprinkle with reserved cheese, basil, and nuts.
Watermelon Flip Cocktail (or Mocktail)
Have you ever heard of a flip? It's a cocktail that has shaken egg white in it which gives the drink a nice froth on top. This method dates back to the 1600s and has a fascinating history that can be traced back to merry old England.
Adding Thai basil or an anise-flavored herb to the watermelon juice adds a nice flavor and a fresh brightness to the drink. It's so refreshing and a great way to cool down on hot summer days. If you'd like to make it non-alcoholic, replace the gin with sparkling water, club soda, or ginger ale. Sip it while you're waiting for the grill to heat up. Cheers.
INGREDIENTS: 
For the Watermelon-Basil Juice:
5 cups of watermelon, peeled

1 handful of Thai basil leaves (or classic basil, tulsi basil, tarragon or anise hyssop)
For the Cocktail (per cocktail):
½ cup watermelon-basil juice

2 oz gin (for a mocktail, replace gin with sparkling water or ginger ale)

juice of 1 lime

1 large egg white ice

splash of club soda, sparkling water, or prosecco

a sprig of Thai basil for garnish
INSTRUCTIONS: 
Purée Watermelon:
Combine watermelon and basil in a blender and blend until smooth. Strain and refrigerate.
Make Cocktail:
Combine all ingredients in a cocktail shaker. Shake vigorously with ice. Strain into a glass and garnish with Thai basil.
Pickled Watermelon Rind
At Grass Roots, we don't like to waste a thing. That's why we don't throw our watermelon rinds away. They make the most delicious pickles which are great plated up with anything off the grill, particularly barbecue ribs. Try them with our beef backribs, baby back pork ribs, or pork spare ribs. 
Yields about 6 cups
EQUIPMENT:
non-reactive pot

glass jars with lids
INGREDIENTS:
4 cups watermelon rind, cut into bite-size pieces or spears
Pickling liquid:
6 cups water

1 tbsp fennel or anise seeds, lightly toasted

1 tbsp coriander seeds, lightly toasted

½ tbsp whole allspice berries, lightly toasted

3-4 cloves

3-4 slices of fresh ginger, peeled

6 tbsp sugar or honey

4 tbsp salt 

2 cups apple cider vinegar 
INSTRUCTIONS:
1. Combine all the pickling ingredients in a nonreactive pot.
2. Bring to a boil and simmer for 5 minutes.
3. Pack watermelon rind pieces in jars leaving about ¼" head space.
4. Carefully pour the hot liquid over the rinds to cover.
5. Cover and store refrigerated for up to 2 weeks (you can also use the boiling method to make them shelf stable for months).
---