The Vida Well & SECCO Wine Club Pairing Guide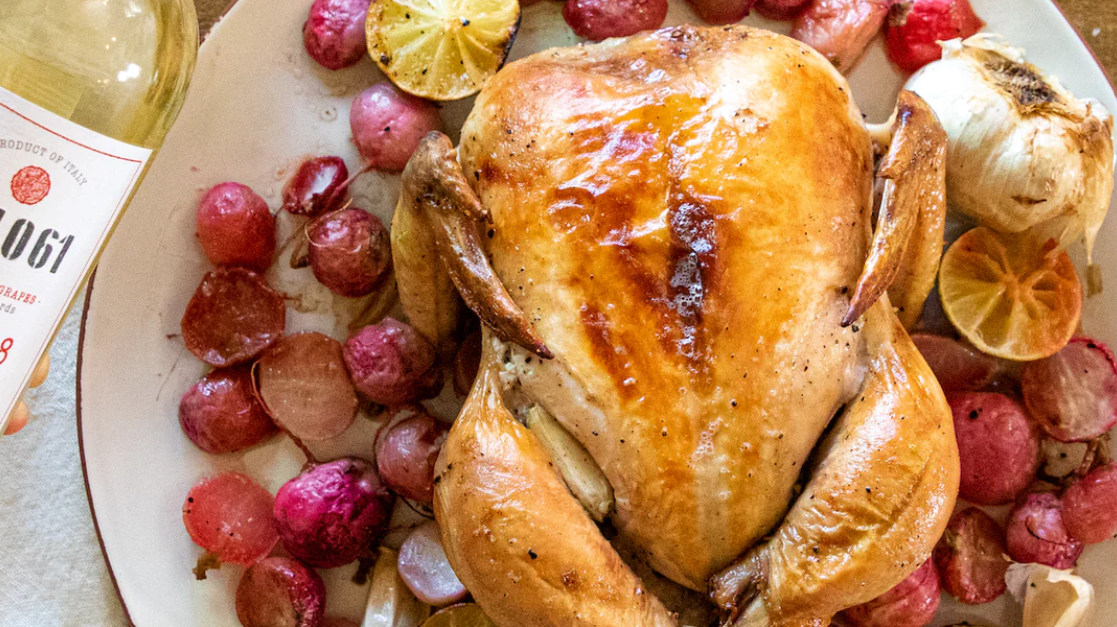 Pair pasture to plate perfectly with grape to glass this holiday season for a memorable meal your entire family will love. We partnered with SECCO Wine Club and Torie Borrelli of The Vida Well to create a healthier wine pairing guide featuring a combination of Grass Roots' pasture-raised poultry, pork, and beef.
Shop SECCO Wine Club's low-carb and paleo-friendly PALP61 red, white, and rose wines at seccowineclub.com
Let's get into the recipes!
Beef Chuck Roast Bolognese x Toscano Rosso 
Chuck roast is a cut of meat that comes from the shoulder of the cow, filled with lots of healthy fats from the natural marbling. This type of cut is most often used in hearty meals such as pot roast.
I created a Bologonse because it is a classic and crowd favorite, with the twist of using chuck roast instead of ground meat which gives it an amazing texture.  It is made in one pot, so it saves you all those dishes!
Serve this with friends over the holidays paired with red wine. I recommend using a pasta that has only one ingredient (organic semolina flour) or you can also use gluten-free pasta or serve this meat sauce over a summer squash.
What You'll Need
2-2.5 pounds Grass Roots Chuck Roast, cut into 1 inch cubes
2 teaspoons sea salt
4 tablespoons avocado oil, lard or high-heat fat of choice
¼ cup olive oil
1 white onion, diced, 1/2 cup celery, diced, and 1/2 cup carrots, diced 
3 tablespoons tomato paste
1 teaspoon dried oregano
4 garlic cloves, minced
1 cup bone broth
1/2 cup red wine
2 cups of strained tomatoes, or you can get stewed and blend them
2 tablespoons butter, preferably grass fed or ghee
1 pound pasta of choice, I suggest penne or rigatoni
1/4- ½ cupFresh basil, roughly chopped for topping
Red pepper flakes for topping
½ cup or more of  parmesan, grated for garnish
The Recipe
Cut the chuck roast into 1 inch cubes. Season it liberally with salt to coat. Set aside for 30 minutes to allow it to get to room temperature. In a stock pot or saucepan heat up the oil to medium heat, once it is hot add meat to the pan browning on all sides. Depending on your pan you might want to do this in two batches so you don't overcrowd the pan. 

Lower heat and add  ¼ cup olive oil, onion, celery, and carrots, stirring for a couple minutes. Next add the tomato paste, oregano, garlic, bone broth and red wine and let it reduce for about 20 minutes on a simmer.

Add the tomatoes, and butter, stir to evenly mix, taste to see if you need to add salt.Bring the mixture to a simmer on medium low and cook until the meat is tender and starts to fall apart about 60 minutes 

In a separate pot cook the pasta to the direction on the box. Serve pasta in a large bowl with meat sauce. Top with lots of basil, red pepper flakes, and parmesan. 
---
Pork Piccata with Capers & Fennel x Toscana Rosato
Made in under 30 minutes! Piccata describes meat, usually chicken, pork, or veal. It is always sliced or pounded thin, mixed with flour, and then sauteed with vino, lemon, butter, and capers. I spun the traditional white flour for almond flour which still tastes just as good as white flour, but without leaving you with all that inflammation!
This recipe can be made in under 30 minutes. Serve with cauliflower mashed potatoes, green beans, or roasted root veggies like brussel sprouts.
What You'll Need
2 Grass Roots pork Steaks or Center-Cut Pork Chops (if using with bone, cut bone and freeze bone to use for broth later)
1 -2 tablespoons sea salt and pepper
 1 cup superfine almond flour
4 tablespoons avocado oil or lard
1 shallot, minced (about 4 tablespoons)
¼ cup fennel, thinly sliced
¼ cup white wine
1/2 cup chicken or bone broth
3 tablespoons lemon juice, plus 4-6 thin lemon wedges
2 tablespoons pastured unsalted butter or ghee
2 tablespoons capers (drained)
2 tablespoons flat leaf parsley, roughly chopped for topping
The Recipe
Made in under 30 minutes and serves well with cauliflower mashed potatoes, green beans, or roasted root veggies like brussel sprouts.Slice the pork chops lengthwise and then pound the pork chops into four ¼  inch cutlets.

Season with salt and pepper on both sides and set aside. Heat a large skillet to medium heat with the oil.  While the pan is heating, pour almond flour in a shallow bowl and dredge both sides of the seasoned meat, shaking off any excess flour.

Carefully add the dredged pork, half the batch at a time into the skillet without moving them which will create an even browned side, about 2  minutes. Turn the meat over and cook the second side about 2 minutes,  or until lightly browned. As each piece is done, transfer it to a plate and  keep it warm with foil or at  200 degrees in the oven. Make sure to add more oil to the skillet if needed for the second batch. 

In the pan add the shallot, fennel, white wine, and broth to the skillet and deglaze the bottom of the pan by using a  wooden spoon to scrape the bottom. Saute for about 5 minutes which  will reduce the liquid by about half. Add in the lemon juice, butter or ghee and capers. 

Return the browned pork to the  pan and carefully toss the sauce over them. Finish with lemon slices and parsley.
---
Butter Roasted Radish Chicken x Toscana Blanco 
This recipe was inspired by two favorites from my cookbook. If you eat meat, you should be able to make a roast chicken. It is a classic staple that you will make over and over again. Instead of doing a side of my roasted radish, I decided to roast the chicken on top of the radishes and the butter and lime create a caramelized radish that melts in your mouth.
You can save extra meat to add to any salad for extra protein. Even if you finish the whole bird, the bones can be used to make a beautiful soup base with the leftover bones.
What You'll Need
1 Grass Roots Whole chicken, at room temperature
1⁄2 cup grass-fed butter or ghee
1 teaspoon garlic salt, or 1 garlic head
2 generous teaspoons kosher salt
Freshly ground black pepper
2 limes, halved
2 bunches radishes, cut lengthwise, green tops cleaned well and reserved
1 tablespoon MCT oil or avocado oil
1 teaspoon lemon or lime zest
3 tablespoons freshly squeezed lemon or lime juice
½ tsp of sea salt
The Recipe
Preheat the oven to 425°F. Pat the chicken dry using paper towels (unbleached, of course). Melt the butter in a separate saucepan. On a cutting board, with the chicken legs facing you, use a knife to cut through the skin area between the leg and breast.

In a bowl, toss together radishes, oil, lemon/lime, and salt and toss to coat. Then you will spread the radish in a single layer to cover the bottom of the skillet. 

In a separate dish season the chicken with garlic salt or garlic head. If using garlic head, separate into cloves and place some cloves inside the breast cavity and scatter the rest alongside the chicken in the middle of the radishes inside the skillet. Drizzle the melted butter all over the chicken. Liberally season with salt and pepper, even inside the breast cavity and on the legs and wings. 

Place the limes cut-side down in the skillet around the chicken. Set the skillet with the chicken into the oven. Roast for 50 minutes to 1 hour. Make sure you check the chicken at 50 minutes has passed by removing it from the skillet (the cast iron is hot, so do not use your hands). To check doneness, you can also insert a thermometer into the thickest part of the bird and make sure it has reached a temperature of 165°F. I prefer using a knife or fork, poke the inside of the breast (close to where you cut) to see if the juice runs clear. If it is still pink, put it back in the oven for 5 minutes. Top with juices using a spoon. Let the chicken rest for 15 minutes before serving. 
---