Pan Seared Sirloin with Soubise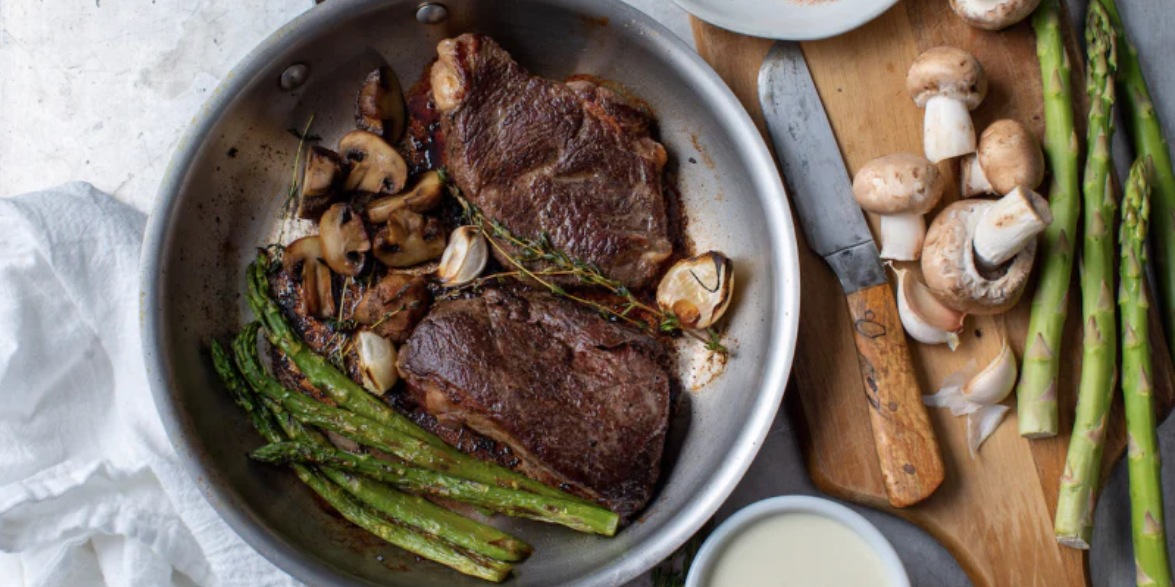 The sirloin steak cut is a somewhat humble slab of beef taken from the posterior portion of the animal, near the hips and the rump. Given that this is a hard working section for a large animal, sirloin steaks can be a bit tougher than a midsection cut of beef such as a striploin or rib loin. The upside to this is that the more work that a muscle does, the more flavor it can possess. It just takes a bit more coaxing to get it right. Transforming a sirloin into a premium steak is really quite simple. The trick is to salt the meat about an hour before cooking, and sear at a high heat, basted with butter and herbs. And then there's the sauce. A good steak usually doesn't need a sauce, and especially not one of those cloying ketchup based sauces that drown out the flavor of the beef. 
Soubise is a classic French sauce made of a handful of simple ingredients. It is as humble as the sirloin itself, but when it is properly prepared, soubise is velvety and sweet and salty, elevating the sirloin without overpowering the beef. All in all, this entire dish has very few needed ingredients, and along with the sauce, can be prepared in about thirty minutes, plus the time for pre-salting the steak.
Ingredients
Yellow onion, julienned
1 medium
Kosher salt and fresh cracked pepper
Utensils
Saucepan
Electric blender
Steel or cast iron pan
Instructions
To make the sauce, slice the onions in a thin julienne, and heat a saucepan on medium-low heat. Add the butter and once it is completely melted, add the sliced onion. Sweat the onion until it is translucent, but before it begins to brown, stirring often.
Add the cream and stir to fully incorporate. Carefully blend the onion and cream mixture in an electric blender, and then pour through a sieve to strain out any errant chunks.
Return to the pan on very low heat and season to taste with kosher salt. Hold the sauce warm until the steaks are ready.
For the steaks, salt, and pepper on each side, about ½ tsp of each. After seasoning, set the steaks aside under refrigeration for at least an hour before cooking.
After the hour has elapsed, preheat a steel or cast iron pan on medium-high heat. Add the olive oil and once the oil has reached the point of shimmering, carefully place the steaks into the pan.
Let the steaks sit undisturbed for 2 minutes. Flip and begin to sear the other side. After a minute, add the thyme, garlic and butter. As the butter melts and begins to brown, use a large spoon to baste the steaks for another minute.
Remove from the pan to a platter, carefully spooning the brown butter over the steaks. Let the steak rest for about 5 minutes before slicing and serving with the Soubise.
---