Osso Buco with Vegetables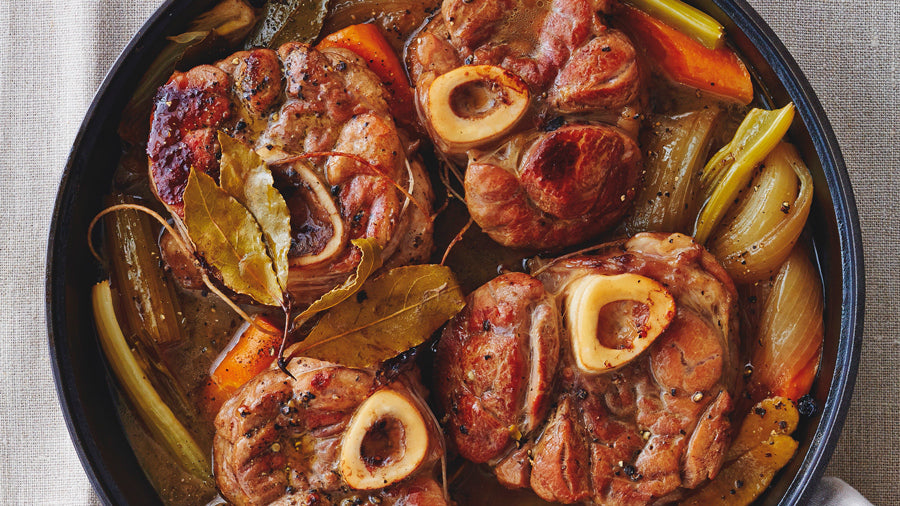 The ultimate warmer for a chilly day, Osso Bucco's low and slow cook time will fill your home with aromas that will make the waiting the hardest part. Our beef shanks have great marbling which will just melt into the pot and make all those vegetables in there extra delicious. Serve with risotto, polenta, or mashed potatoes - all perfect companions for capturing all those juices.
makes:

8

total time:

2 h 15 min

cooking difficulty:

Easy

Tags:
Ingredients
4 (trimmed and tied with twine to secure)
Kosher salt, divided
1-1/2 Tbsp
Freshly ground black pepper, divided
2 tsp
All-purpose flour
1/4 cup
Onion, peeled and cut into wedges
1 medium
Carrots, trimmed, peeled, and cut into large pieces
2
Celery, washed, trimmed, and cut into large pieces
2 stalks
Fresh rosemary, chopped
1 Tbsp
Fresh thyme, chopped
1 Tbsp
Nutrition Values
Calories:

852

Total Fat:

31.1g

Saturated Fat:

8.6g

Cholesterol :

474mg

Sodium:

1970mg

Total Carbohydrate:

8.3g

Dietary Fiber:

1.5g

Total Sugars:

1.9g

Protein:

121.8g
Utensils
Twine
Dutch oven or heavy oven-proof pot
Instructions
Preheat the oven to 325°F.
Season the beef shanks with 1 tbsp salt and 1 tsp pepper. Dredge in flour, shaking off any excess.
Heat the vegetable oil in a Dutch oven, or heavy oven-proof pot, over medium-high heat. Add the shanks and brown on all sides, about 10 minutes total. Transfer browned shanks to a plate.
Into the same pot, add the onion, carrots, and celery, and season with the remaining salt and pepper, cook for about 4 minutes. Add the rosemary, thyme, bay leaves, and cloves and cook for another minute, stirring to combine.
Add the shanks back into the pot and pour in the wine and chicken stock and bring to a simmer. Cover the pot and place in the oven to cook until the meat is tender, about 1 to 1 1/2 hours. Remove bay leaves before serving.
---