Thanksgiving Turkey Meatballs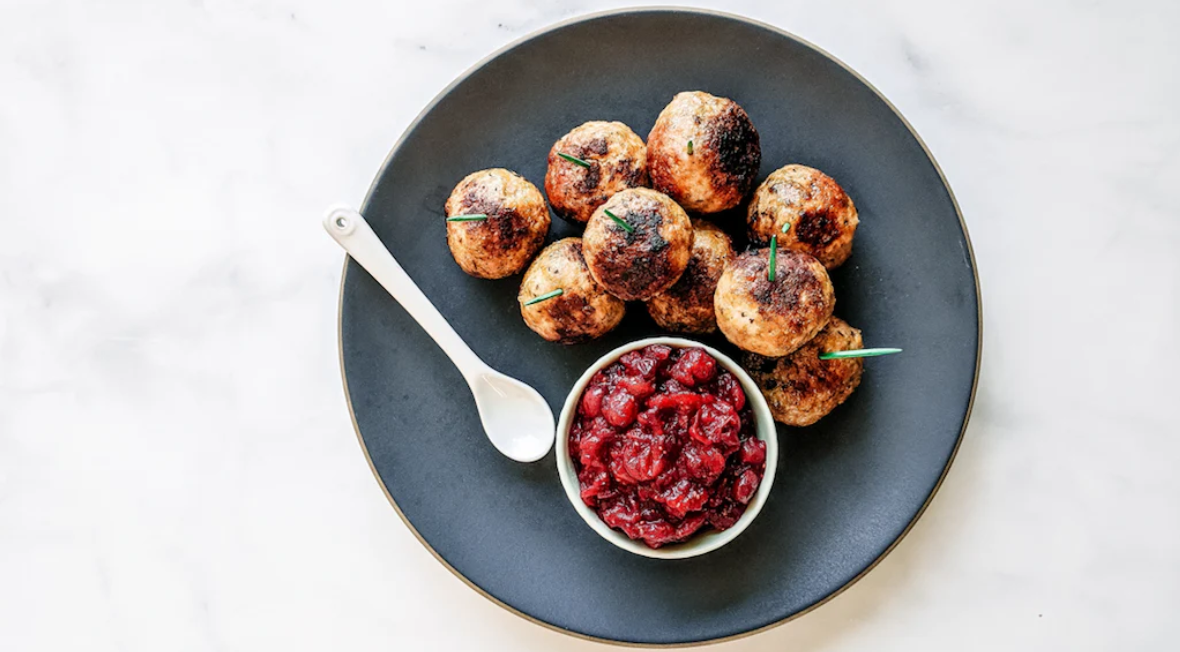 Created and written by our partner Cocoa & Salt
My turkey meatball recipe was a happy accident a few years ago. I was craving Thanksgiving dinner but had to wait two months for the real thing. I didn't want to roast a whole turkey so I started thinking about what I could do with ground turkey. Meatballs were an obvious choice, but I decided to fill them with traditional Thanksgiving flavors. 
To make my Thanksgiving meatballs, I use ground turkey mixed with Thanksgiving spices and stuffed with mashed potatoes. You can use your favorite mashed potato and cranberry sauce recipe or follow the recipes below. I like my cranberry sauce very tart, but you can add more sugar to make it sweeter if you prefer. You could also replace the mashed potatoes with your favorite stuffing recipe. 
This recipe should get you through your Thanksgiving cravings for the next 22 days until the real thing. It's also a great recipe to serve as an appetizer at parties year round. 
Ingredients
Onion, finely chopped
1/2 large
Celery, finely chopped
1 stalk
Freshly ground black pepper
1 tsp
Yukon gold potatoes
2 large
Cream or whole milk
4 Tbsp
-For the cranberry sauce:
Fresh or frozen cranberries
1 cup
Juice of an orange
1 small
Utensils
Large pot
Sauce pan
Large mixing bowl
Instructions
If you are using your own potato and cranberry sauce recipe, skip to step 3.
Place a large pot with water over high heat. Peel the potatoes and cut them into quarters. Add to the water once boiling and cook until fork tender, about 15 minutes.
Drain the potatoes and put them back into the empty pot. Add butter and mash the potatoes until all the lumps are gone. Add the milk and season with salt and pepper.
Once the potatoes are done, set aside to cook then place in the fridge. You want the potatoes cold to stuff into the meatballs.
To make the cranberry sauce, combine orange juice, orange zest, sugar and 1/4 cup water over medium heat in a sauce pan.
Cook, stirring occasionally, until the sugar has dissolved. Stir in cranberries and bring to a boil.
Reduce heat and let simmer until sauce has thickened about 15 minutes. Remove from heat and let cool.
Heat a pan on medium with butter. Add the onion and celery.
Cook for 3 minutes, stirring frequency. Add the garlic and cook for another minute, being careful not to burn.
Remove from heat and let cool for about 10 minutes.
In a large mixing bowl, add ground turkey, cooked vegetables and spices.
Using your hands, mix well until combined. To form meatballs, take a little more than a golf ball-sized amount of the mixture and flatten out in your hand, almost as if you are making a thin burger.
Take 1-2 tsp of the mashed potatoes (depending on the size of your meatball) and place in the center of the meat. Fold the meat over the mashed potatoes into a ball, making sure to seal the seam well.
Repeat with the remaining mixture.
You can cook the meatballs in the oven or in a pan.
If using the oven, heat to 375 degrees. Place meatballs on a large sheet pan coated in cooking spray. Cook for about 15-20 minutes, until done.
I prefer to use a pan because it makes the meatballs a bit crispier. If using a pan, heat a large pan over medium heat with 2 Tbsp olive oil. Working in batches, add meatballs. Flip occasionally to brown on all sides and cook for about 15 minutes, until done.
Serve with cranberry sauce. Enjoy!
---