Sweet & Tangy Dijon Vinaigrette Chargrilled Chicken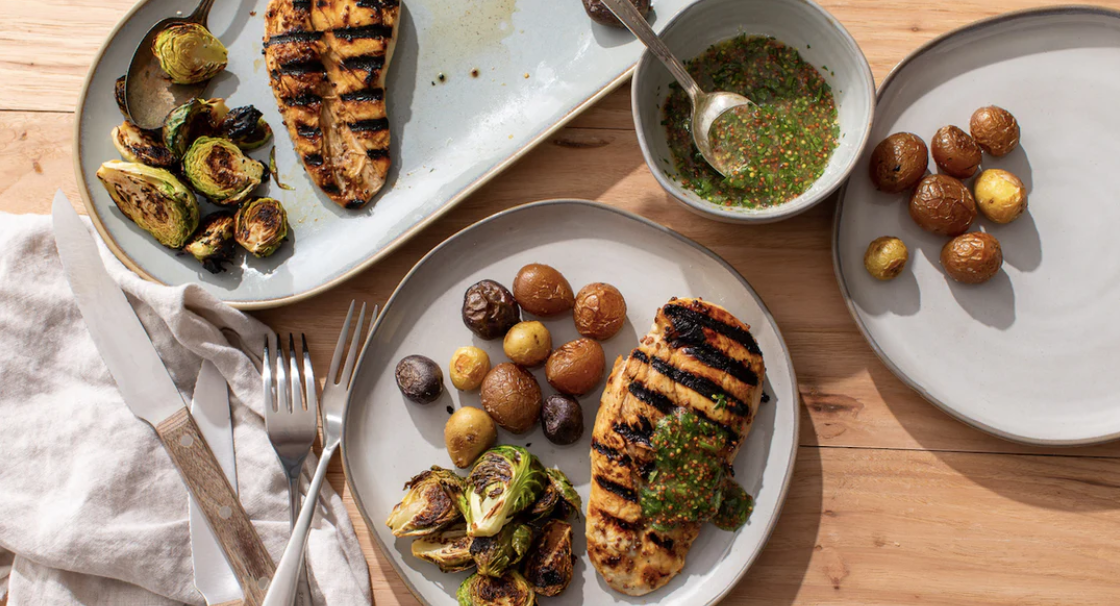 Created by our Chef, Phillip Schaaf
This recipe is a summertime favorite around our house. When grilling weather hits, this is the first dish to hit our grill grates. The sweet and tangy marinade paired with chargrilled chicken creates a balanced flavor that even a super picky eater will love. I know, because my youngest will hardly eat anything, and she requests this chicken all the time. 
If you don't have access to a grill or the weather doesn't cooperate to cook outdoors, this recipe will work in a grill pan on the stove top or in a high heat broil in the oven, so don't fret, there are other options. This recipe is really simple, which makes it easy to pull off for a weeknight dinner, or out in the wilderness around the campfire. Simply marinade the chicken for at least 4 hours and then cook with a high heat cooking technique, ie. chargrill, gas grill, grill pan, or broiler.
Ingredients
Dijon mustard or whole grain mustard
2 Tbsp
Yellow onion, diced
1/2 medium
Chopped fresh parsley
2 Tbsp
Kosher salt and fresh cracked pepper
Utensils
Charcoal or gas grill
Tongs
Medium-sized mixing bowl
Paper towel
Instructions
Season the chicken breasts with kosher salt and fresh cracked pepper. Use enough to lightly coat each side of the chicken breasts.
In a medium-sized mixing bowl, combine all other ingredients. Add the seasoned chicken breasts and toss until all of the meat is evenly coated. Let the chicken breasts sit in the marinade under refrigeration for at least 4 hours and up to 8 hours.
After the chicken has marinated properly, prepare a charcoal or gas grill for high-heat direct cooking. Alternatively, prepare a grill pan or a broiler for indoor cooking. The high heat will help in the development of that chargrill flavor that rounds out the sweet and sour marinade.
Grill the chicken breasts for about 3 minutes a side. To avoid sticking to the grill grates, oil can be applied to the grill itself, using a paper towel and tongs to avoid a big flare-up or a nasty burn.
Cook the chicken until an internal temperature of 165 degrees is reached. Let the chicken rest for at least 5 minutes before slicing and serving.
---