Southern Boneless Pork Chops & Gravy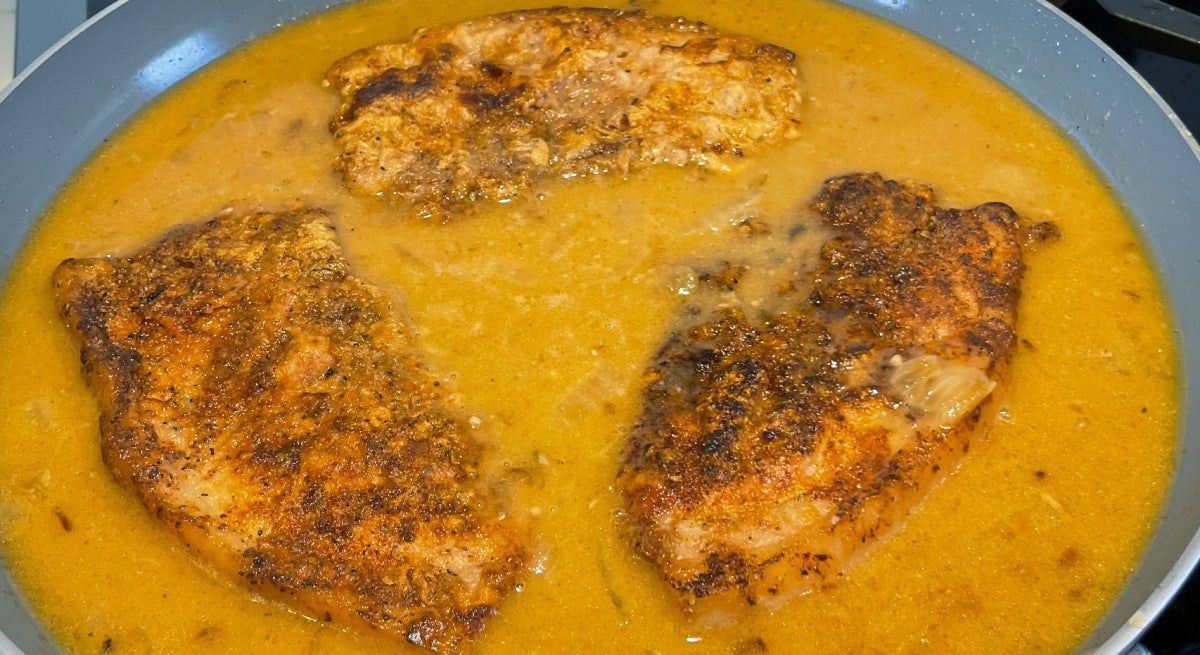 With just one bite, you'll be hit with a delightful contrast of textures: the crispy yet succulent meat and the smooth, creamy gravy. The flavors are a harmonious blend of rich and savory with a dash of spice, evoking a sense of comfort and home-cooked goodness. Try this healthier take on a traditional Southern comfort food - it's sure to be a crowd-pleaser.
makes:

4-8

cooking difficulty:

Easy

Tags:
Ingredients
Ground black pepper
3/4 tsp
All-purpose flour
1 1/2 cup
Sweet onion, roughly chopped
1 large
Chicken bone broth
2 cups
Utensils
Bowl
Shallow bowl or plate
12-inch cast-iron skillet
Cooling rack or another plate
Instructions
In a bowl, whisk together salt, paprika, black pepper, garlic powder, and onion powder.
Rub the mixture on both sides of each pork chop.
Pour all but 3 tbsp of flour (used later to thicken the gravy) into a shallow bowl or plate. Coat each side of the pork chop with flour.
Place a 12-inch cast-iron skillet over medium heat. Add the avocado oil.
Once the skillet is hot, brown the seasoned pork chops until golden brown on each side. Remove the pork chops to a cooling rack or plate.
Add the onion to the hot skillet and cook until caramelized about 10 minutes.
Add in the garlic and cook until fragrant, about 1 minute.
Push the onions to the outside edges of the skillet. Add in the butter and melt. Then add the flour and stir until the mixture is golden brown.
Slowly add in the chicken broth and whisk to remove the lumps.
Bring the onions back to the center of the pan and bring the mixture to a boil. Then reduce heat to medium-low and simmer until it begins to thicken (about 10 minutes).
Reduce heat further to low and whisk in the buttermilk. (You can add some water in if the mixture is too thick).
Gently add the pork chops back into the pan and cover, simmering on low until the chops are cooked through (reach an internal temp of 145 degrees).
Remove from heat and season with salt and pepper to taste. Transfer meat and gravy to a serving dish and enjoy!
---