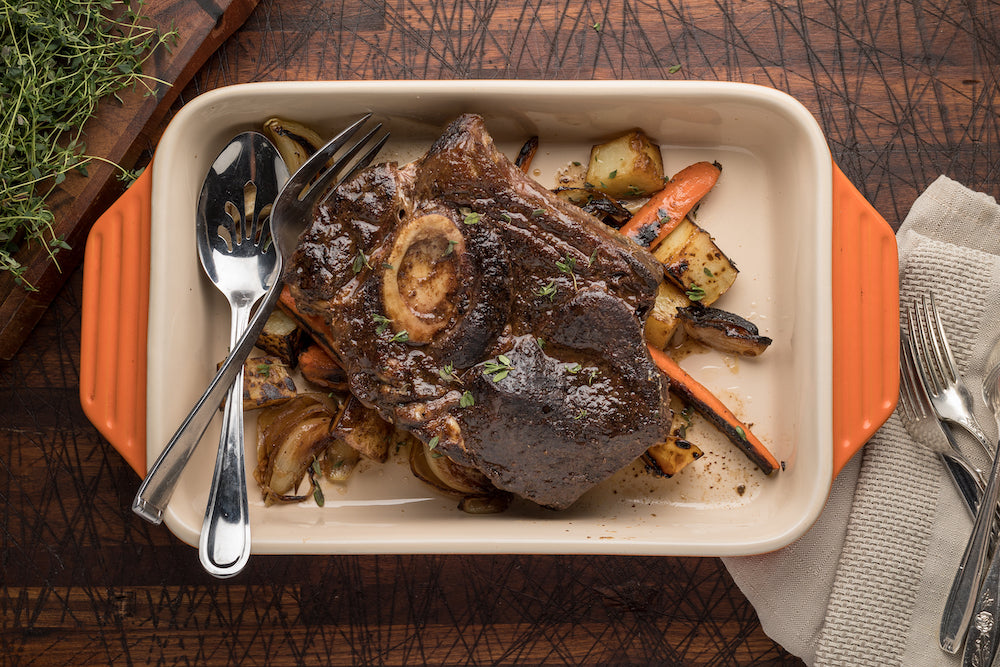 By Our Chef, Phillip Schaaf
My grandmother, Elise, made the most amazing pot roast I have ever eaten. From the tender shredded beef to the soft carrots and potatoes that hid beneath—every bite of her roast was magical. And every winter I try to recreate her dish for my own family.
What I remember most about her roast is that there was no added liquid to the pan. When the roast was done, the fat and drippings from the meat were the only sauce you had, and that was all you needed.
In all my years of trying to recreate this one-pot wonder, here's what I've learned:
The secret to super tender pot roast without adding too much liquid to the recipe is to season the meat ahead of time.
Cook at a low temperature for maximum tenderness.
Cook the roast in a heavy pot with a good fitting lid. Keeping the dish covered will recirculate the moisture, keeping the roast from drying out.
Start with good ingredients. Flavor and quality are worth paying a little extra for.
Ingredients
Liberal amount of salt and pepper
Lard or oil, Grapeseed or Olive
2 Tbsp
Carrots, peeled and sliced
3
Yellow onion, quartered
1
Instructions
The night before cooking, rub the chuck roast with a good amount of kosher salt and fresh cracked pepper. Let it sit for at least 6 hours.
Preheat the oven to 325 degrees.
Heat the lard or oil in a heavy bottomed pot. Once the fat is shimmering, sear the roast about 4 minutes per side, until it is browned all over.
Remove the roast from the pot and set aside. Add the vegetables and toss to coat with the remaining fat in the pan. Place the roast back in the pan, using the vegetables as a sort of roasting rack.
Place the lid on top of the pot and place it in the preheated oven. Let it cook for 2 hours and then turn off the oven, leaving the roast and pan in the oven for another 45 minutes.
Take the pot from the oven and remove the lid. The roast should be able to be pulled apart fairly easy with the tines of the fork. There should be enough drippings in the pan to spoon over the roast and vegetables.
---