Pork Sirloin Chops Schnitzel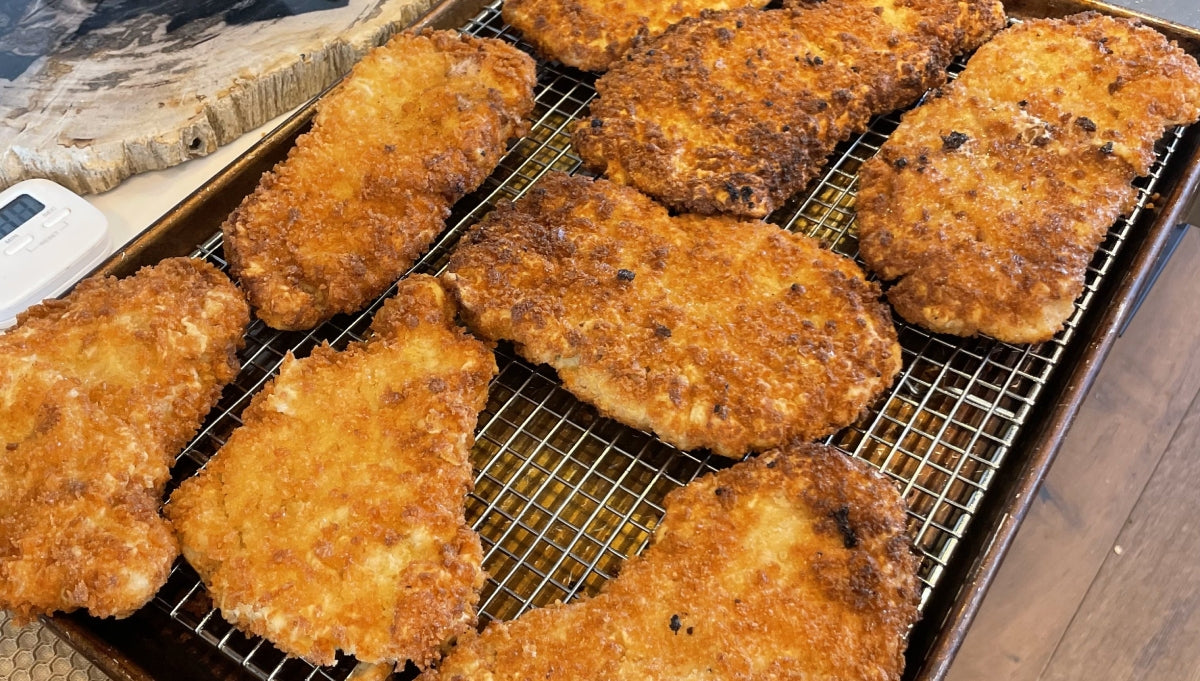 Our Pork Schnitzel is a culinary masterpiece and comfort food that brings the rich tradition of German and Austrian cuisine to your table. Elevate your dining experience with this timeless favorite that effortlessly combines simplicity with irresistible flavor.
Ingredients
Salt and pepper (to taste), about 1 tsp each
Eggs (beaten with a fork)
3
Panko breadcrumbs
1-1/2 cup
Lemon wedges (for serving)
Utensils
3 shallow bowls
Meat mallot
Plastic wrap
Large skillet
Instructions
Set out 3 shallow bowls: one for the flour, one for the panko, and one for the eggs.
Beat the eggs together with a fork, and add salt and pepper to taste.
Place the sirloin chops between two sheets of plastic wrap and pound them until they are 1/4 inch thick. If you have a meat mallet, use that. If not, a can or jar works fine.
Remove the plastic wrap and season both sides of the meat with salt and pepper.
Add 2 tbsp of oil and 1 tbsp of butter to a large skillet. Turn the heat up to medium-high and let it heat up.
Coat the pork chops first in flour, then dredge them in egg, and then roll them in panko breadcrumbs, pressing gently to make sure that all surfaces are covered in the panko.
Place the first two coated sirloin chops in the hot pan, cooking about 3 minutes per side. Flip when you start to see the panko turning a light brown on the edges.
Using a meat thermometer, remove from the pan when the internal temp reaches 125-130, for medium. (They will continue cooking once you remove them).
Add another 1 Tbsp of butter and 1 Tbsp of oil to the hot pan.
Repeat steps 7 and 8 with the remaining 2 sirloin chops.
Serve while hot with lemon wedges and whatever sauces you love!
---