Philly Cheesesteak Skillet (Paleo, Dairy-free)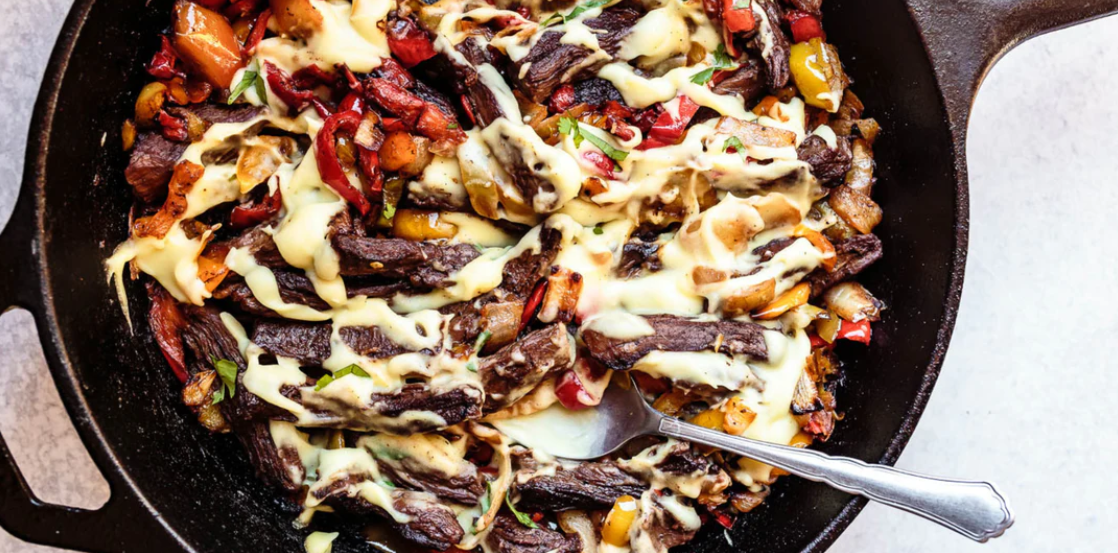 The sizzling blend of ingredients is generously smothered in a melty blanket of gooey, dairy-free cheese sauce, which adds a rich and creamy element to every bite. Whether enjoyed on its own or tucked into a fresh roll, the Philly Cheesesteak Skillet is a delectable classic that captures the essence of comfort food at its finest.
makes:

4

total time:

30

cooking difficulty:

Easy

Tags:
Ingredients
Yellow or white onion, sliced thin
1
Green bell pepper, sliced thin
1
Red bell pepper, sliced thin
1
Extra-virgin olive oil
2 Tbsp
Sea salt, plus more to taste
1 tsp
- Dairy-free Cheese Sauce -
White sweet potato, peeled and chopped 1-inch thick
1 1/2 cups
Unsweetened coconut yogurt (additive-free)
5 oz.
Utensils
Blender
Cast iron skillet
Instructions
To make the dairy-free cheese sauce:
Add chopped sweet potato and enough filtered water to cover, and bring to a boil. Cook until fork-tender for approx. 10-12 minutes and drain. Add sweet potato to a high-speed blender with coconut yogurt, nutritional yeast, and garlic powder. Blend until smooth, adding water as needed to loosen (no more than ¼ cup or so should be fine)
To make the steak and veggies:
First, rinse and pat dry the steak. Slice steak thinly into strips with a sharp knife and season generously with sea salt and pepper.
Heat a cast iron skillet on medium-high heat, and add 1 tablespoon olive oil, once shimmering add onion and peppers. Season with 1 tsp sea salt and saute for 5 minutes or until golden brown.
Remove the vegetables from the skillet and add another tablespoon of olive oil to the hot skillet. Once shimmering again, add the sliced steak and stir with a wooden spoon to coat in the oil. Let cook until crispy, at least 2 minutes per side (the steak will release liquids, cook it beyond that as the liquids reabsorb).
Add vegetables back into the skillet and continue cooking together so the flavors can meld for 30 seconds more or until everything is cooked to your liking. Turn heat off and drizzle the cheese sauce over the skillet and serve hot. Store excess cheese sauce in an airtight container in the refrigerator for 3-4 days.
---