Mustard Grilled Pork Chops with Ginger Turmeric Dressing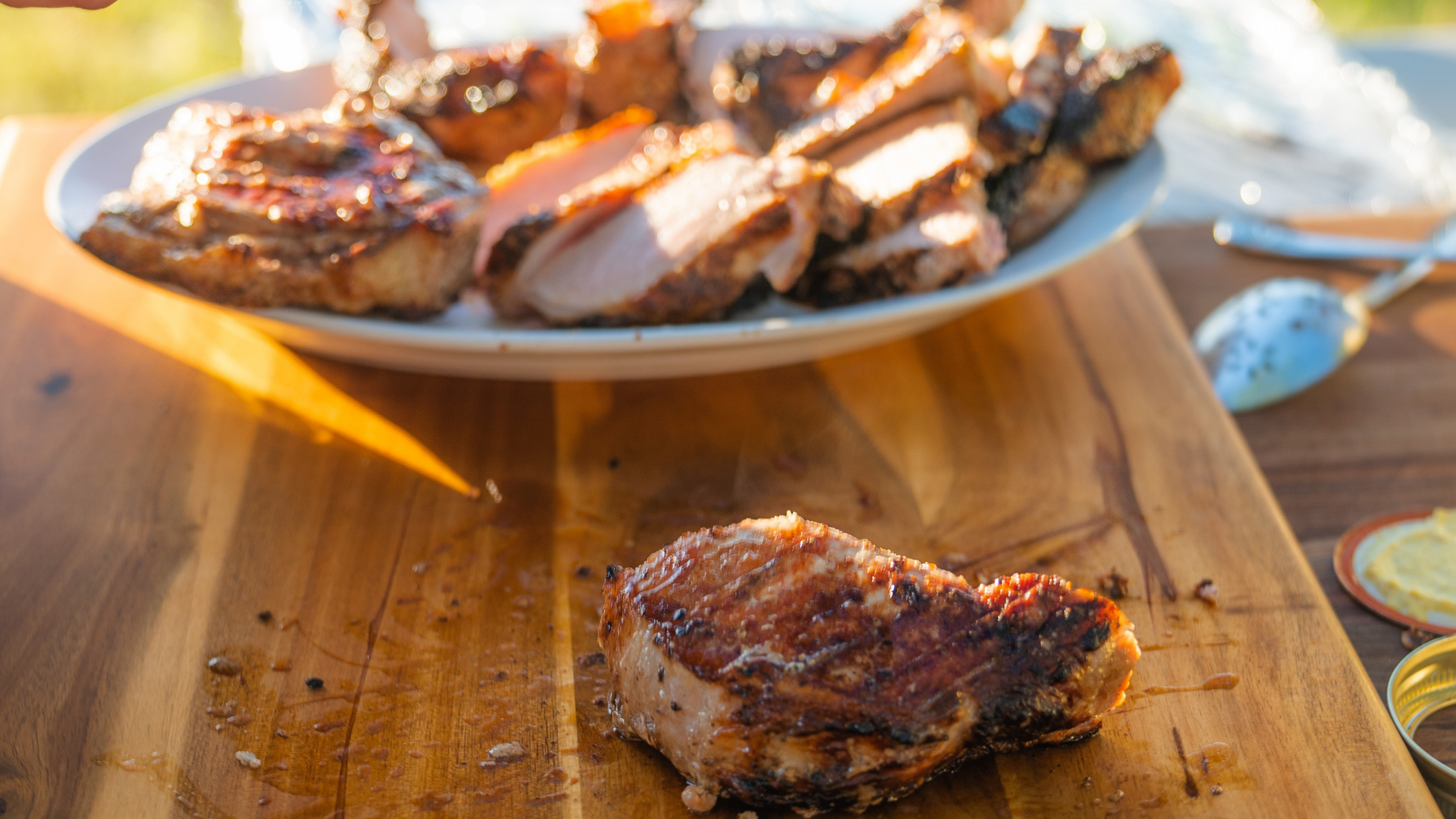 By Guest Chef Phillip Schaaf
This is a bright and refreshing recipe to throw on the grill any day of the week.
Center cut pork chops are marinated with grainy mustard, lemon and honey, and then dressed with a bright and earthy ginger turmeric dressing and decorated with chopped cilantro leaves. It may sound a bit complicated but this is a fairly minimalist recipe with just a few ingredients and very little active prep time.

Grass Roots pasture-raised, center cut pork chops are the key to this recipe's success. We want a chop with a good fat cap and extensive marbling. The fat will help balance out the bright acidic flavors of the marinade and dressing.
Grilling the chops adds that bitter char into the flavor profile of this dish and elevates it to the next level.
This dish will pair well with a simple quinoa or couscous salad and some grilled veggies or wilted greens.
Ingredients
Whole grain mustard
2 Tbsp
Olive oil or avocado oil
1/4 cup
Juice and zest of one lemon
Fresh ginger, peeled and chopped
1-1/2 inches
Fresh turmeric, peeled and chopped
2 inches
Rice or cane vinegar
1 Tbsp
Fresh chopped parsley
2 Tbsp
Grapeseed or avocado oil
1/2 cup
Instructions
The marinade:
Add all marinade ingredients to a bowl and whisk together.
Next, combine the marinade with 4 to 6 half pound center cut pork chops and refrigerate for at least 2 hours and up to overnight.
For the dressing:
Add all dressing ingredients except oil to a bowl.
Slowly whisk in oil.
Adjust seasoning if needed.
Grill and garnish chops:
Prep the grill for direct heat cooking. Once the grill has had time to preheat, place the pork chops directly over the flames.
After four minutes, give the chops a quarter turn. Flip the chops after four more minutes and then repeat this same process for the other side. The pork is done when it registers 135 internally. There will be some carryover cooking after they are removed from the grill.
Dress the finished chops in the ginger-turmeric sauce and shower them with fresh chopped cilantro leaves.
---