Moroccan Chicken with Spiced Couscous and Zucchini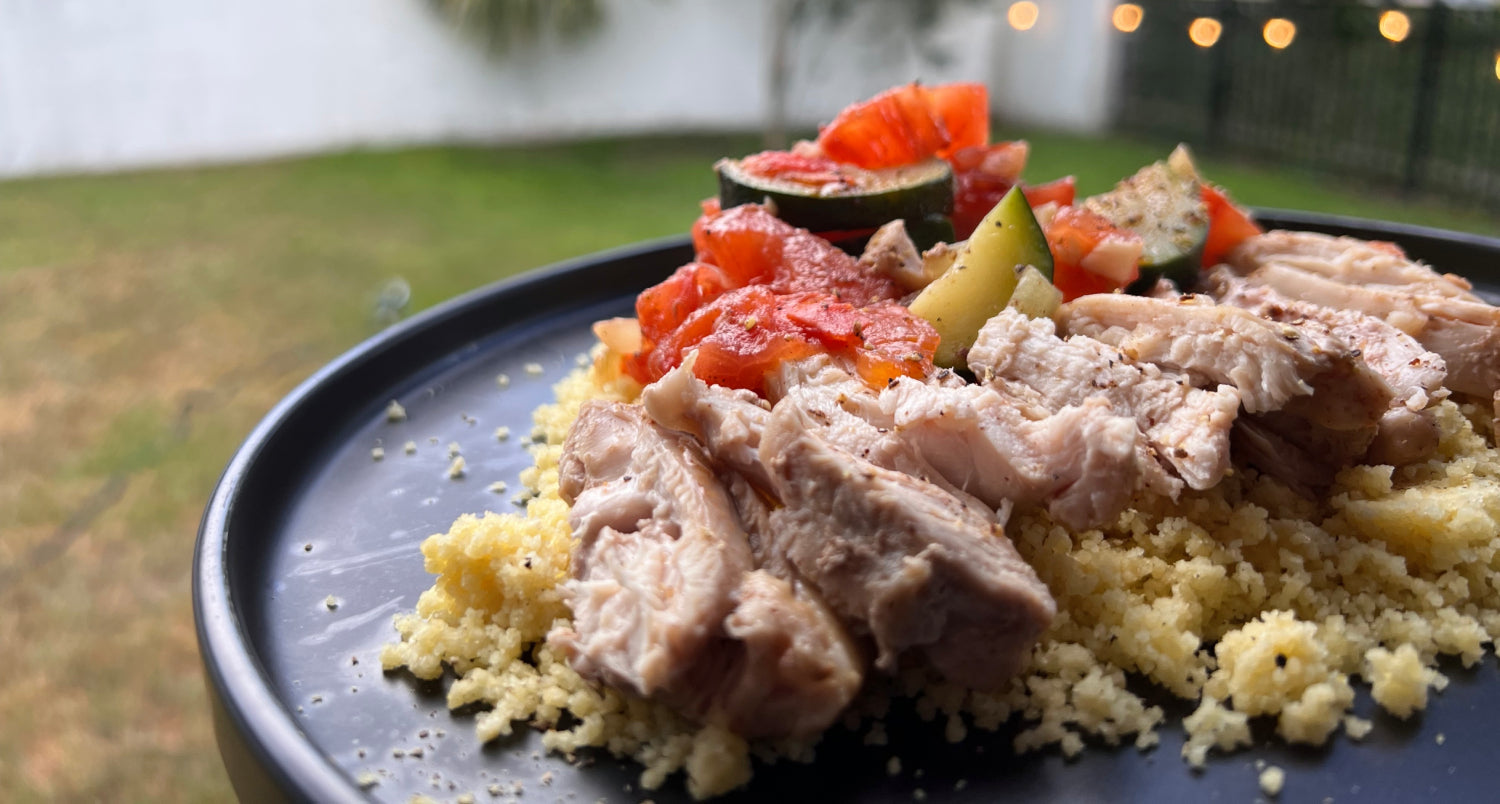 The star of the dish is the zesty chicken, which is marinated in a mixture of Moroccan spices and citrus juices to infuse it with bold flavors. The chicken is then cooked to perfection, resulting in tender and succulent meat with a slightly tangy and aromatic taste.
The spiced couscous serves as a complementary base for the dish. Couscous, a staple in North African cuisine, is cooked with a fragrant blend of spices such as cumin, coriander, turmeric, and cinnamon. This imparts a warm and earthy flavor to the couscous, creating a delightful contrast with the zesty chicken.
Ingredients
Chicken or vegetable broth
1 cup
Yellow onion, diced
1/2 medium
Zucchini, halved lengthwise and sliced
1
Utensils
Small saucepan with lid
Sauté pan
Instructions
Wash the zucchini and tomatoes. Halve the zucchini lengthwise and slice it into half-rounds. Dice the tomatoes. Peel and finely dice the onion. Peel and mince the garlic. Wash and dry the cilantro. Remove the leaves from the stems, discard the stems, and mince the leaves.
In a small saucepan, bring the broth to a boil. Remove from heat, add the couscous, and stir. Cover and let it stand for 10 minutes to absorb the liquid.
Heat a sauté pan over medium-high heat. Coat the bottom of the pan with coconut oil. Add the chicken thighs and cook until lightly browned but not fully cooked, about 1-2 minutes per side. Transfer the chicken to a plate.
Return the pan to the stove and add a bit more coconut oil if needed. Add the diced onion, minced garlic, and sliced zucchini. Stirring frequently, cook until the vegetables soften for about 2-3 minutes.
Return the chicken to the pan. Add the diced tomatoes, honey, ground cinnamon, ground cumin, salt, and black pepper. Stir to combine and bring it to a boil. Reduce the heat, cover the pan, and cook until the chicken is cooked through and the zucchini is tender, approximately 8-10 minutes.
Uncover the couscous while the ingredients are cooking and fluff it with a fork.
Add half of the minced cilantro to the pan while the ingredients are cooking, saving the rest for garnishing.
To serve, place a portion of couscous on a plate. Top it with the cooked chicken, zucchini, and sauce. Garnish with the remaining minced cilantro.
---