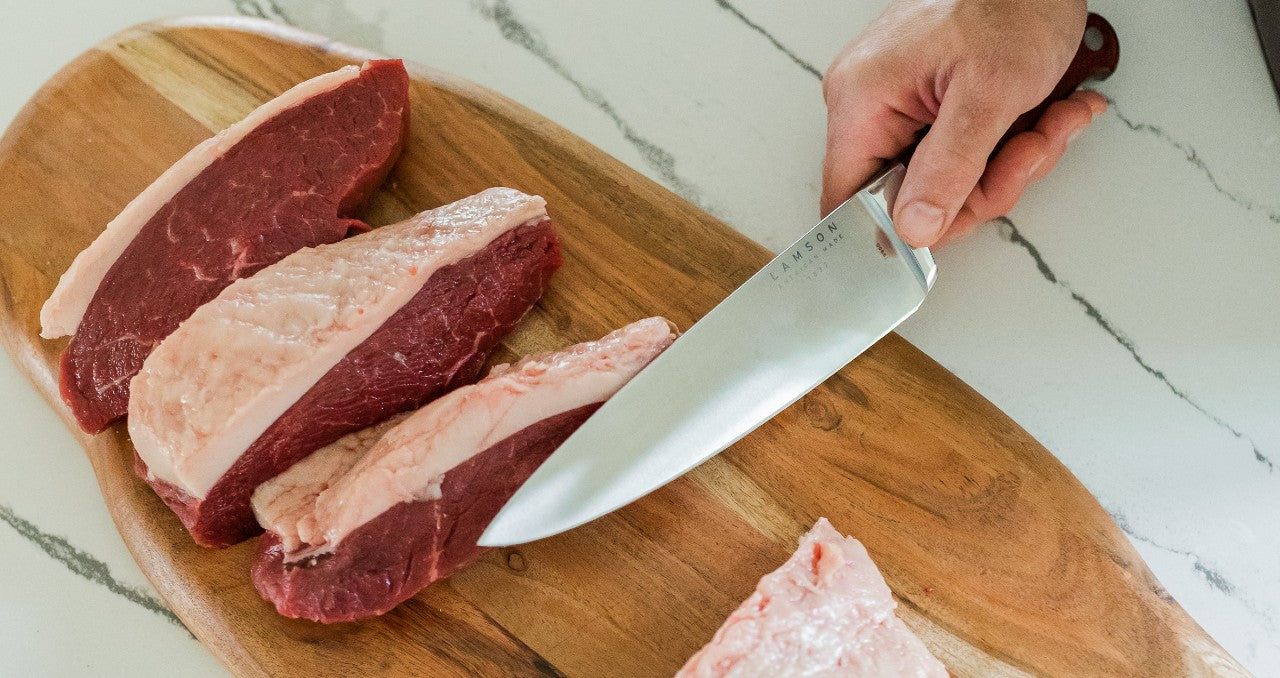 Whether you're an adventurous home cook, a culinary enthusiast, or a seasoned chef, a superior knife is the most essential cooking tool. Lamson's knives are the finest quality and a beauty to behold. We have teamed up to give a lucky winner one of their 3-piece Premier Forged Chef Set along with a $200 gift card for Grass Roots Farmers' Co-op pasture-raised meats. The perfect Father's Day gift? We think so.
ENTER OUR FATHER'S DAY GIVEAWAY 
A winner will be chosen on June 6, 2023

Established in Shelburne Falls, Massachusetts, almost 200 years ago, Lamson is one of America's oldest cutlery companies. Since 1837, they have been producing knives of expert craftsmanship. Experience the true joy of cooking with Lamson's knives and your choice of premium pasture-raised Grass Roots meats. Enter to win today!

Legendary Lamson is displayed in the Smithsonian. 
When U.S. President Ulysses S. Grant was elected in 1869, Lamson representatives presented a fine 62-piece dinner set to the new leader of our young nation. The ivory and mother of pearl hilted products were so extraordinarily produced that portions of the original set are displayed at the Smithsonian Institution in Washington, DC, a testament to both our timeless craftsmanship and the Lamson Lifetime Guarantee.

Save 20% on Lamson knives with code GRASSROOTS20

Vintage Series Knives
Meticulously designed, assembled, and finished in the USA, Lamson's Vintage Knives and matching tools are finished to perfection using state of the art technology, hand finishing, proprietary polishing, and advanced sharpening processes. The Vintage series pairs a timeless look and feel with a new ergonomic design, with sleek, tapered handles that facilitate both traditional and pinch grips.
Vintage knife blades are precision laser-cut from Lamson's proprietary USA high-carbon stainless steel, tempered to a hardness of 58 on the Rockwell scale and flat ground in our factories in Shelburne Falls and Westfield Massachusetts. These processes result in unyielding yet keen blades that retain their edges for longer. Blades are both elastic and very resilient to corrosion.


Signature craftsmanship.

Meticulously formed in their Massachusetts facilities, each knife is finished to perfection using state of the art technology coupled with hand finishing as well as proprietary polishing and sharpening processes.

Unmatched quality.

Blades are formed from proprietary high-carbon USA Made stainless steel (Grade 420HC-LAM). Knives come with sleek and sturdy handles of Infused Walnut. 

Durable design.

Lamson Vintage Series blades are precision laser cut and tempered to a hardness of 58 on the Rockwell scale resulting in a hard, wickedly sharp blade that retains an edge for longer and is both highly corrosion-resistant and elastic.

Superior cutting performance.

Full tang blades with double brass riveted handles ensure ideal balance and weight. Lamson's combination machine and hand-sharpening processes ensure a sharp and durable edge.

Superior ergonomic handling.

A curved and recessed integrated bolster provides a seamless transition from handle to blade, resulting in the comfortable thumb and finger support for better control and safety. If you use a traditional or advanced "pinch-grip", you will love the feel and function of these knives.

Lifetime Warranty.

Every Lamson product comes with a Lifetime Warranty against manufacturing defects
Guaranteed reliability. Lamson's Sharp for Life™ program supplies a lifetime of complimentary professional sharpening on every knife they make.

Enjoy 20% off Lamson Knives with code GRASSROOTS20

---