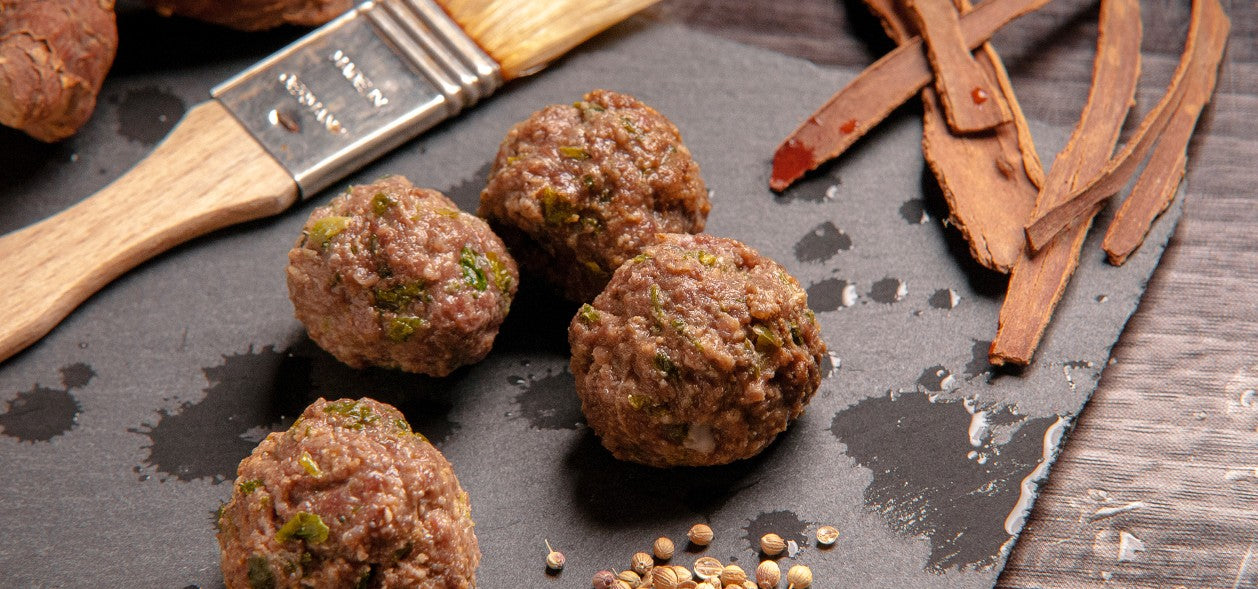 Keto meatballs are a delicious and healthy option for anyone following a ketogenic diet or simply looking for a low-carb meal. They are a great source of protein and healthy fats. They are easy to make and can be enjoyed as a main dish or as a snack. Serve them with a side of zucchini noodles or a salad for a complete and satisfying meal.
*For non-keto: can sub garbanzo beans and ¾ milk for ⅓ c breadcrumbs and ½ cup milk
Ingredients
Whole milk, then more if needed
3/4 cup
Finely minced yellow onion
1/2 cup
Garlic, minced (1 tsp)
2 cloves
Finely chopped fresh basil
2 Tbsp
Finely chopped fresh parsley - (2 tsp if not fresh)
2 Tbsp
Finely chopped fresh oregano - (1 tsp if not fresh)
1 Tbsp
Freshly ground black pepper
1 tsp
Utensils
Food processor with fitted with the s-blade
Baking sheet (dark-coated and non-stick if possible)
Large mixing bowl
Medium bowl
Thin metal spatula
Instructions
Drain the chickpeas, and add the chickpeas to the bowl of a food processor fitted with the s-blade.
Process the chickpeas.
Add the chickpeas to a baking sheet, and spread out with a spatula into an even layer.
Roast the chickpeas in the oven for 15 minutes.
Remove the chickpeas from the oven and transfer the chickpeas back into the food processor and pulse into fine crumbs.
Add the chickpea crumbs back to the baking sheet and roast for 15 minutes longer.
Repeat previous steps until dry but not browned.
Turn up the oven to 400F.
In a large mixing bowl stir together chickpea crumbs and milk while adding more milk 1 Tbsp at a time to moisten fully. Let rest while you prep ingredients (or at least 5 minutes).
In a separate bowl, add beef, pork, eggs, onion, garlic, basil, parsley, oregano, and parmesan, and season over top of ingredients evenly with salt and pepper.
Add breadcrumbs. Break the meat up with your fingertips until the ingredients are evenly mixed.
Shape the mixture with greased hands into even size meatballs, about 1 1/4 inches each (or about 38g).
Spray two dark-coated non-stick baking sheets well with non-stick cooking spray or brush with olive oil.
Place formed meatballs on baking sheets. Bake in the upper and lower third of oven 10 minutes.
Remove and turn meatballs if browned already on the bottom (use a thin metal spatula to scrape from the baking sheet). Transfer sheets to opposite racks and bake until cooked through, about 8 - 12 minutes longer (should register 165 degrees in the center of meatballs).
Then enjoy!
*Optional: Stir into warmed keto-friendly marinara sauce. Simmer on low heat if desired for even more tender meatballs (about 10 - 20 minutes, toss occasionally gently). Serve with zucchini noodles or spaghetti squash.
---