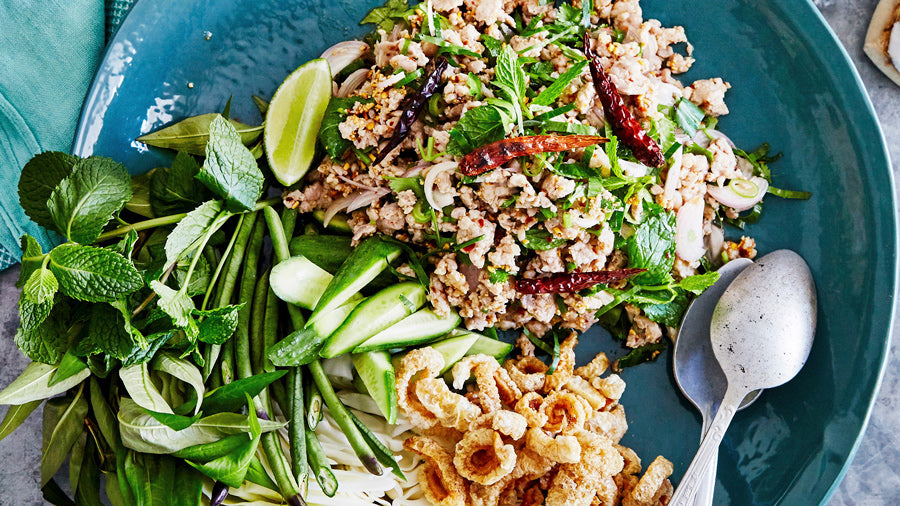 Our Guest Chef Phillip Schaaf shares his version of the recipe, using ground chicken to make it a bit lighter and healthier.
Heatheir choices
My wife and I recently challenged each other to make some much needed dietary changes. As our lives get to be more and more on the go, we have been settling for quick meals that are usually loaded down with carbs and sugars and other devilishly delicious things that, when consumed unabashedly, can really weigh a person down.
Having worked in the food industry for so long, I've never even thought about cutting anything out of my diet. I love bread, sweet gummy bears, and all of those terribly tasteful things. I knew it was going to be hard for me. And it was. The first week with no carbohydrates or sugars was absolutely excruciating.
After a few days, the cravings started to subside and the diet became pretty manageable. I actually found myself with more energy than I have had for awhile, and my appetite seemed to be more easily sated. I did have dreams of rolling myself up in a giant pizza like a warm and cheesy security blanket, but I got through it.
After a few weeks we've reintroduced minuscule amounts of sugars back into our diet. Moderation is most important, and monitoring intake is the best way to stay on top of eating healthy.
If you're interest in starting or maintaining a healthful shift like ours, start by cutting back on added sugars. Be sure to find recipes—like this one—that are chock full of herbs and spices and fresh vegetables, and take the time to plan meals and weekly menus at home.
It's good to have a few recipes that are quick and easy in your weekday repertoire, otherwise menu fatigue is going to set in when you are sitting down to eat that third salad of the week.
What is Larb?
Larb is very quick and easy to prepare, and it is unbelievably flavorful. It's a Thai dish that's really just a salad comprised mostly of ground meat. It is most commonly made with pork, but is just as delicious with ground chicken which is leaner, beef or lamb. Larb is packed full of herbs, chilis, and onion or shallot and is usually eaten either with sticky rice or wrapped in a leaf of butter lettuce. The entire prep and cook time can be completed in about 15 minutes. 
You can find the best quality pastured-raised ground chicken at Grass Roots. The rest of the ingredients can be found fairly easily in your grocery store, but I've provided a few alternates just in case.
Toasted Rice Powder
This recipe calls for Rice Powder, an ingredient could be purchased but it's really easy to make and has much better flavor if made fresh. It's quite simple.
It's just rice, traditionally sticky rice, dry roasted in a pan on low heat. Keeping the heat low in the pan will help to evenly roast the grains.

Once the rice is golden brown and fragrant, remove from heat and let cool.

Once cooled to room temperature, just grind it to a coarse powder in the blender or food processor.

This can be made ahead of time, and you can make more than you need for this recipe, as it will keep for a bit and is good for other recipes as well.
If you need a visual, this video from Amy from World of Thai Food is excellent and walks you through the process.
Coconut sugar
This recipe calls for coconut sugar in the dressing, it is not used as a healthy alternative to refined cane sugar. It's just better for the flavoring of this dressing. If you can't find coconut sugar at your grocery store, substitute with sorghum, molasses, or brown sugar. Sometimes sugar is just necessary to balance out a dish properly. Like I said, everything in moderation.  
A note on chilies
Always use a chili that you are comfortable consuming. Thai chilis are most common for this dish, but they can contain a considerable amount of heat. For a mild approach, use a mix of Serrano and Fresno peppers. They both have really nice fruity pepper flavor and still have enough heat to carry through the dish, but will be more palatable for the masses. Thai Bird's Eye chilies are small but powerful and have a fruity flavor. But they can be considered a touch bitter due to the disproportionate ratio of seeds to flesh. Habanero and scorpion peppers are recommended for extreme heat and delicious fruity chili flavor.
Ground Chicken Thai Larb recipe:
Ingredients
Lemongrass, thinly sliced
1 Tbsp
Fresh chiles, minced (see a note on chilis above)
2-4
Gochujang (Korean red chili paste - optional)
1 Tbsp
Coconut or avocado oil, divided
3 Tbsp
Toasted rice powder (DIY instructions above if you don't want to buy)
1 Tbsp
Fish sauce (made from fermented anchovies - adds deep umami flavor)
1-1/2 Tbsp
Sambal Oelek (Malaysian garlic and chili paste. Can substitute Sriracha sauce)
1 tsp
Coconut sugar (see note about about coconut sugar)
1-1/2 Tbsp
Green onions, thinly sliced
2
Butter lettuce
10-12 leaves
Utensils
Large mixing bowl
Skillet
Instructions
Lime Dressing
Mix all ingredients together in a bowl and set aside. This dressing is so easy to make and it is so flavorful and delicious it would be good on just about anything.
Assemble the Salad
In a large mixing bowl, combine the meat with the lemongrass, chilies, shallots, and seasonings along with 1 tbsp of the oil.
Heat the remaining 2 tbsp of oil in a skillet and heat on medium-high heat until the oil is shimmering. Cook the meat mixture until it is cooked through and has started to brown, then remove from the heat and add the toasted rice powder.
Salad Garnish
To serve, scoop some of the meat into a leaf of butter lettuce and top with the fresh herbs and chilies, then drizzle with the dressing.
---