Ground Beef and Feta-Topped Zucchini Boats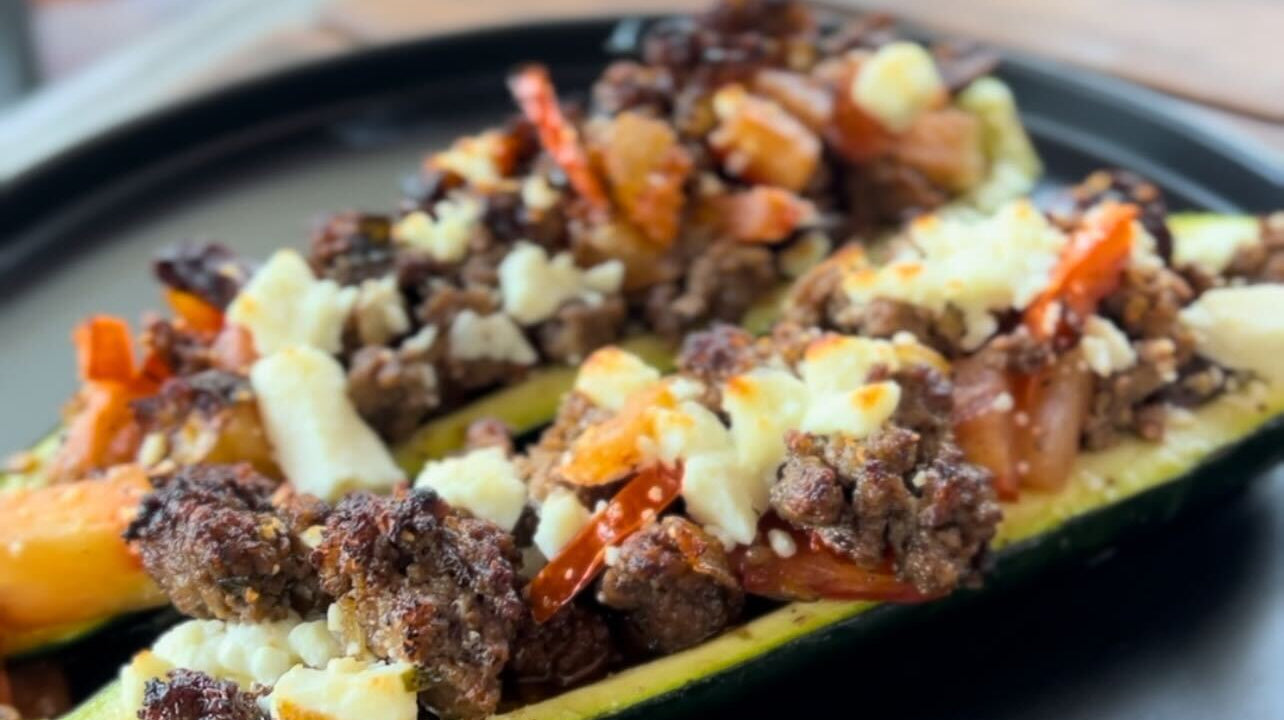 The savory extra lean ground beef pairs well with the mild sweetness of the zucchini, while the tangy feta cheese complements both components and brings a unique Mediterranean flair to the overall taste. It's a dish that offers a comforting and satisfying eating experience.
This recipe calls for Extra Lean Ground Beef, but it is just as delicious with our other ground meats!
Ingredients
Crumbled feta cheese
1/3 cup
Pitted Kalamata olives, halved
1/4 cup
Yellow onion, finely chopped
1/2 medium
Utensils
Cookie sheet or oven-safe pan
4 small bowls
Skillet
Instructions
Preheat the oven to 450°F and position the rack in the center.
Wash and dry produce. Trim and discard the ends of the onion, then remove the outer layer and finely cube it. Peel and mince or press the garlic. Halve the olives. Keep them separated in small bowls. Dice the tomatoes into 1/4-inch cubes and transfer to a small bowl.
Halve the zucchini lengthwise and scoop out the soft flesh from the middle of each half. Place the zucchini halves cut side up on a baking sheet. Rub them with olive oil and season with salt and pepper. Bake the zucchini halves in the preheated oven for 15 to 20 minutes while preparing the filling.
Heat a skillet over medium heat. Once hot, add olive oil and swirl to coat the bottom. Add the chopped onion to the skillet and cook, stirring frequently, until softened for about 3 to 4 minutes.
Add the minced garlic and dried oregano to the skillet. Cook until fragrant, approximately 15 to 30 seconds.
Increase the heat to high and add the ground beef to the skillet. Season it with salt and pepper. Break apart the beef with a spoon and cook until it is browned and crumbly, which usually takes around 3 to 5 minutes.
Remove the zucchini from the oven and switch the setting to broil. Place the rack about 6 inches from the top heat source.
Add the diced tomatoes and halved olives to the skillet with the ground beef mixture. Cook for an additional 1 to 2 minutes.
Divide the beef filling equally among the zucchini halves. Sprinkle crumbled feta cheese over the top. Place the zucchini boats on a plate and serve.
---