Grilled Chicken Chimichurri & Heirloom Tomato Salad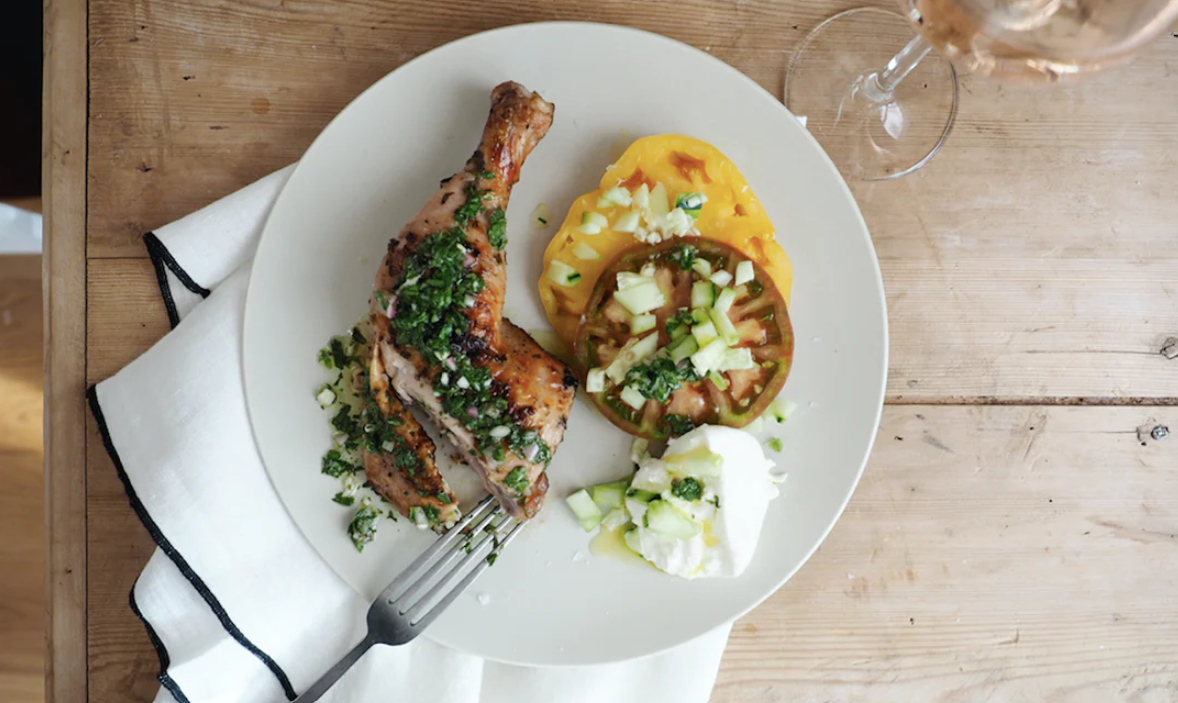 Recipe created by our partner Coco Kelly.
This dish is not only a feast for the senses but also a balanced and nutritious meal. It offers lean protein from the grilled chicken, a variety of vitamins and minerals from the heirloom tomatoes and other vegetables, and the heart-healthy fats from the olive oil in the chimichurri sauce. It's a versatile dish that can be enjoyed as a light lunch, a refreshing dinner, or even served at gatherings and special occasions.
The chimichurri is the most time consuming part of this recipe, and prep time can be shortened if you choose to use a food processor instead of chopping by hand. But the flavor can change a bit by doing it that way. I prefer to keep the flavors pure and go by hand.
Ingredients
Flat leaf parsley
1/2 cup
White wine vinegar (can also use red wine vinegar)
2 Tbsp
Extra virgin olive oil
1/2 cup
Utensils
Food processor
Bowl
Brush
Instructions
Finely chop the parsley, cilantro, oregano, shallot, and garlic cloves, and place in a bowl.
Add the white wine vinegar, olive oil, and avocado oil, and thoroughly mix.
Next, brush a bit of the mixture onto the chicken pieces and let sit for at least an hour in the refrigerator.
When you're ready, grill up according to your liking! (I love a good char on the chicken myself.)
Serve the remaining chimichurri on the side to top the chicken with.
For the tomato salad, slice up some heirloom tomato, dice up some cucumber, and top with burrata.
Drizzle a bit of olive oil, sea salt, and chimichurri on top. Enjoy!
---