Cozy Turkey & Wild Rice Soup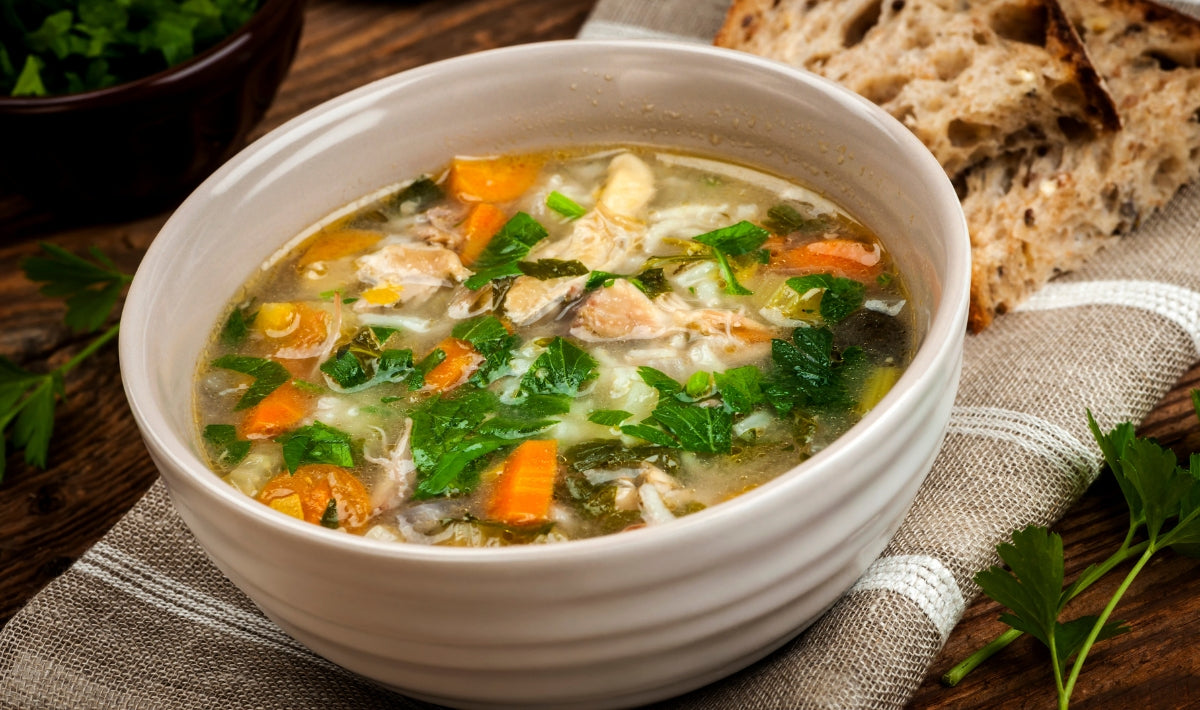 This soup has a balanced flavor profile with the richness of cream and turkey, the earthy notes of wild rice and thyme, and the sweetness of the vegetables. The white wine adds a touch of brightness and acidity to the mix. It's a cozy and comforting dish, perfect for warming up on a cold day.
Along with the leftover of your whole turkey, you will need:
makes:

8

total time:

1.5 hours

Tags:
Ingredients
Carrots, peeled and chopped
3 large
Uncooked wild rice or wild rice blend
1 cup
Fresh thyme leaves
1 Tbsp
Semi-dry white wine
1/2 cup
Unsalted chicken or turkey broth
4-5 cups
Utensils
Large pot or Dutch oven
KitchenAid mixer or a stand mixer
Flat beater attachment
Instructions
Heat a large pot or Dutch oven over medium heat and add olive oil and butter. Add onions, carrots, celery, and rice. Stirring often, cook for 6-10 minutes or until rice begins to pop and vegetables have softened.
To shred your leftover turkey, you can use your KitchenAid mixer or a stand mixer with a flat beater attachment at low speed for 30 seconds to a minute. An alternative method is to use two forks, holding one in each hand, and slowly pulling away shreds into medium to large chunks based on your preference.
Add wine, thyme, and baking soda, and cook for a full minute while stirring often.
Add broth, salt, and pepper, and bring to a boil.
Reduce heat to low and cook covered for 30 minutes or until rice is tender.
Add cream, and turkey, and cook for an additional 30-60 minutes or until the soup reduces and thickens. if the soup is thin, whisk in 2 tbsp of cornstarch and 1/4 cup cold heavy cream and bring to a boil.
Reduce heat to low and cook until soup thickens. Season to taste with salt and pepper. Enjoy!
---