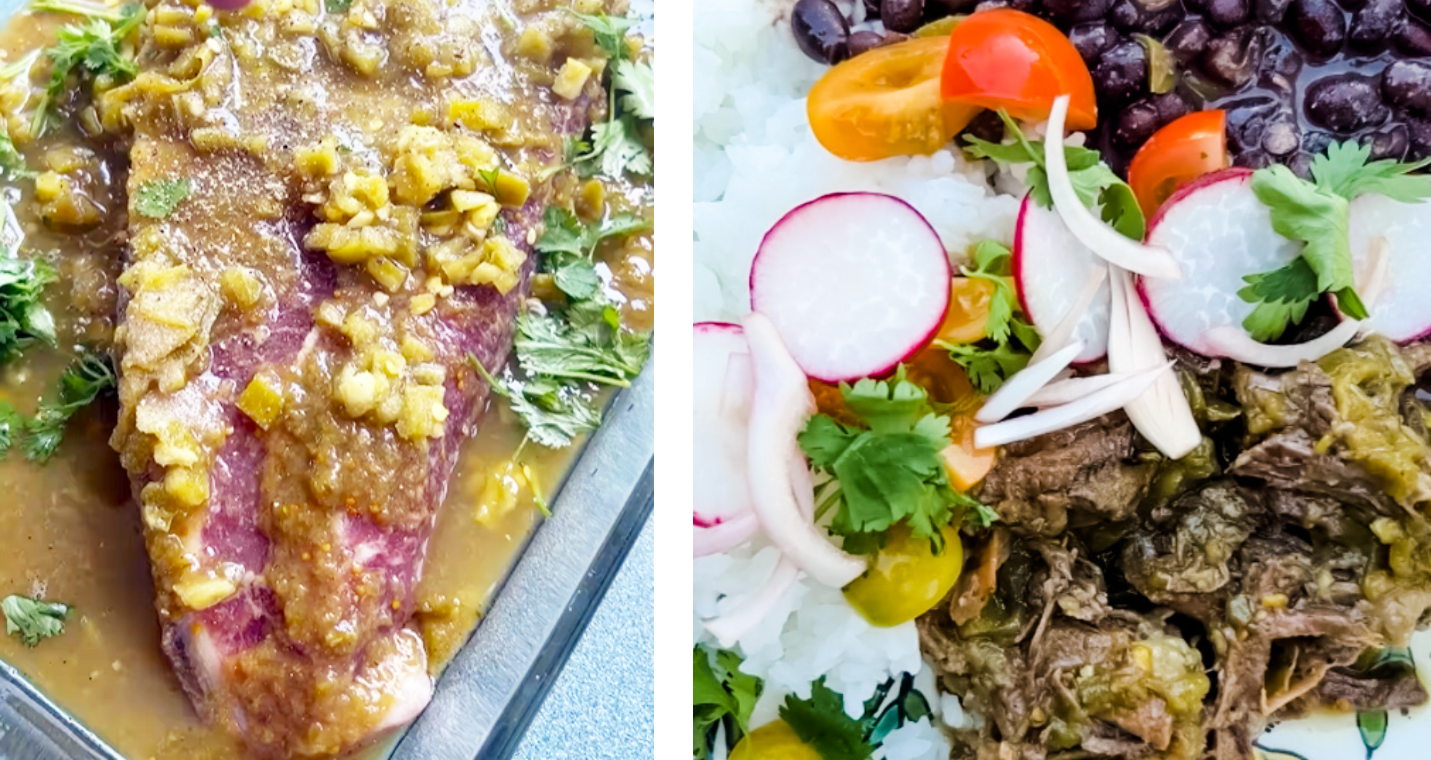 Recipe by Naomi Seifter
In 2013, Naomi Seifter founded a restaurant concept in Austin, TX called Picnik which now has three brick-and-mortar locations and a loyal following of health-conscious customers.  She has been recognized for her entrepreneurial success and commitment to promoting healthy living and has been featured in publications such as Forbes, Eater Magazine and more.
This Green Chili Braised Beef recipe will be in your weekly rotation because it's that easy and that delicious! It uses our beef shoulder roast and is made with 5 minutes of prep and a frozen roast.  FROZEN! Not even thawed. This is so easy!
This is a dump and bake slow cooker recipe at its finest! You could prepare this dish in a slow cooker or a Dutch oven, or even a glass dish with a lid or inverted sheet tray (like I did here!). Most important thing is low and slow and keep it covered throughout cooking time.
Ingredients
Torn cilantro
1 generous handful
Green enchilada sauce
1 jar (15 oz)
Chopped pickled jalapeños
8oz (or more)
oasted green chiles
1 can (4 oz)
Salt
2 tsp for 2.5 lb roast. Go a bit less than 1 tsp per lb of meat if you are using an alternative cut
Utensils
Dutch oven or glass dish with lid
Instructions
Add all ingredients to a Dutch oven or glass dish with a lid.
Bake for 5 hours or so until fork tender.
Shred up, discarding excess fat (and snack on the marrow!). Use it for tacos or anything else, really. Enjoy!
P.S. Use a slow cooker instead if you want, but I don't know the exact time. Low and slow until fork tender.
---