How to Make Cuban Style Beef Empanadas with Fatworks Lard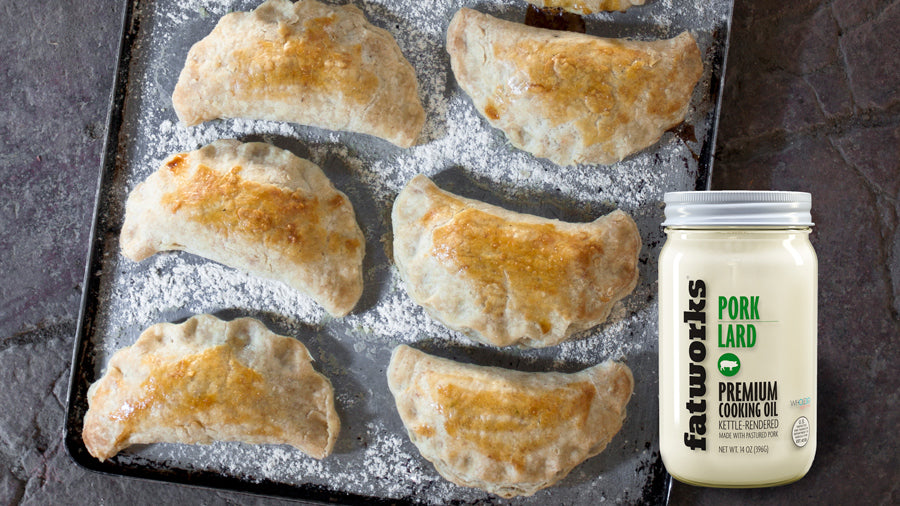 For this recipe, we partnered with our friends at Fatworks to come up with a creative way to pair their pork lard (rendered from our forested pork) with our pasture-raised ground meat. FATWORKS wants to change negative "Fattitudes" about cooking with traditional animal fats and works with farms like ours with high standards to produce premium cooking oils.
Healthy fats are a vital part of a healthy and balanced lifestyle. Try swapping FATWORKS with your usual cooking oil and taste the difference.
SPECIAL OFFER FROM FATWORKS
Fatworks has generously offered an exclusive 20% discount on their Pasture Raised Pork Lard and Pasture Raised Leaf Lard to Grass Roots customers. Enter code GRCFAT2022 when you check out on their website (offer expires 7/1/22). SHOP FATWORKS
Cuban Style Beef Empanadas with Fatworks Lard Recipe:
What makes these empanadas Cuban style (and addictive) is the rich pastry dough thanks to FATWORKS as well as the sweet and savory flavors of the filling, courtesy of olives, raisins and Grass Roots ground beef. We promise if you make these they will fly off the "plato." We bake the empanadas but you can fry them as well if you want them extra crispy  - just note that gluten-free flour can be delicate so handle with care. And if you have any leftover filling, plate it up with a little rice and some steamed vegetables for a hearty meal. If you don't want to use ground beef, our other ground meats work just as yummy!
Makes 15-20 empanadas depending on size.
Ingredients
Fatworks Pasture Raised Pork Lard
2 Tbsp
Red onion, finely chopped
1
Red bell pepper, finely chopped
1
Serrano chile or jalapeno pepper, finely chopped (remove seeds to reduce heat level if you prefer)
1
Green olives, pitted and finely chopped
1 cup
Freshly ground pepper to taste
Fresh oregano, finely chopped
1/2 tsp
Small dish of water (to seal your empanadas)
Egg, beaten (to brush on the empanadas before baking so they brown up nicely)
1
- CRUST: (gluten-free and traditional options below):
Gluten-free flour* + extra for flouring your work surface
2-1/2 cups
Fatworks Pasture Raised Pork Lard, chilled in freezer and cubed (suggest removing lard from jar and putting in a small plastic container for easier removal and dicing)
4 oz (1/2 cup)
Grass-fed butter or cream cheese, chilled in freezer and cubed (cream cheese makes gluten-free dough more pliable and easier to work with)
2 Tbsp (1/4 cup)
Utensils
Food processor (optional)
Large skillet
Cookie sheet
Parchment paper
Rolling pin
Spoon and fork
Brush
Instructions
Make the Dough:
You can make the dough in a food processor or by hand in a bowl with a pastry cutter or fork.
Steps:
Combine flour with salt.
Add lard and butter pieces to the flour mixture along with 1 tbsp cold water.
Pulse ingredients a few times in the food processor (or by hand per above). Slowly add in the remaining 3 tbsp of water. Pulse just until dough comes together (do not overmix). Divide dough into 4 pieces, make small flat rounds and refrigerate or freeze for at least 1 hour.
Cook the Picadillo Filling:
Heat a large skillet on the stove.
Add pork lard and red onion - cook until onion is soft.
Add garlic, chile, red pepper - sauté for a minute or two.
Add ground beef, salt and ground pepper. Sauté until meat is cooked through.
Stir in cumin and tomato sauce and cook for another minute.
Take off heat and stir in olives, raisins and fresh herbs.
Taste and adjust seasoning to your liking.
Set aside to cool (mixture should be room temperature for making empanadas).
Roll Out Dough & Form Empanadas:
Line a cookie sheet with parchment paper and set aside.
Remove one of your dough rounds from the refrigerator and let rest for a couple minutes before rolling.
Lightly flour your work surface.
Roll the dough out to about ⅛" thickness and cut out rounds (3-½ to 5" cookie cutter recommended).
Put a scoop of picadillo in the middle of your round (careful not to overstuff).
With your fingertip, moisten the outer area of the dough so you can seal the empanada.
Fold the dough over into a crescent shape and pinch closed gently. The dough may crack slightly but you can easily patch it up. You can also just make round empanadas if it's easier - use one cutout for the base and one for the lid.
Dip a fork into flour and crimp the edges.
Place your finished empanada on your lined cookie sheet.
Repeat this process for all your empanadas.
Freeze or chill for about 15 minutes before baking so your empanadas will hold their shape while baking.
Bake and Serve:
Preheat your oven to 350 degrees.
Brush your empanadas with a little of the beaten egg.
Place empanadas on a parchment-lined baking sheet.
Bake for 20 minutes or until the edges brown up nicely.
Let cool slightly and enjoy.
---