Cozy Chicken and Dumplings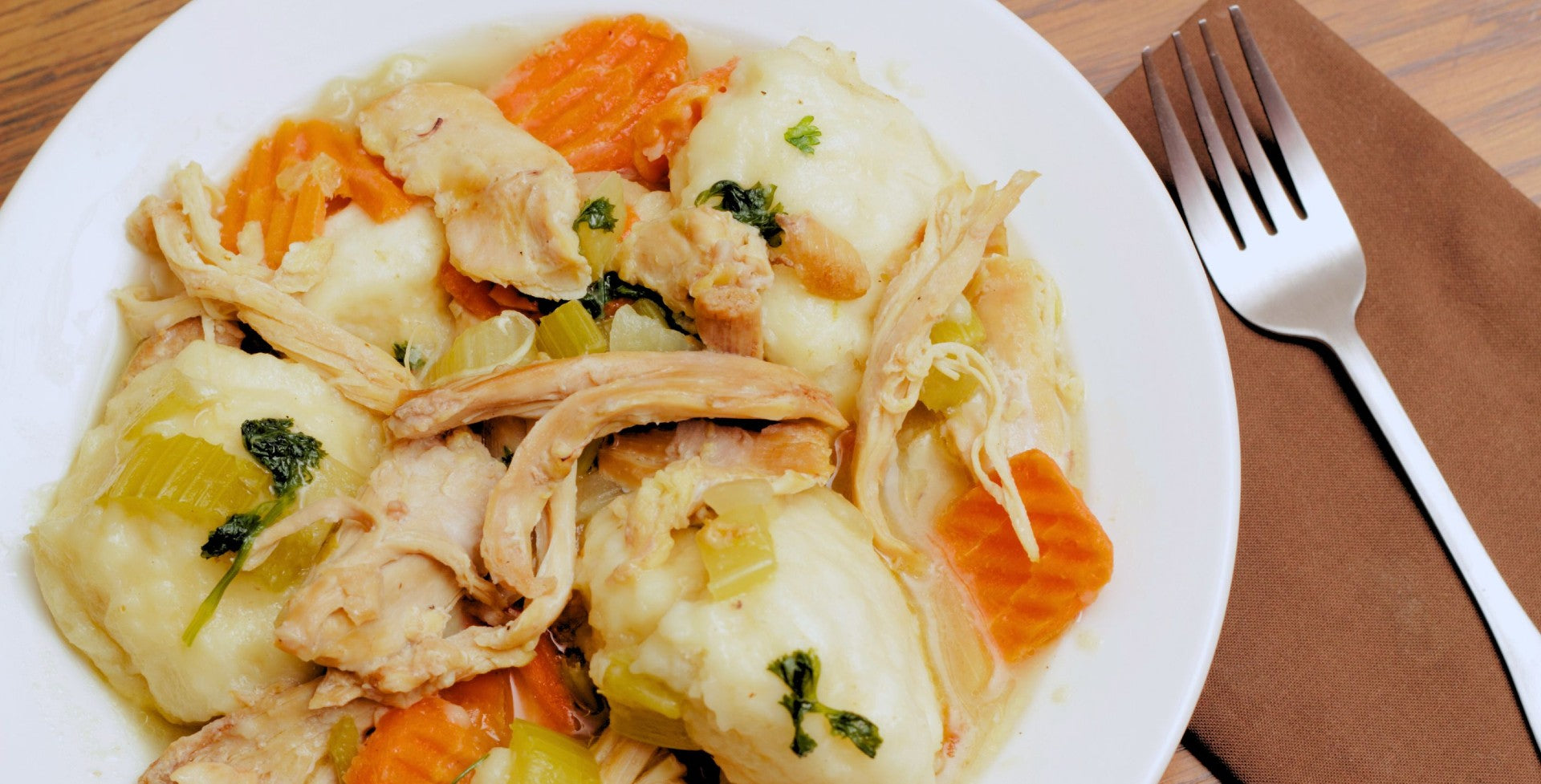 A piping hot bowl of chicken and dumplings can bring joy and warmth to any cool fall or winter day. There are several different methods to making great dumplings. Some folks like a drop biscuit style dumpling which is thick and doughy. Others go for a feather dumpling approach which is more like a thick homemade noodle.
Feather dumplings are actually quite easy to make. They are a combination of chicken broth straight from the pot, and all-purpose flour.
This recipe starts with simmering chicken in water with some aromatics. A whole chicken is fine to use, but this is a great application for chicken thighs.
Ingredients
Onion, peeled and halved.
1
Flour
2 1/1 cups, plus 1/2 cup for work surface
Utensils
Large stockpot
Ladle
Rolling pin
Instructions
In a large stockpot, combine the chicken and aromatics (spices and veggies) with the cold water along with 3 tablespoons of salt.
Bring to a boil and then cut back to a simmer. Cook the chicken in the simmering broth for 45 minutes to an hour. It should be easily pulled away from the bone when it is done.
Remove the chicken from the broth and let it cool for a bit before pulling the meat from the bone, carefully removing any skin as well.
Strain the broth, discard the aromatics (spices and veggies), and return to the pot on medium-high heat. There should be about 3 qts of broth in the pot.
Ladle out 1 ½ cups of broth into a mixing bowl and combine with the 2 ½ cups of flour. The mixture will be a bit sticky. Turn it out onto a floured surface and knead until it holds and is no longer sticky. Cut the dough in half to work easier. Using a rolling pin, roll it out into a thin disc and cut it into strips.
Once all of your feather dumplings are cut, bring the broth back up to a rolling boil. Add the dumplings to the pot and stir constantly to avoid them from sticking together.
Once the noodles have cooked for about 5-6 minutes, add the picked chicken back to the pot. Adjust the seasoning and serve.
TIP: This makes a large batch of dumplings so invite friends and family for dinner. These dumplings are even better the next day so don't worry if there are leftovers. Enjoy!
---