Coulotte Steak with Chimichurri and Pickled Onion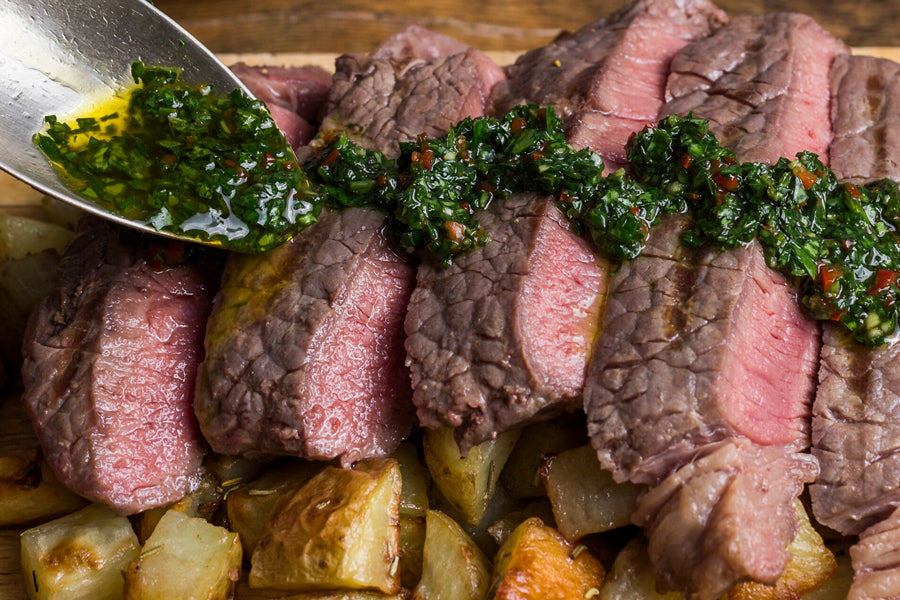 Coulotte is a steak you may not have heard of. It's also called Picanha or sirloin cap roast and is a hard-to-find and much prized cut from the top of the sirloin. Lean but well marbled, rich, buttery, and beefy. Our butchers hand cut the steak to include a ¼-½" fat cap, which essentially bastes the meat while it cooks which makes it perfect for the grill. Guest Chef Patrick Lane loves this nice, big steak (between 2-2-1/2 lbs) for serving a crowd. The acidity of his pickled onions and chimichurri pair perfectly with the richness of the steak. We hope you enjoy this on the back porch with friends.
Ingredients
Cilantro stems, thinly sliced
2 Tbsp
Parsley stems, minced
2 Tbsp
Granulated garlic
1/2 tsp
Julienned red onion
3 cups
Cilantro, finely chopped
1/2 cup
Parsley, finely chopped
1/2 cup
Extra virgin olive oil
1 cup
Finely shredded red cabbage - for plating
2 cups
Utensils
Grill
Tongs
Meat thermometer
Sharp knife to slice the beef
Sharp chef's knife to prep the chimichurri
Instructions
Make the Rub:

The beef needs to be rubbed with the seasoning at least eight hours before you cook it.
Grind the pepper and coriander seed to a coarse powder. Mix with salt, sugar, herb stems, granulated garlic, and lime zest
Sprinkle the rub on your coulotte and rub the spices in well. Put it back in the fridge for 8 hours or so.
Pickle the Onions:
For best results, the pickled onion should be made a day in advance as well.
Add the onions, lime juice, lime zest, red wine vinegar, salt, and sugar to a mixing bowl. Squeeze the onions a little with your hands as you mix them in. Add all the mixed ingredients to a quart jar and put a lid on it. Store in the fridge overnight.
Mix the Chimichurri:
I think this sauce comes out so much better if you hand-chop the garlic, shallot, and all the herbs. But if you don't want to hand-chop the ingredients, you can use a food processor.
Start by adding everything but the olive oil to a mixing bowl. Mix it together and let it sit for 5 minutes. Now stir in the olive oil.
Pour your sauce into a jar and you're finished!
Grill the Coulotte:
When I grill beef I like to get it as dark as possible because the more you caramelize the meat the more flavor it will have. I do this by cooking at high temperatures and rotating the steak frequently to caramelize the maximum amount of surface area.
Coulotte can be pretty thick so it may take about 20 minutes, but it has a nice fat cap on one side to keep it moist.
Light your grill and get it to about 500°. Make sure to have a direct and indirect cooking area.
Start cooking on the hot side and go for two or three minutes on each side. Make sure it's getting dark.
Next move to the indirect heat, fat side up, and close the lid. Continue cooking for about 8 minutes.
Now take the temperature. I think coulotte is best when cooked at an internal temp of 135°. That is med-rare, cook it more if that is what you like.
Let it rest for at least 10 minutes before you slice! Slice across the grain and as thin as you can.
Plate and Serve:
Shredded cabbage is great for this recipe because it really soaks up the meat juice and chimichurri sauce. Grilled bread, french fried or grilled potatoes will also be delicious with this but I'll let you decide.
Place a nice large pile of shredded cabbage on the plate, about 1/3 cup.
Fan five or six slices of the coulotte across the top of the cabbage and sprinkle with a little sea salt.
Drizzle 1-2 tbsp of chimichurri on the meat and finish it off with a fat pinch of pickled onion.
---