Chicken Tagine with Cauliflower Rice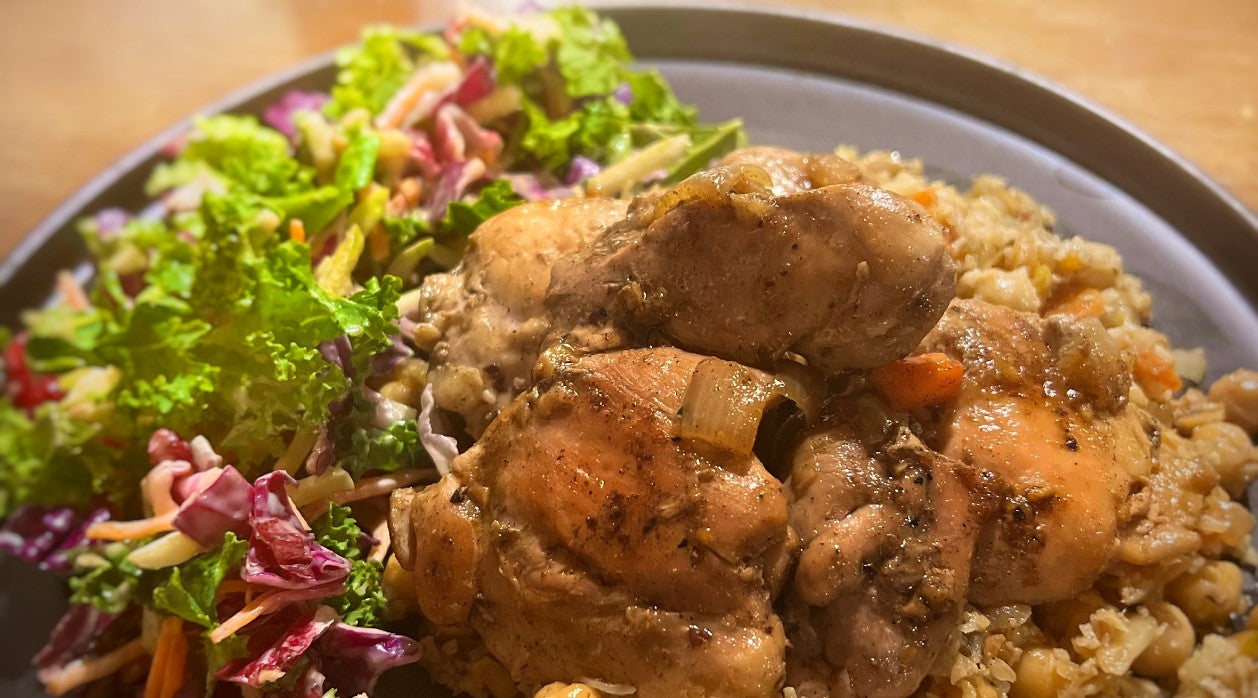 A dish that delights the senses with its aromatic spices, tender chicken, meaty chickpeas, and sweet-tangy apricots, served on riced cauliflower. Its rich flavors and comforting nature make it a perfect choice for a special meal or a gathering with friends and family.
Ingredients
Cauliflower
1/2 medium head
Chickpeas
1 can (15 ounce)
Utensils
Grater or food processor
Sharp knife
Large pot
Tin foil
Slotted spoon
Instructions
Wash and dry the carrots, ginger root, and cauliflower.
Peel and small dice the onion and carrots. Peel and mince the garlic and ginger.
Drain and rinse the chickpeas; set aside to drain further.
Quarter the cauliflower head, and discard the leaves. Using a grater or food processor, coarsely grate the cauliflower and transfer it to a large bowl.
Pat the chicken thighs dry with paper towels. Season with salt and pepper on both sides.
Add oil to a large pot over medium-high heat and swirl to coat the bottom.
Add chicken to the pot and sear, flipping once, until golden brown 6 minutes on both sides. Once done, set aside on a plate.
Add onion and carrot to the pot and cook, stirring occasionally, until softened.
Add garlic to the pot and cook for 20 seconds. Add ginger and spices and cook for a minute or two.
Add broth and scrape any brown bits from the bottom of the pot. Return the chicken to the pot. Do not stack the chicken, lay as a single layer. Increase heat to high and bring the liquid to a boil.
Reduce heat to low, cover, and simmer until chicken is cooked through. About 8-10 minutes.
Remove chicken and transfer to a plate and loosely cover with foil.
Add cauliflower, chickpeas, almonds, and apricots to the pot. Turn up the heat to medium-high again and cook for 5 minutes.
Serve the cauliflower mixture with a slotted spoon on plates with chicken on top, leaving any liquid in the pot. Enjoy!
---