Chicken and Mushroom Stew with Creamy Tarragon Sauce and Green Beans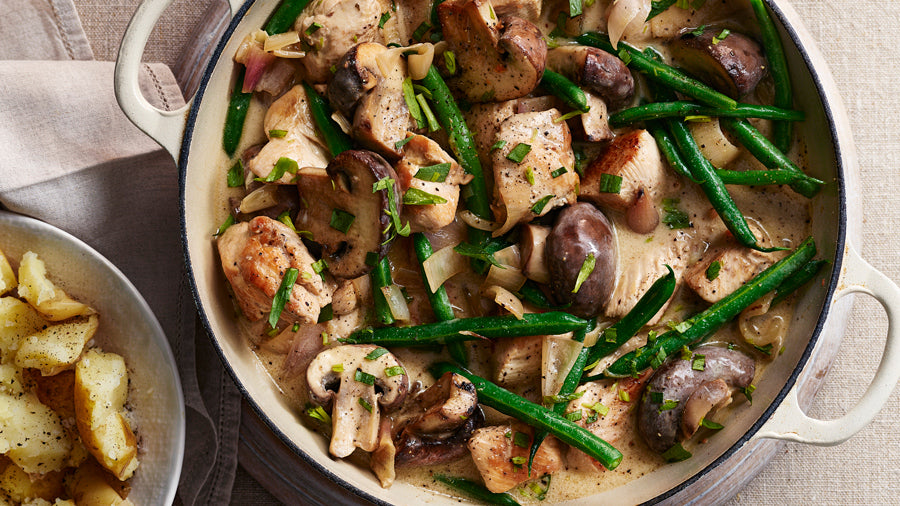 Chill in the air? Simmer this chicken and mushroom stew on the stove. Warm, comforting, creamy with a little crunch from the green beans. Pour some white wine in the recipe and sip a little while you wait, Julia Child style.
makes:

4 Servings

total time:

45 minutes

cooking difficulty:

Easy

allergens:

Dairy

Tags:
Ingredients
Mushrooms (we recommend chestnut mushrooms for their nutty flavor), sliced thick
1 lb.
Crème fraîche (or you can substitute sour cream)
8 ounces
Shallots, peeled and chopped
2
French green beans, washed and trimmed
1/2 lb.
Fresh tarragon, chopped
2 Tablespoons
Extra virgin olive oil
2 Tablespoons
Kosher salt
1/2 Tablespoon
Freshly ground black pepper, divided
2 teaspoons
Nutrition Values
Calories:

486

Fat:

26.8g

Saturated Fat:

11.6g

Cholesterol:

142mg

Sodium:

1419mg

Total Carbohydrates:

13.2g

Dietary Fiber:

3.4g

Total Sugars:

3.3g

Protein:

47.5g
Instructions
Season the chicken with salt and one tsp of pepper. Heat the oil in a large skillet over medium-high heat and cook the chicken for about 5 minutes until browned. Remove the chicken from the skillet and set it aside.
Add the butter to the same pan and melt. Add the shallots and mushrooms and cook until softened and just beginning to caramelize about 4 minutes.
Pour in the wine and chicken stock and bring to a boil. Add in the green beans and browned chicken and reduce heat to low. Cover and let simmer for about 10 minutes or until green beans are tender, but still firm.
Stir in the crème fraîche and tarragon and continue to simmer, uncovered for about 3-5 minutes until all is heated through and the chicken is completely cooked. Season with the remaining pepper before serving.
---