Carne Asada Bowl — Whole30, AIP-friendly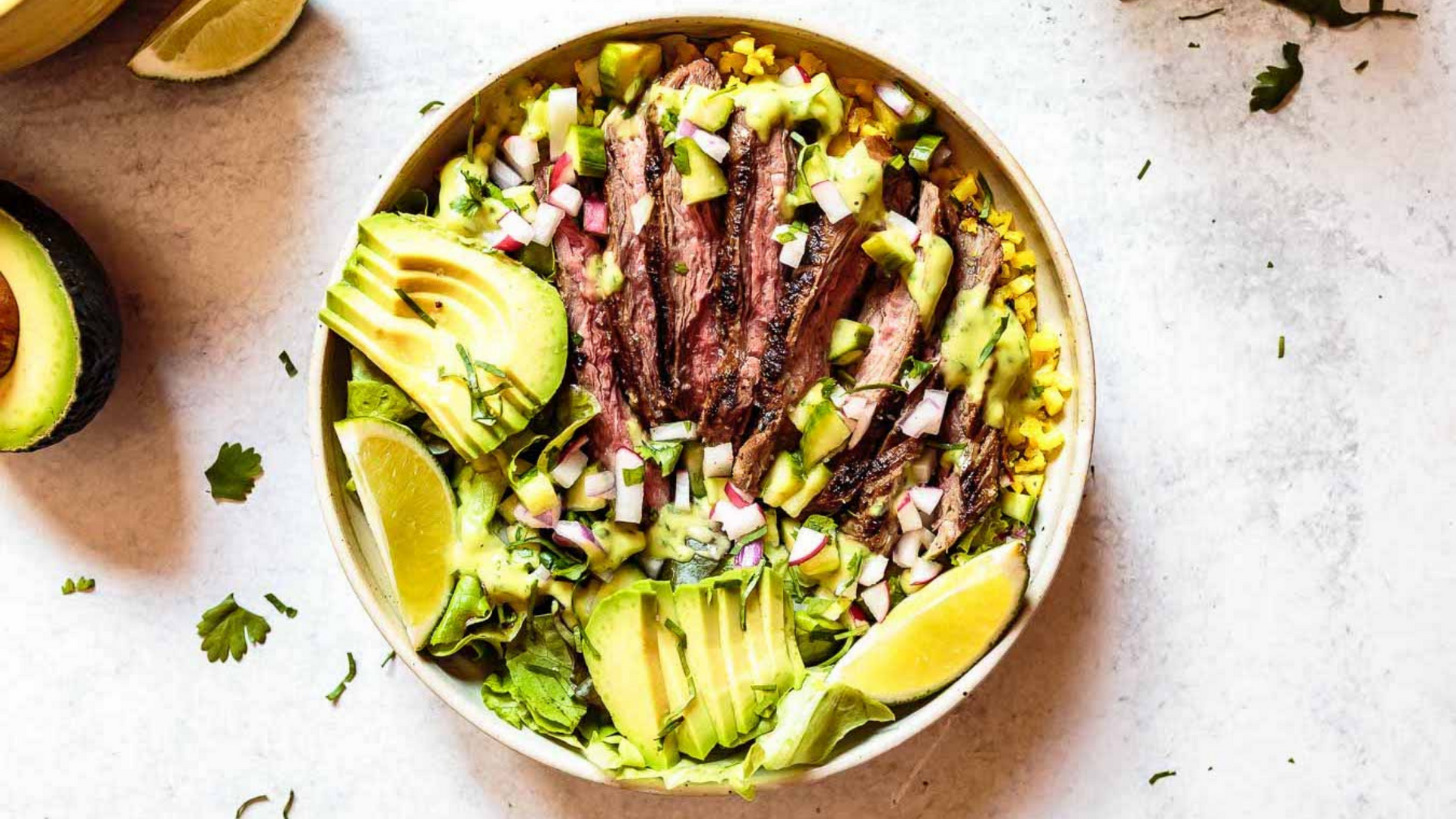 By Alison Marras
Indulge in the tantalizing Carne Asada Bowl, where the vibrant flavors of Latin cuisine meet the health-conscious principles of the
Whole30
and AIP diets. Savor every bite, knowing that you're nourishing your body with wholesome, nutrient-dense ingredients. Get ready to embark on a culinary journey that is both delicious and aligned with your dietary goals.
makes:

4

total time:

Marinade time: 60 mins+ | prep time: 20 mins | cook time: 12-15 mins

Tags:
Ingredients
Extra-virgin olive oil, plus more for grill (or use a spray)
2 Tbsp
Cumin (cinnamon for AIP)
1 tsp
Sweet or smoked paprika (omit for AIP)
1/2 tsp
Coriander powder (omit for AIP)
1/4 tsp
- Cucumber-Radish Pico de Gallo:
Lime, juiced and zested
1
Fresh cilantro, finely chopped
2 Tbsp
Ghee (or olive oil for AIP)
1 Tbsp
Sweet or smoked paprika (omit for AIP)
1/2 tsp
Black pepper to taste (omit for AIP)
Shredded lettuce (or greens of choice)
4 cups
Optional garnishes: sliced avocado, coconut yogurt, lime wedges
Utensils
Small mixing bowl
Baking dish or zip top bag
Whisk
Food processor or blender
Grill or cast iron skillet
Skillet
Instructions
Prepare the steak with marinade. Clean steak and cut off any "silver skin" on the fat layer that may remain for an easy-to-chew texture. Place steak in a baking dish or zip-top bag. Combine all other ingredients for the marinade in a small mixing bowl and whisk, pour over the steak and make sure it's fully coated. Refrigerate and allow it to marinade for at least 1 to 4 hours.
Prepare Pico de Gallo and Avocado dressing. Meanwhile, combine all pico de gallo ingredients in a small mixing bowl and let sit for the flavors to meld. Store in the refrigerator until ready to use. Also, prepare the avocado dressing by combining all ingredients in a food processor or blender. Add water as needed to loosen the dressing. Store in the refrigerator until ready to use.
Grill steak. Heat a grill or cast iron skillet over high heat, add olive oil and once shimmering, place the marinated steak (discard the extra marinade). Grill on each side for approx. 6 minutes for medium-rare or more if you'd like it well done (depending on the thickness of the steak). Once ready, let the steaks rest for 5 minutes and slice thinly.
Make cauliflower rice and salad. In a skillet, add ghee or oil over medium-low heat. Add cauliflower rice (fresh or frozen) and season with seasonings. Mix to combine with a wooden spoon and cook for 5-8 minutes until rice is soft. Set aside. In serving bowls, add salad greens and cauliflower rice to be the base of the bowl.
Assemble the bowl. Add sliced steak over cauliflower rice, drizzle with avocado dressing and optionally garnish with sliced avocado, lime wedges, cilantro, and coconut yogurt.
---