Beef Liver and Fried Potatoes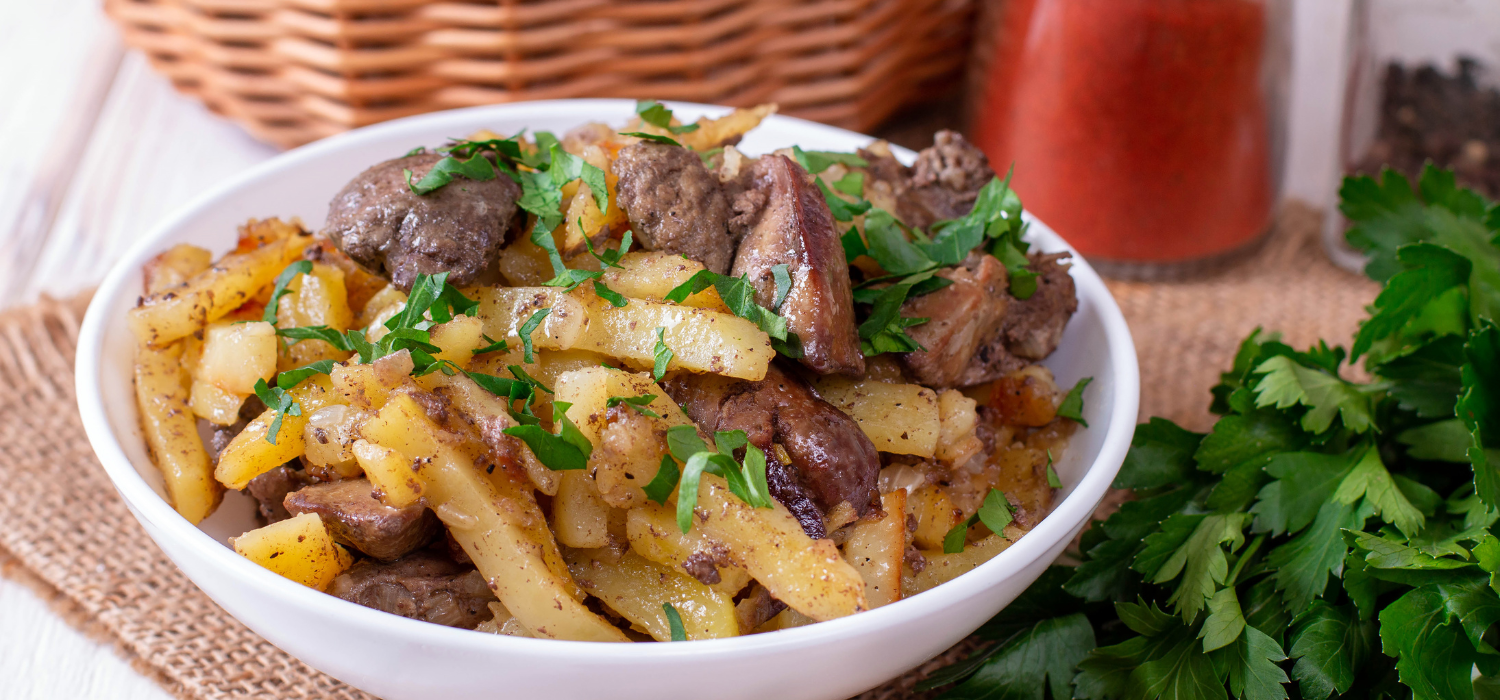 A  symphony of tastes, where the tender, the crispy, the savory, and the sweet intertwine to create a memorable and satisfying culinary experience.
With seasoned beef liver harmonizes with caramelized onions, while crispy fried potatoes add a delightful crunch, all united by a savory sauce, creating a rich and balanced taste sensation that lingers with every savory bite.
Remember, beef liver cooks quickly, so be sure to keep an eye on it to prevent overcooking. Our beef liver comes already sliced!
Ingredients
Onions, thinly sliced
2 large
Red potatoes, peeled and cut into small cubes
2-3 large
All-purpose flour
1/2 cup
Salt and pepper, to taste
Beef broth or water
1/4 cup
Fresh parsley, chopped (for garnish, optional)
Utensils
Skillet
Shallow dish
Plate lines with paper towels
Instructions
Rinse the beef liver slices under cold water and pat them dry with paper towels. Season the liver slices with salt and pepper and let them sit for about 10-15 minutes.
In a shallow dish, place the all-purpose flour and season it with salt and pepper. Lightly coat each liver slice with flour, shaking off excess. Set aside.

Heat a separate skillet over medium heat and add a tablespoon of butter.
Add the diced potatoes to the skillet and fry them until they are golden brown and crispy, stirring occasionally. This usually takes about 15-20 minutes.
Once cooked, transfer the fried potatoes to a plate lined with paper towels to drain excess oil. Season with salt and set aside.
In a large skillet, melt the remaining butter (or use more oil) over medium heat.
Add the thinly sliced onions to the skillet and sauté until soft, translucent, and slightly caramelized. Add the minced garlic to the skillet and sauté for an additional 1-2 minutes.
Push the sautéed onions to the sides of the skillet. Place the flour-coated liver slices in the center of the skillet and cook for about 2-3 minutes on each side, until nicely browned.
Pour the beef broth or water into the skillet to deglaze the pan and create a flavorful sauce.
Gently stir the onions and liver slices together, allowing them to cook for an additional 2-3 minutes.
Add the fried potatoes to the skillet with the liver and onions. Gently combine everything together, allowing the flavors to meld for a minute or two.
Remove the skillet from heat and transfer the beef liver, onion, and fried potato mixture to serving plates.
Garnish with parsely!
---