Shawarma Spiced Beef Kabobs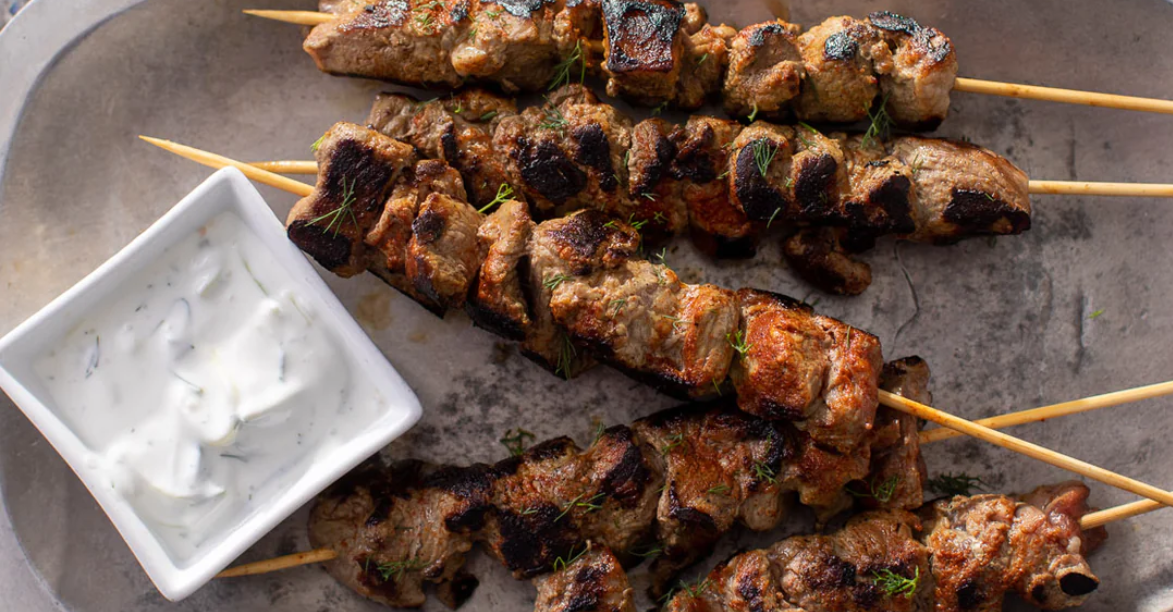 Shawarma is the unofficial street food of the Middle East. Characterized by a slow roasting tower of sliced meats (typically beef, lamb or chicken) on a rotating spit, shawarma is usually served with a warm flatbread and tangy yogurt sauce, pickled vegetables, raw onion and fresh herbs. The most common preparation utilizes thin strips of meat, marinated and cooked slow and low. We are going to channel that delicious food experience into our pasture-raised lamb kabobs, using a similar spice blend that you can make yourself.
Ingredients
Zest and juice of a lemon
Utensils
3-4 wooden or metal skewers. Soak wooden skewers at least 30 minutes before cooking.
Food processor or spice grinder
Mixing bowl
Plastic wrap
Cast iron pan
Instructions
Make the Spice blend:
Dry toast all of the spices in a pan on the stove until they become fragrant, about 30 seconds to a minute.
Let cool to room temperature then grind all ingredients in a food processor or spice grinder. If you don't have a grinder, you can toast ground spices in the pan for about 10-20 seconds.
Marinate the Beef
Combine 2 Tbsp of your shawarma seasoning with the meat, olive oil, lemon zest, and juice in a mixing bowl. Toss all of the ingredients until thoroughly mixed.
Cover the bowl with plastic wrap and let the beef marinate in the refrigerator for at least four hours and up to 8 hours.
Assemble & Cook Skewers:
Skewer the marinated meat loosely packed so that it will cook evenly.
Prepare the pan or grill for high-heat cooking. If using a cast iron pan, bring the pan near smoking before adding the meat. If using a charcoal grill, get the coals scorching hot.
Sear the meat on all sides, turning every couple of minutes to cook evenly. After about 8 to 10 minutes, the meat should be ready (the internal temperature of the meat should be 145 degrees).
Serving suggestions: plate with pita bread, diced tomato, pickled vegetables, shaved onion, feta cheese, fresh cilantro, and yogurt mint sauce (mix about a cup of yogurt with a squeeze of lemon, minced garlic clove, pinch of salt & chopped mint).
---