Herbaceous Pan-Seared Pork Steak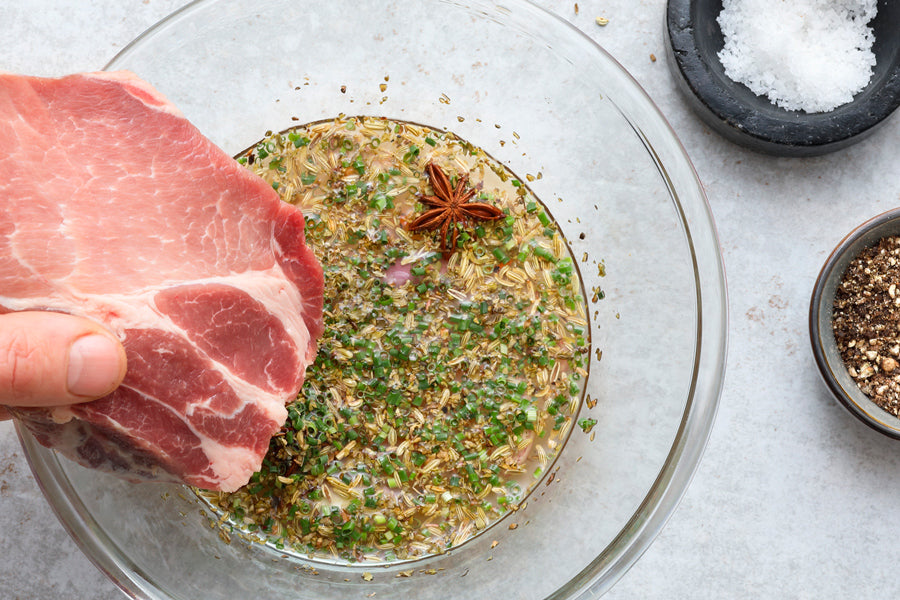 Break those dried herbs out of the pantry and put them to work on our delicious bone-in Pork Steaks.
If you haven't used your herbs in awhile, a good tip for bringing them back to life is to heat them in a pan on a low heat until you can swell their aroma (about 15-30 seconds). Less than 30 minutes from start to finish to sit down and enjoy a nice, juicy and aromatic pasture-raised pork steak. Some steamed vegetables or a simple salad on the side and you've got yourself a perfect meal. 
makes:

4

total time:

28 min

cooking difficulty:

Easy

Tags:
Ingredients
Fresh chives, finely diced
2 Tbsp
Shallot, peeled and finely diced
1
Extra virgin olive oil
2 Tbsp
Freshly ground black pepper
1 tsp
Nutrition Values
Calories:

311

Total Fat:

21.1g

Saturated Fat:

6.3g

Cholesterol:

55mg

Sodium:

1319mg

Total Carbohydrate:

6.7g

Dietary Fiber:

3g

Total Sugars:

0.2g

Protein:

26.2g
Utensils
Paper towels
Shallow bowl
Skillet
Instructions
Pat chops dry with a paper towel. Season both sides with salt.
In a shallow bowl combine thyme, rosemary, fennel seeds, sage, marjoram, chives, shallot, star anise, and lemon juice. Add each piece of pork to the marinade turning to coat both sides.
Heat olive oil in a skillet over medium-high heat. Add pork and season with pepper. Sear on each side for 3-5 minutes, or until nicely browned. Tent with foil and let rest for 3 minutes before serving.
---