Oxtail Stew and Butter Beans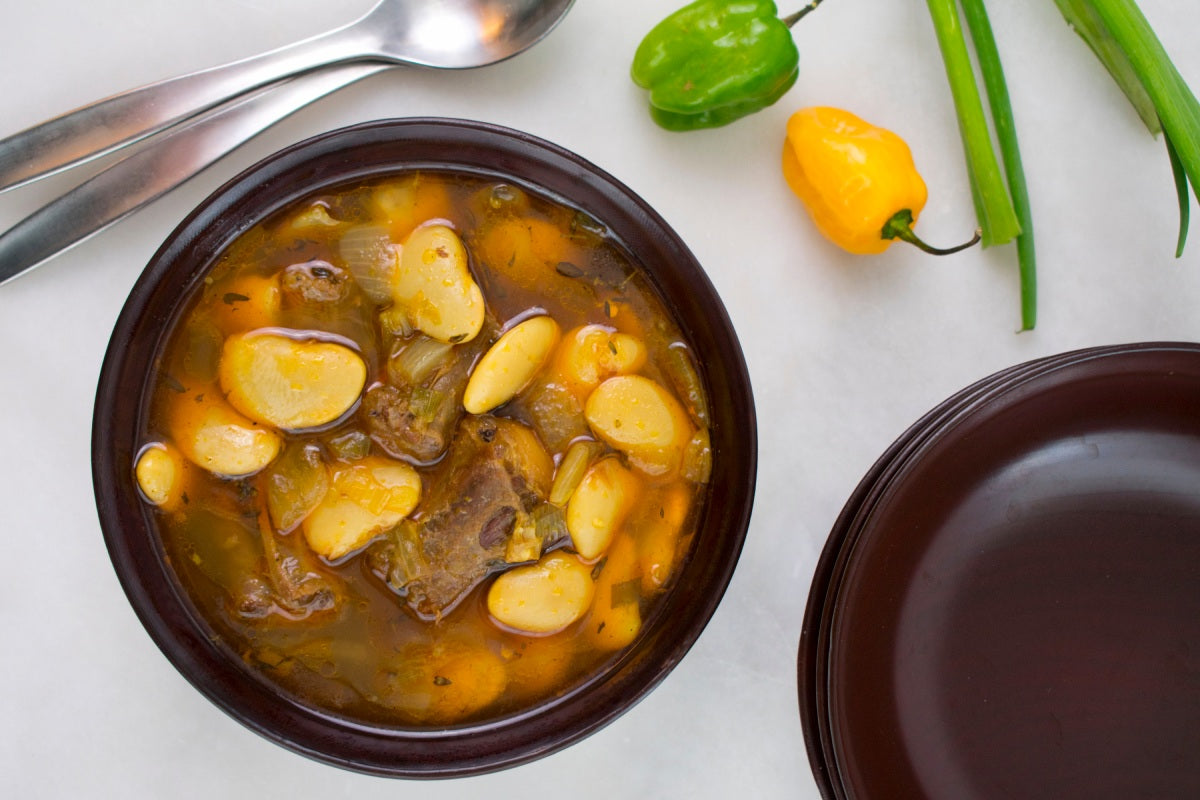 Tender oxtails are marinated in a tantalizing blend of brown sugar, soy sauce, Worcestershire sauce, and aromatic spices before being lovingly simmered to perfection. This hearty dish is a symphony of Caribbean inspired that will transport your tastebuds to a world of culinary delights.
Don't feel overwhelmed by the ingredient list, we promise the recipe is easy and worth the shopping list!
Ingredients
Worcestershire Sauce
1 Tbsp
Browning sauce
1 teaspoon
Vegetable oil
2 Tablespoons
Scotch bonnet or habanero pepper, chopped (seeds and membrane removed with rubber gloves)
1
Butter Beans, drained
1 16 oz can
Instructions
To start, prepare your oxtails by rinsing them with a mixture of water and vinegar, then pat them dry. Mix brown sugar, soy sauce, Worcestershire sauce, salt, garlic powder, black pepper, allspice, and browning sauce; rub onto oxtails.
Heat vegetable oil in a pressure cooker on high sauté. Brown oxtails on each side, then set aside.
Now, it's time to build those layers of flavor. Deglaze the pot with beef broth, and toss in the yellow onions, green onions, carrots, garlic, and a hint of scotch bonnet or habanero pepper for that spicy kick (don't forget to wear rubber gloves when handling the pepper!). Sauté until onions soften.
Stir in thyme, oxtails, remaining beef broth, and ketchup. Pressure cook on high for 45 minutes; naturally release pressure, allowing the oxtails to become fall-off-the-bone tender. allowing the oxtails to become fall-off-the-bone tender.
Open the lid, and remove the oxtails and veggies. Switch your pressure cooker to sauté mode and combine a mixture of cornstarch and water to thicken the cooking liquid. Stir in a can of butter beans, drained and ready to go, and let them simmer in the flavorful broth for about 5 minutes.
Finally, bring it all together by returning the oxtails and veggies to the pot, allowing them to mingle with the butter beans. The result is a hearty, comforting stew that's as impressive as it is delicious.
Serve up with a side of rice, or a la carte to truly savor the rich aromatic flavors of this traditional dish.
---