No Bean & No Tomato Paleo Chili In The Instant Pot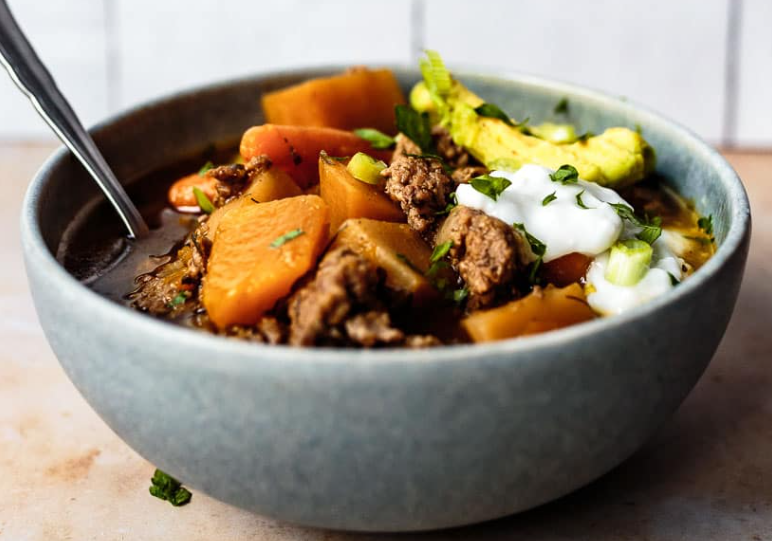 Recipe by Alison Marras
This cozy and comforting Paleo chili recipe is filled with ground meat and a ton of veggies to keep you full and satisfied. It's a Whole30-friendly chili and AIP-compliant, too, with no tomatoes and no beans. This great Paleo meal prep recipe is easily made in an Instant Pot, slow cooker, or on the stovetop.
Ingredients
Extra-virgin olive oil
2 Tbsp
Cubed butternut squash, carrots, and rutabaga (or any desired root veggies like sweet potatoes, beets, carrots, turnips, etc.) - I use a pre-chopped soup mix.
2 lbs. or approx. 3 cups
Fresh parsley, chopped (or 1 tsp dried parsley)
1 Tbsp
Fresh dill, chopped (or 1 tsp dried dill)
1 Tbsp
Bone broth - for AIP, use an AIP-friendly bone broth, homemade is likely best or any meat stock
2 cups
Optional garnish: avocado slices, coconut yogurt, fresh chopped herbs
Utensils
Instant Pot (option 1)
Stockpot or Dutch (option 2)
Slow cooker (option 3)
Instructions
Brown the meat by setting Instant Pot to "SAUTE" and adding extra-virgin olive oil to the pot. Once shimmering, add meat and mix up with a wooden spoon until browned after 5-8 mins.
Once liquid released from the meat has mostly been absorbed, add chopped onions and minced garlic. Mix for a minute or so until the onions are soft. Season with sea salt.
Next, add the cubed root veggies and herbs, and mix again.
Next, season with all seasonings and pumpkin purée, continuing to mix well with the spoon so it's coating everything.
Add bone broth over top and finish off with 2 bay leaves. Seal the Instant Pot and set to "meat/stew" for 20 minutes. Allow it to naturally release for at least 10 minutes and serve when ready!
Notes: Don't have an Instant Pot (electric pressure cooker)? You can make it on the stovetop or in your Slow Cooker, too! Use the directions below.
Option 2 - Stovetop: Follow the same directions as Instant Pot, except: Instead of using 2 cups bone broth, use 3 cups and simmer it in a partially-covered stockpot or Dutch oven over medium-low heat for 1 hour or until the flavors meld.
Option 3 - Slow Cooker: Use a pot on the stove to do all the sautéing, before transferring everything to the slow cooker. Set the slow cooker on low and cook for 6-8 hours.
---