Pastured Pork Chorizo Breakfast Hash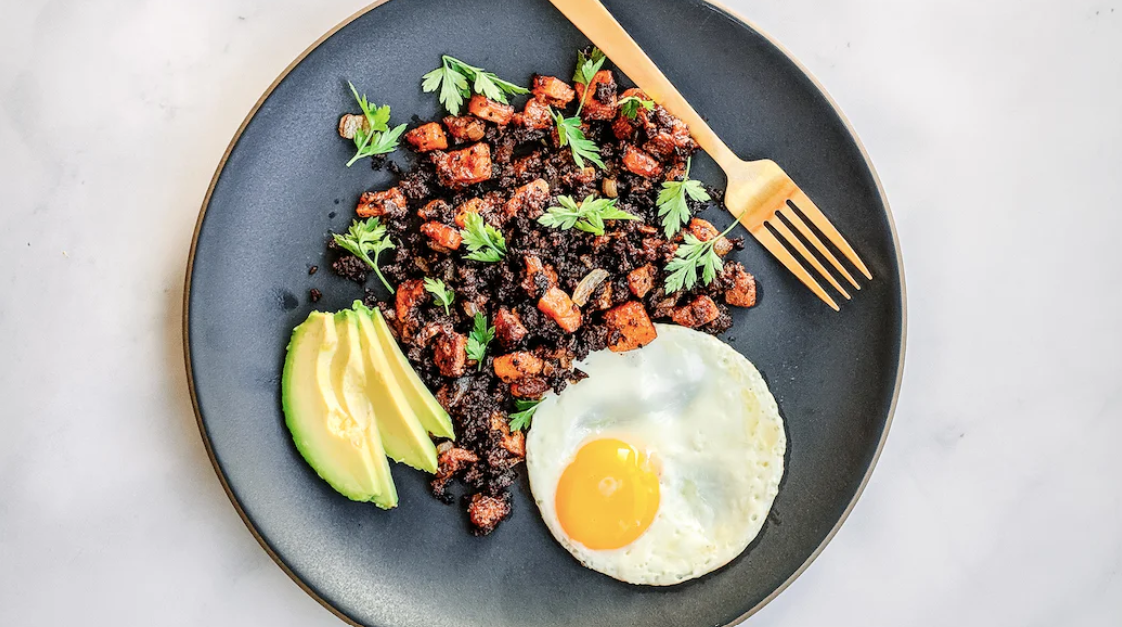 Created and written by our partner Cocoa & Salt
This breakfast hash is full of protein, fiber and vitamins, not to mention great flavor from the paprika and cumin in our pastured pork chorizo. Sweet potatoes are an excellent source of fiber and contain vitamins and minerals like iron, calcium, selenium, B vitamins and vitamin C. Bell peppers are rich in many vitamins and antioxidants, especially vitamin C. Garlic is rich in vitamin C, vitamin B6 and manganese and can even help combat sickness. Eggs are one of the healthiest foods on the planet with protein, selenium, phosphorus, plus tons of vitamins like A, B12, B5, and B2.
Ingredients
Sweet potato, chopped
1 large
Red bell pepper, chopped
1
Yellow onion, chopped
1 medium
Garlic, finely chopped
2 cloves
Canned or frozen corn
1/4 cup
Cilantro, chopped (optional)
1/4 cup
Instructions
Heat a large pan on medium heat. Add sausage and break apart with a spatula. Cook for about 8-10 minutes stirring frequently, until sausage is cooked through and brown and crispy on the outside. Keep some of the oil in the pan.
Use the same pan to cook the sweet potatoes and onion. Season with salt and pepper and cook for about 12-15 minutes, until sweet potatoes are softened. Add the bell peppers and garlic and cook for another 4 minutes until the peppers are softened.
Once the vegetables are cooked, add the chorizo back to the pan and combine with the veggies. Cook for about 1 minute before adding the corn. Cook for another minute.
While the hash is cooking, prepare 1 egg per person. I made mine sunny side up, but you could do a fried egg. Place about 1/4 of the hash on a plate and top with an egg, cilantro and a lime wedge. Enjoy!
---