Mediterranean Beef Tacos With Squash Tortillas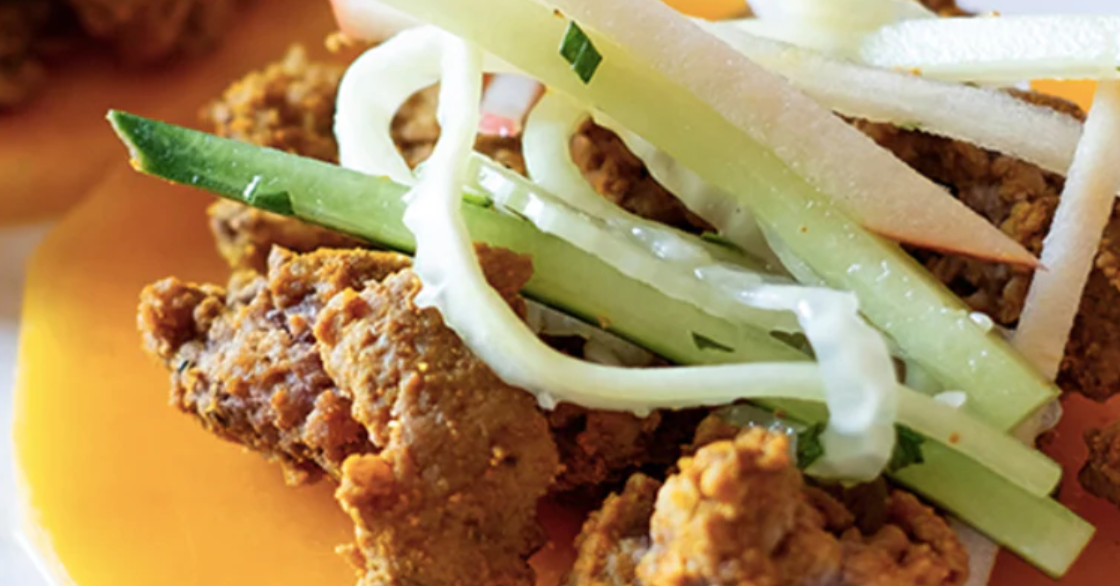 Recipe created by Cocoa & Salt in partnership with Bulletproof.
With seasonings like turmeric, cumin, and coriander, this recipe makes a flavorful starring dish with a side of clean starch in the form of butternut squash and crisp, crunchy fennel slaw to round it all out.
Ingredients
For squash "tortillas" butternut squash (pick one that has a large amount of evenly round area so your tortillas are the same size)
1 large
Apple cider vinegar
2 Tbsp
Fresh tarragon, coarsely chopped
1 Tbsp
Fresh dill, coarsely chopped
1 Tbsp
Celery, thinly sliced diagonally
1 stalk
Fennel bulb, thinly sliced crosswise
1 small
Pink apple (any kind you like!), julienned
1
Cucumber, julienned
1 small
Olives, roughly chopped (optional)
1/4 cup
Utensils
Large pan
Mandolin or a sharp knife
Shallow saucepan
Instructions
Heat a large pan over medium heat and add ground beef. Cook until the beef is brown, about 8 minutes. Drain the excess fat from the beef and return the pan to the stove. Add the ground turmeric, ground cumin, ground coriander, salt, pepper, and water and mix well. Bring the mixture to a simmer and cook for about 5 more minutes.
To make the squash tortillas, cut off the stem of the squash, peel, and use a mandolin or a sharp knife to cut 12 even and thin slices - the thinner the better! In a shallow saucepan, add enough water to be about ½ inch deep. Heat the water until simmering, then add the squash slices. Cook for about 1 minute then remove from water, set aside, and season with salt.
To serve, top each squash tortilla with a tablespoon of the prepared ground beef and fennel slaw and top with olives if desired.
---