Malt Beer Pork Burger with Peanut Sauce & Crunchy Slaw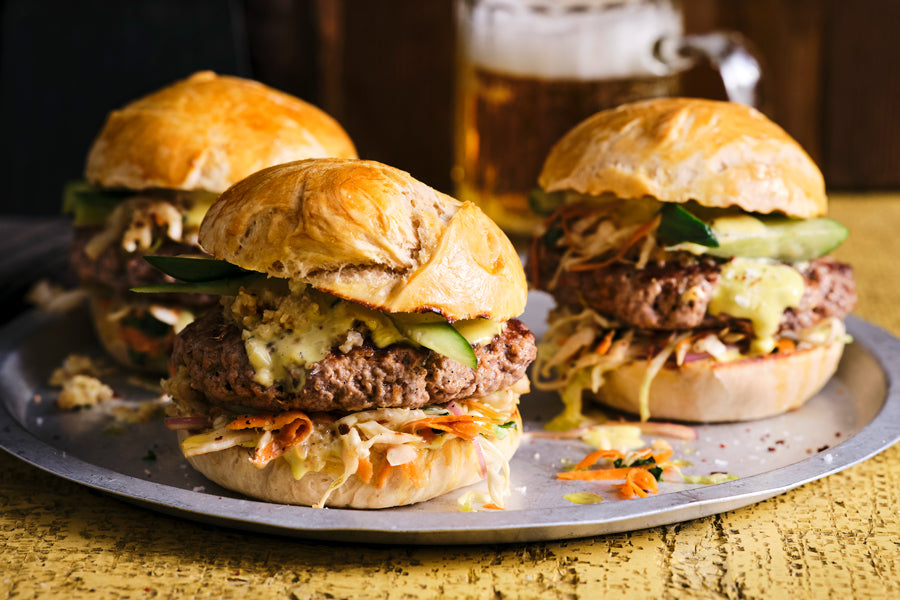 A burger and a beer is the ultimate comfort food pairing. A pork burger with beer in it is a revelation—adds a bit of moisture and a hint of sweet caramel flavor that accentuates the pork. Topped with a creamy and complex peanut sauce and layered with a sesame slaw, you have yourself a serious two-handed taste sensation.  
makes:

4 servings

total time:

30 minutes

cooking difficulty:

Easy

Tags:
Ingredients
Worcestershire sauce
1 Tablespoon
Malt beer (stouts and porters are malt-forward beers)
1/4 cup
Kosher salt & pepper
to taste
Rice vinegar
1 Tablespoon
Extra virgin olive oil
2 Tablespoons
Dried chili flakes
1/2 teaspoon
Black pepper
1/4 teaspoon
Rice vinegar
2 Tablespoons
Fresh lime juice
2 Tablespoons
Fresh ginger, peeled
1/2 Tablespoon
Red chili paste
1/2 teaspoon
Pickle spears, sliced
8-12
Instructions
For the burgers: Prepare grill for medium-high heat and lightly oil grates. Toast split buns over the prepared grill until golden brown and set aside. Mix the ground pork, onion, garlic, and Worcestershire sauce in a medium bowl. Mix in the beer until absorbed by the meat mixture. Form into 4 patties and season with salt and pepper. Grill the burgers to the desired degree of doneness, about 5 minutes per side for well done.
For the slaw: In a medium bowl, toss the coleslaw mix with the rice vinegar, sesame oil, olive oil, chili flakes, salt, and pepper. Set aside until ready to assemble burgers.
For the peanut sauce: In a food processor or high-speed blender, combine all ingredients. Pulse until well combined.
To assemble: Place a portion of the slaw mixture on each of the bottoms of the toasted buns. Place a burger on the slaw and top with peanut sauce, additional slaw if desired, and pickle spears. Add the tops of the buns and serve.
---