Lemon Garlic Chicken Liver & Onions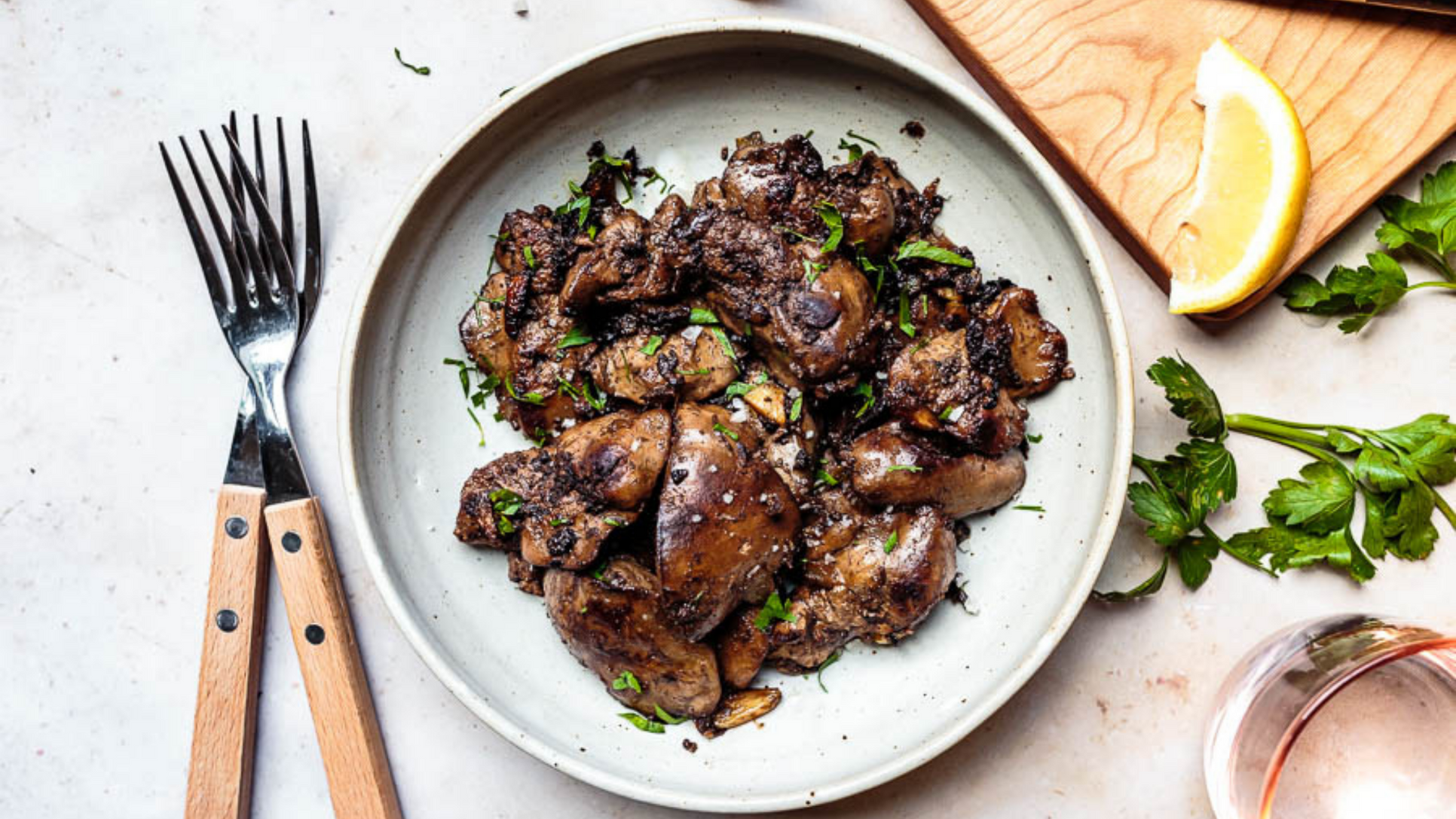 By Grass Roots partner Alison Marras
Chicken liver is a rich source of heme iron, packing in around 9.2 mg of iron per 2.5 oz. serving! For a reference point, chicken breast has barely 0.9 mg. Organ meat is highly nutrient-dense in comparison to its muscle meat counterparts (like thighs, breast, wings, etc.).
Pasture-raised chicken livers are a superfood packed full of vitamins and minerals. Sautéed with garlic, onions, lemon juice, and more – this will turn anyone into a beLIVER! I'm sharing my husband's recipe which helped me turn around my anemia many years ago and one we frequently enjoy as a family.
It's Paleo, AIP-friendly, Whole30, and great to incorporate on any healing journey.
makes:

4 Servings

total time:

30 minutes

cooking difficulty:

Easy

Tags:
Ingredients
White wine (or bone broth for AIP)
1/2 cup
Yellow onion, chopped small
1/4
Extra virgin olive oil
3 Tablespoons
Garlic, sliced thin
5-8 cloves
Dried oregano
1/2 teaspoon
Garlic powder
1/4 teaspoon
Fresh parsley, chopped for garnish (optional)
Utensils
Skillet
Spatula or wooden spoon
Instructions
Heat olive oil in a medium-sized skillet (ensure it's enough to coat your skillet) over medium heat. Once shimmering, add onions and garlic cloves to oil and sauté for 2-3 minutes to soften.

Add liver, salt, oregano, garlic powder, cook until golden on all sides (approx. 5 minutes).

Lower heat, add 1/2 cup wine and lemon juice, and let it simmer. Loosely cover the skillet while sautéing with a wooden spoon every few minutes until onions and garlic are caramelized and most of the liquid is absorbed (approx. 5-8 minutes).

Once the liver is cooked and all garlic and onions are melded in, serve right away with lemon wedges to squeeze over and parsley to garnish.
---