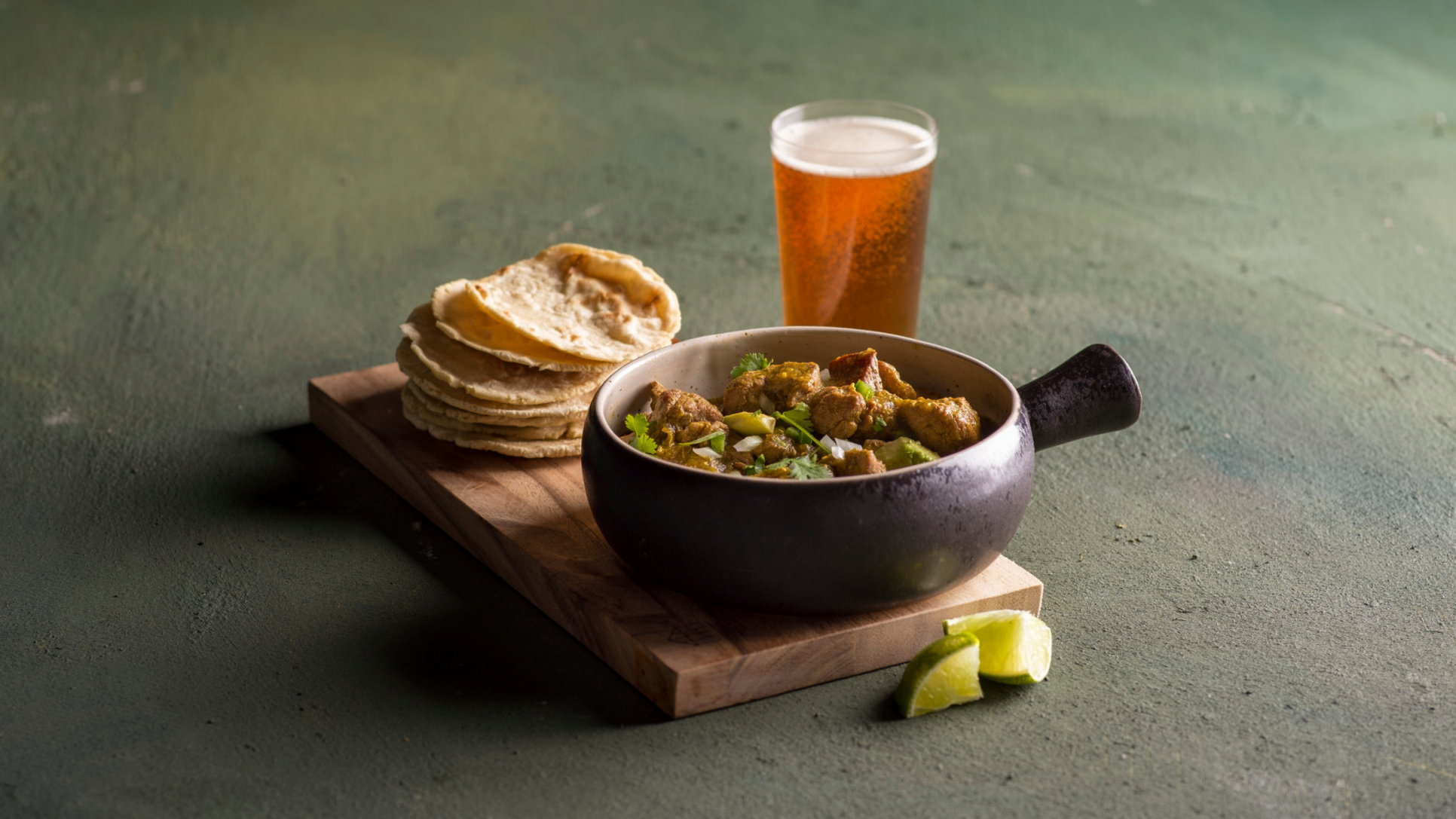 By Guest Chef Phillip Schaaf
This chile verde pork recipe is simple, comforting, and full of complex flavors. It's very versatile and can be served in a bowl over rice with avocado and cilantro, or rolled into enchiladas, burritos or tacos and topped with more sauce and sour cream. You can prepare it ahead of time which makes it even more delicious because it gives the flavors time to meld together.

This is a low and slow braised dish, consisting of Grass Roots pastured pork stew meat. It has a good fat to meat ratio which is great for braising. The pork is cooked down with onions, garlic, three kinds of chiles —anaheim, poblano, and either serrano or jalapeño— and tomatillos.

If you haven't used a tomatillo, it's like a little green tomato with a thin husk. It is a tart, acidic fruit with firm white flesh that has a flavor all its own. To prepare the tomatillos, they need to be husked and washed, as the husk leaves behind a sticky residue on the fruit.

All of the vegetables can be roughly chopped to start, as they will be pureed later creating a smooth and luscious sauce that the pork will simmer in. 
Ingredients
Tomatillos, husked and quartered
4
Anaheim peppers, seeded and chopped
2
Poblano peppers, seeded and chopped
2
Serrano or jalapeño peppers, seeded and chopped
2
Yellow onion, roughly chopped
1
Neutral oil
2 Tablespoons
Fresh cracked pepper
1 teaspoon
Avocado, peeled, pitted and diced
1
Yellow onion, diced small for garnish
1/2
Cilantro, chopped for garnish
Utensils
Heavy-bottomed pot
Immersion or kitchen blender
Instructions
Season the pork with salt and pepper then set aside while you wash and cut the vegetables.
Heat the oil in a heavy-bottomed pot, preferably with a lid. Sear the seasoned pork, working in a few batches so as not to overcrowd the pan. Overcrowding can lead to less of a sear and more of a steamed pork product.
Once all of the pork is seared, remove it from the pan and set it aside.
Add a bit more oil to the pan then cook down all of the veggies until they begin to develop some color.
Add the chicken stock and simmer for 15 minutes. Using an immersion blender or a countertop blender, puree all of the chiles and the stock to create the body of our stew.
Add the pork and continue to simmer until the pork is really tender about two hours.
Remove from the heat and prepare your garnishes. Dress the avocado with the juice from ½ of the lime.
Add the juice of the other ½ of the lime to the pork verde, along with ½ of the chopped cilantro.
Serve it up using your preferred method and enjoy with family and friends.
---