A Coffee-Bacon Collaboration: Meet our Partner, Pachamama Coffee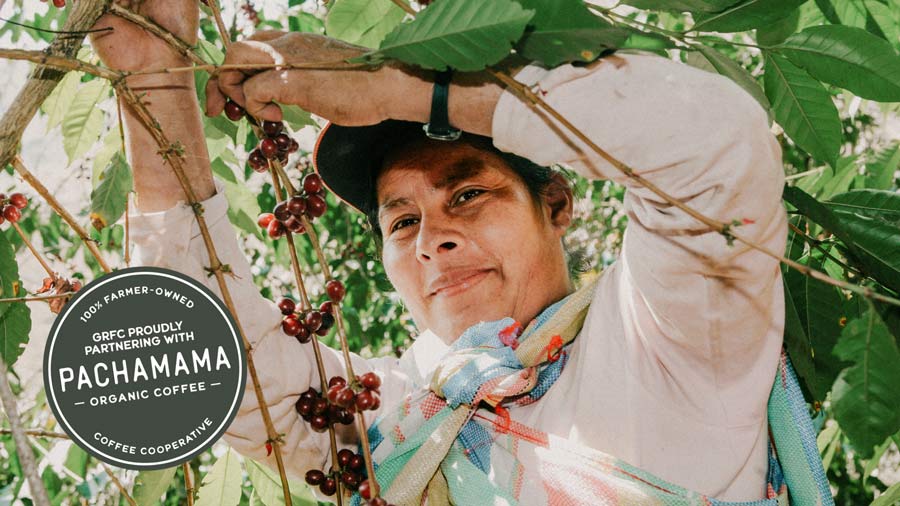 When Cody Hopkins (CEO of Grass Roots) was on a trip with Heifer to learn about pursuing his dream to create a farmers co-op (now Grass Roots), he was introduced to Thaleon Tremain and inspired by the tremendous success of Pachamama, a 100% farmer owned co-op of coffee farmers. 

Today both Pachamama and Grass Roots have the ability to provide farmers the opportunity to earn a fair wage, sell direct to customers, and have a say in their own destiny. To further support each other's efforts, we are proud to announce that Pachamama and Grass Roots have embarked on an exciting partnership. But first, here's Pachamama's compelling story…
The Problem with the Coffee Industry
The coffee industry generates about $200 billion in annual sales. Only 2 states in the US, California and Hawaii, have the climate to grow coffee so the United States primarily imports its beans and is the second-largest importer after the European Union. Coffee is a fruit. It's best grown without chemicals, under shade-canopy, and at a high elevation. Similar to the farmers in the US, very little goes back to the farmers around the world. The cup of coffee you purchase at your local café may generate about 10 cents for  the coffee farmer - they are at the mercy of global prices they have no power to change. That is, until Pachamama came along.
The Birth of Better Days for Coffee Farmers
Thaleon worked in Bolivia for a group of coffee farmers as a Peace Corps volunteer and witnessed firsthand how the global economy treated small-scale farmers - earning mere pennies for their hard work and no access to education or capital to change the system. Thaleon was inspired to right that wrong. When traveling in South America, Thaleon met his hero Raul del Aguila who was the leader of a fair trade export cooperative called COCLA in Peru which represented 23 local community co-ops and more than 8,500 smalls-scale farmers. He joined forces with Raul to pioneer a better coffee business that would enable the farmers to sell direct to consumers, eliminating the middleman and increasing their income. 
In 2006, Raul led the formation of Pachamama along with Merling Preza of Nicaragua and Carlos Reynoso of Guatemala. Together, these leaders in the cooperative and coffee industries wrote the bylaws and united the 5 founding members: COCLA, Peru; Prodecoop, Nicaragua; Manos Campesinas, Guatemala; La Unión Regional, Mexico; and Oromia Coffee Farmers Cooperative, Ethiopia. Each member owns 20% of the cooperative. Today they are improving the livelihoods of over 240,000 small-scale farmers who are 42 times more profitable than conventional means of farming and are producing some of the world's finest certified organic coffee.
From Bean to Cup in California
Pachamama's farmers ship directly to the company's own roasting facility in El Dorado Hills, CA. This is a new facility that enables them to now roast more than 1.2 million pounds of green coffee annually. They roast in smaller batches which they believe allows more attention to the nuances that affect the coffee taste profile. Customers can buy direct from Pachamama's website (subscription or a la carte) or visit one of their 3 cafes in California. Use code GRASSROOTS to receive 30% off your first order (applies to all products and subscriptions!). Expires at the end of 2022. The profits go back to the farmers and open up access to more capital which they can invest back into their farms.
The Coffee-Bacon Collaboration
Introducing 
Pachamama Coffee-Rub Bacon from Grass Roots Farmers' Co-op

When Grass Roots and Pachamama decided to collaborate on a coffee-rub bacon, the question was "Which blend would pair best with Grass Roots' forested pork?" They decided a medium roast like Pachamama's full-bodied Harvest Blend would be ideal. It's a Viennese roast with notes of almond and caramel which pairs perfectly with pork. We smoke our forested pork belly, coat it nicely with the ground coffee then slice it into bacon strips. The rub takes the pork flavor to another level and the bacon crisps up beautifully. Be sure to give it a try. Enjoy forested pork with the highest quality certified organic coffee while supporting small-scale farmers.
---