5 Things To Look For In A Meat Delivery Service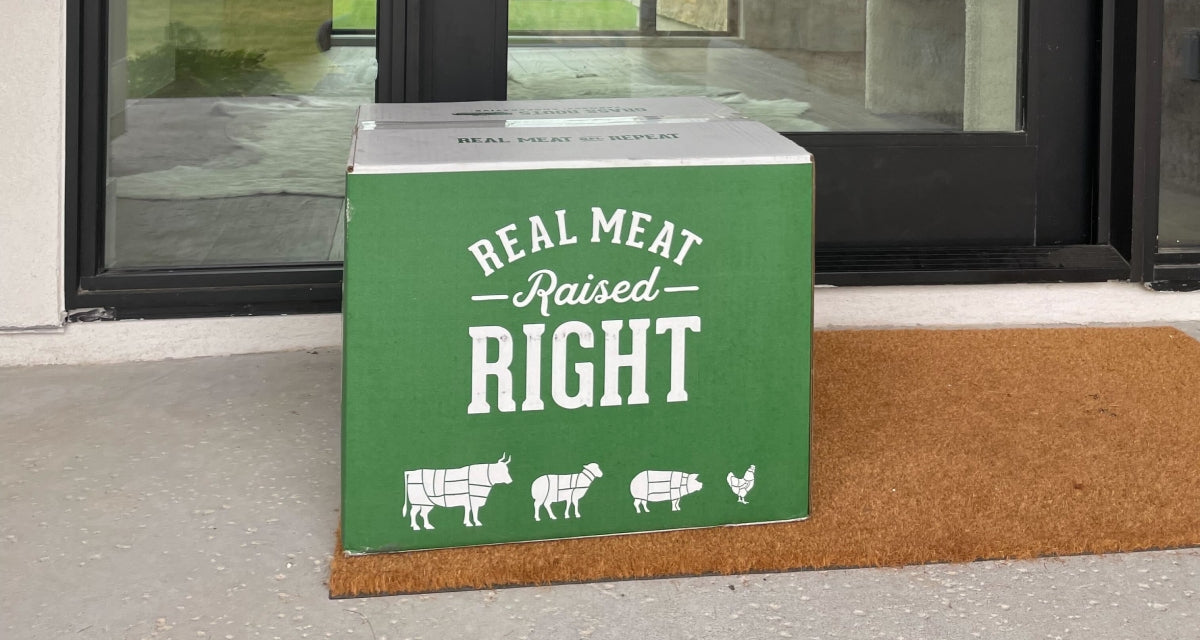 Between work, family commitments, and trying to squeeze in a pilates class a few times a week, you're incredibly busy.
As a result of this fast-paced lifestyle, many home chefs are turning to meat delivery services to ensure they're nourishing their bodies with high quality meat from a trustworthy source, while enjoying the added convenience of having that premium meat delivered straight to their door.
As a 100% pasture-raised meat producer, Grass Roots knows a thing or two about what differentiates the average from the excellent meat delivery services, so here are the top 5 things we recommend you look for:
1. Pasture-raised and regenerative agriculture
When it comes to raising meat, regenerative agriculture is widely viewed as the gold standard. 
This scientifically-verified farming method is characterized by one central idea:
Sustainable agriculture is only possible when we work
with
the land, instead of perpetually extracting from and/or polluting it.
In contrast to industrial agricultural, some of the key practices of regenerative agriculture include:
Pasture-raising animals in the fresh air and sunshine of the great outdoors
Rotational grazing patterns that allow the land to replenish its healthy topsoil between animal feeding cycles
ZERO chemical inputs and their associated pollution
Use of cover crops, which helps to reduce runoff and protect natural waterways  
No-till planting methods, which supports plant biodiversity and protects beneficial insects, including crucial pollinators like bees.
2. 100% American-born, raised, harvested, and processed
It would seem logical that if you walked into an American grocery store, you'd find meat from American farmers, right? Unfortunately, increasingly, this is not the case.
It's estimated that the U.S. imported approximately $8.7 billion worth of meat in 2020 alone.
And imported meat doesn't just wind up on grocery store shelves – it's also present in many of the home food delivery services.
Selecting a meat producer that guarantees their cuts are 100% born, raised, harvested, and processed in the USA offers consumers three significant benefits:
Avoid the hefty carbon emissions associated with importing meat that has to be transported from overseas, often from as far away as Brazil.
Support local farmers and rural communities who rely on agriculture.
Tracing and verifying farm standards is much easier with U.S. farms instead of international ones.
3. Meat is flash frozen immediately after harvest
Meat is organic matter, and like all organic matter, its quality will start to degrade if left sitting around for too long.
For the freshest possible meat, look for a supplier who flash freezes each cut immediately after harvesting. This is the best way to preserve the most nutrients and flavor.
To help maintain that freshness as long as possible, Grass Roots ships all our flash-frozen meat with dry ice to keep it cold during transit.
Reminder: Don't panic if your Grass Roots order is not fully frozen when it arrives. As long as it's still cold to the touch (40°F or colder) you can refreeze each package according to USDA standards.
4. Transparency and tracing
Did your high school have a running joke about the "mystery meat" in the cafeteria?
Maybe it was funny back then, but our grownup perspective is that the food we eat should never come with question marks and uncertainties.
If you've found a meat delivery service that doesn't offer transparency about where animals come from and how they were raised, and they don't provide tracing that lets you easily see the exact farm and state that produced your meat, we view that as a red flag. 
All Grass Roots orders come with a tracing label on every package, so you can be fully informed about where that animal was born, raised, and which one of our family-owned processing plants harvested it.
5. Humane animal handling and processing standards
The best meal delivery services are transparent about their animal handling protocols and humane processing standards.
For instance, the dominant harvesting practice at many conventional chicken farms requires farm workers to rush around the chicken shed, collecting 10 chickens at a time. And since their high-volume business model relies on harvesting large numbers of animals in a short timespan, there's often a chaotic hurriedness to the process. (Conventional chicken farming operations often force thousands of chickens to live in squalid conditions inside windowless barns.)
All this creates significant stress for the animals and some people believe that tension impacts the quality of the meat.
Select a meat delivery service that clearly demonstrates a thoughtful approach to responsible animal handling and ethical processing practices, with key features like:
Animals are raised in spacious environments with their own species, and only handled when entirely necessary.
At harvest time, animals are prepared for transportation one at a time.
Farm workers place a strong emphasis on slow and careful movements that don't increase panic.
One-on-one handling is gentler for the animals and also significantly decreases the high risk of farm worker injury.
One-on-one processing gives each animal the focused attention and care of one human, which helps to create a calmer and safe environment.
Interested in our quality meat delivery service?
Fill your basket with your favorite 100% pasture-raised cuts and we'll ship it straight to your doorstep.
All animals are born, raised, harvested, and processed in the USA.

Regenerative agriculture is the heart of all our farms.

Meat is flash frozen at peak freshness.

Absolutely zero added hormones or antibiotics
---