Slow Cooker Braised Pork Shoulder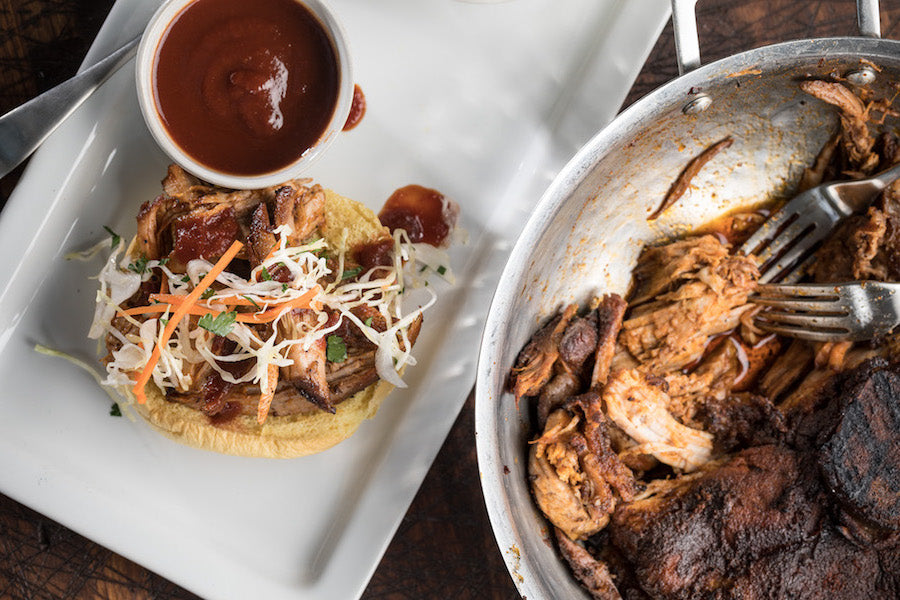 By Chef Phillip Schaaf
The pork shoulder is my favorite cuts of meat. Not only is it extraordinarily tasty, it's also easy to enjoy for a weeknight meal with the family.
When it comes to cooking pork shoulder, slow and steady wins the race every time, but once it's cooking it doesn't require much attention. This is a low maintenance recipe with just a few steps of prep. Most of the work is done for you while you're at work or running errands.
Get cooking!
1. Start by choose your cooking vessel
The easiest method is let a slow cooker do all of the work.  If you don't have one, though, don't rush out to buy one just for this recipe. The oven will work just fine—especially if you have a heavy enameled cast iron or stainless steel pot with a lid, preferably a 5.5 or 6 qt sized pot. It's also good to preheat your pan before getting started. Turn on the slow cooker at least 20-30 minutes before adding the ingredients. If you're using the Dutch oven, it will be preheated from the searing of the pork and aromatics.
2. Second, prep the pork
Though, honestly, this step is quite minimal. But seasoning in advance, especially for slow cooking, can help ensure that the meat will stay juicy throughout the cooking process.
For the sake of integrity of the flavor in the shoulder, we're going keep this pretty simple. For each pound of meat, mix 1 T each of salt and brown sugar together, then rub the pork down with this mixture and refrigerate it overnight.
3. The next step is all about flavor development.
A good sear or caramelization of the meat is key to building a deep, full-bodied flavor. Along with the this, you'll need some aromatics and a bit of liquid to add to the slow cooker, or Dutch oven pan—fresh herbs, onions, garlic, fennel, maybe some halved tomatoes, whatever your taste preference may be. The liquid can come in just about any form—stock, soda, vinegar, ketchup or mustard, soy, Worcestershire, honey, you name it.
Obviously, we don't want to kitchen sink a whole bunch of ingredients into a slow cooker and cross our fingers, hoping it will turn out.
Don't over do it. Keep it simple, and maximize flavor
Use ingredient combinations that you enjoy, and that you are used to working with. Instead of water, use stock or soda.
Don't add anything that doesn't contribute to the overall deliciousness of the end results.
Last, but most definitely not least, is timing.
A slow cooker, on the low setting will take up to 12 hours to cook a good sized pork shoulder. On high, it might take 4-6 hours.
Timing the meal around errands or work schedules may mean that it's best to start the meal first thing in the morning, or maybe even the night before. Figure out what is going to work best with your schedule and plan accordingly.
For the oven braised shoulder
Setting it on 225 degrees will take 6-8 hours to be completely tender and shreddable.
Eat in any setting
This is an extremely versatile recipe that could be served on flimsy paper or Fine China. Throw the shredded pork on a bun with some slaw and BBQ sauce or serve it alongside roasted vegetables and brown buttered gnocchi.
No matter how you dress it up or down, there will be plenty to enjoy in the company of others.
Ingredients
Kosher salt, one T for each pound of pork
2-4 Tbsp
Brown sugar, one T for each pound of pork
2-4 Tbsp
Yellow onions, peeled and quartered
2
Garlic, depending on personal preference
3-5 cloves
Ginger ale, or ginger beer—optional
2 oz
Chicken or pork stock
1 cup
Utensils
Dutch oven
Slow cooker
Mesh sieve
Instructions
Mix the salt and sugar together and season the pork liberally with the mixture. Refrigerate overnight.
Remove the shoulder from refrigeration and pat dry. In a Dutch oven, sear the meat on all sides until it is a deep golden brown. Be careful not to burn the pork or the sugars in the rub.
Remove from the pan and place inside the insert of the slow cooker.
Add the onions, garlic, and aromatics to the pan and cook until caramelized a bit.
Add the fresh herbs and the stock, then the mustard, honey, vinegar, and soda. And stir gently.
Place all of this into the insert of the slow cooker and let it cook, lid on, until the pork easily pulls apart.
Remove the finished pork from the liquid. Strain the liquid through a mesh sieve and drain off the excess fat. Reduce the liquid in a pan on the stovetop by at least a third, maybe half, and return the liquid to the pan with the pork.
Gently pull the pork apart using two forks and serve over rice or beans with a fresh, crunchy salad and some fresh herbs chopped for garnish.
As an alternative to the slow cooker, roast the meat in a dutch oven in a 215-degree oven until fork tender.
---