Simple Thai Style Marinated Grilled Pork Steak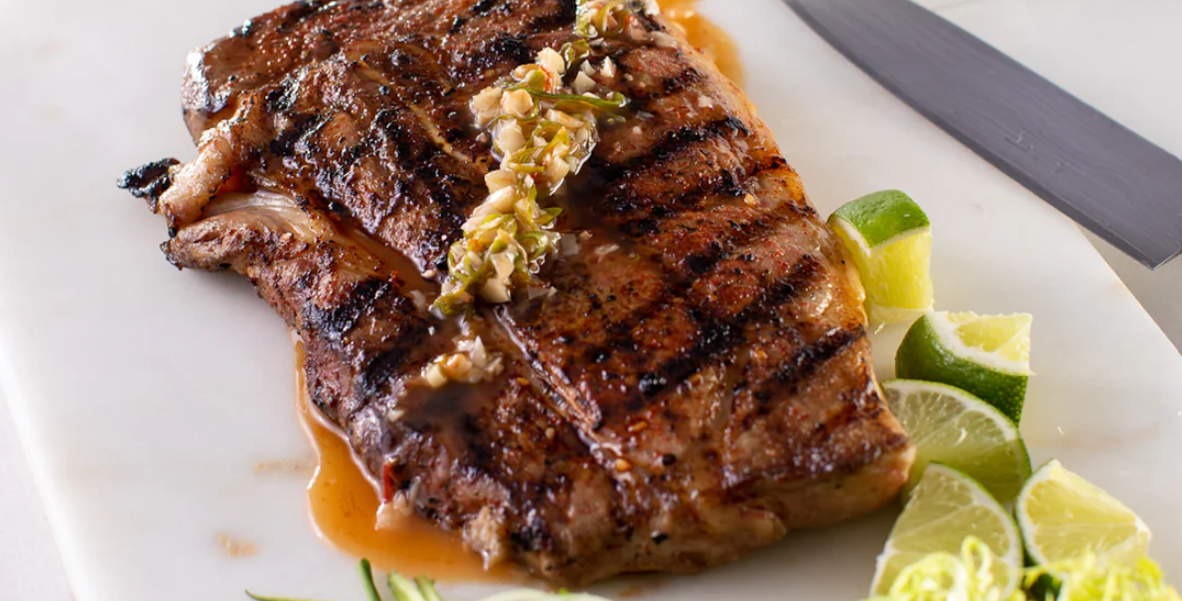 The pork steak is like a first cousin of the pork chop. Whereas the pork chop is cut from the loin, the pork steak is taken from the shoulder, which means that it will have a bit more connective tissue and be a little tougher than a chop, but with all of that definitely comes much more fat and flavor. A good marinade will help tenderize the meat a bit, and then cooking for a bit with low or indirect heat and then flashing with high heat will produce a delicious cut of meat. 
Thai flavors are bold and dynamic and they will pair well with the shoulder steak. Herbaceous, sweet, spicy and sour, Thai cuisine is so distinctive and delicious. The preparations are often very simple, while the resulting flavors are full of complexity. This depth of flavor comes from a few staple ingredients found in every Thai pantry. 
Fish sauce, limes, various herbs and Thai soy sauces will be the base of most of the Thai dishes that I have learned to prepare, and that will definitely be the case here. We will finish the pork steak with a Thai peanut 'gremolata,' which is a fancy name for a sauce made of chopped herbs, garlic and oil. We will add some chopped roasted peanuts and a bit of chili to our Thai version of this classic sauce.
Ingredients
Fish sauce, choose a brand that is made from just fish and salt, like Red Boat
1 Tbsp
Fresh squeezed lime juice
1 Tbsp
Black soy sauce (Black soy sauce is a thicker, sweeter soy sauce. It can be substituted with 2 tsp soy sauce, and 1 tsp molasses or hoisin sauce. Black soy can be found easily at an Asian market)
1 Tbsp
Piece of lemongrass, sliced
1/2 inch
Knob of ginger, peeled and grated
1/2 inch
Roasted peanuts, chopped
1/2 cup
Cilantro, chopped
1/4 cup
Thai or regular basil. chopped
1/4 cup
Jalapeno, chopped or if you love heat, 2 bird's eye chilies
1
Utensils
Medium-sized mixing bowl
Charcoal grill
Instructions
Mix all ingredients in a medium-sized mixing bowl, then add the pork steaks, tossing to coat thoroughly. Cover and refrigerate for at least 4 hours and overnight if possible.
If using a charcoal grill, prepare the grill for indirect heat by building up a coal bed on one side of the grill. Once the coals are ready, place the pork steaks on the side of the grill without coals. Let them cook for about 15- 20 minutes and then place on the coal side of the grill for a high-heat sear for about 1-2 minutes a side. This will caramelize the surface of the meat and create a greater depth of flavor and texture.
Let the pork steaks rest for about 5 minutes before serving with the Thai peanut gremolata. Combine all ingredients in a mixing bowl and stir to combine.
Can be stored in the refrigerator for up to 5 days.
---